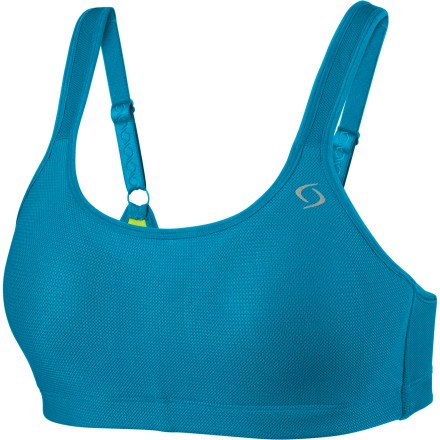 The bra as it is known today has its origins in the beginning of the twentieth century, although linen bras from the fifteenth century have been found in Austria, and documentary evidence indicates that the bra has a longer history than previously thought. It is well-known that, for centuries, corsets were the norm in women's undergarments, but when they dropped below the bustline, women began to wear small sleeveless camisoles, called brassieres, to support their breasts. The straps on the brassiere began to gradually narrow, and when corset wear declined during World War One, the modern-day bra came into its own.
Shaping the bust has always been an important part of women's fashion. For plus size women, it is particularly vital to lift the bust, in order to create length and definition through the upper body's curves. Although not all plus size women have a large bra cup size, their breasts tend to be heavier; therefore, finding the right bra can make a big difference not only in terms of style, but also comfort. By finding their true bra size, and experimenting with different styles, women with fuller figures can can find a bra that looks and feels great.
Bras that Support and Flatter Plus Size Women
For full-figured women, adequate support is essential in a bra. The majority of the support should come from the underband and cups, and only a small amount from the straps. Inadequate support from the back band, which can occur when the bra fits incorrectly, puts stress on the straps, causing them to dig into the shoulders. Additional features like extra hooks and wider straps help the bra support heavier busts and keep women comfortable.
Full-cup bras cover the entire breast to provide maximum support. With these bras, seams can do much to shape the bustline. Low-cut seams shape the breast into a teardrop form. Higher-placed seams give the bust a natural, round shape. Moulded bras lift the bust with a light, sculpted lining and underwire for a beautiful, slimming silhouette.
The one disadvantage with full-cup bras is that, because the material rises rather high, they do not work well with some necklines. Plunge bras have a low center in the front, making them ideal for lower-cut tops and dresses. Plunge bras usually have a light padded lining for support and shaping. Women with larger busts can look for wider straps and back band for extra support and comfort.
Multiway bras have straps that can be rearranged to work with different style tops, or be removed altogether. Full-busted women need to make sure the fit is snug, since, when worn strapless, all the support needs to come from the band. Likewise, strapless bras should fit just a bit more snugly than bras with straps.
Elegant balconette bras are cut low, making them another ideal style for lower necklines. For larger busts, three-panel cups support and shape for a rounded line.
Plus size women who want to minimise their bustline can go with a minimiser bra. These bras pull the breasts in, creating the illusion of a smaller size. They work well with clothing that fits too snugly across the chest. Look for minimisers that lift upwards, and then spread the bust for a clean line that does not make the middle look heavier.
Taking Measurements for Bra Sizes
Stylists speculate that many women actually wear the wrong bra size. Bra sizes may change, too, with even slight weight gain or loss. For these reasons, it is recommended that women get professionally fitted for a bra at an intimate apparel shop or department store; they may find they need to go a size up or down.
Alternatively, women can take their own measurements at home with a cloth tape measure in a few simple steps. All measurements should be taken in inches, and women should be careful to make sure the tape measure is straight and flat across the measured area. No top should be worn during the process, but some experts advise wearing a bra without added padding.
First, the band size is taken by measuring around the ribcage just under the bust. The tape should lie flat and smooth across the back and the front, without being either too loose or too tight. If the measurement is an odd number, the woman's band size is most likely the next even number up, but it is advisable to also try on the next size down as well, to judge which is most comfortable. If the back measurement is an even number, this is usually the correct band size. Half-inches should be rounded down to ensure a snug fit.
The next step is to determine cup size, which is based on the difference between the circumference of the widest area of the bust and the measurement just under. After measuring across the bust, subtract the back measurement from the bust size. Cup size depends on how big the difference is. The following chart outlines cup sizes based on this formula.
| Bust Minus Back Measurement | Cup Size |
| --- | --- |
| Less than 1 inch | AA, A |
| 1 inch | A, B |
| 2 inches | B, C |
| 3 inches | C, D |
| 4 inches | D |
| 5 inches | DD, E |
| 6 inches | E, F, DDD |
| 7 inches | F, G |
| 8 inches | H, FF |
| 9 inches | I, G |
| 10 inches | GG, J |
| 11 inches | H, K |
| 12 inches | HH, L |
These tips are only a general guide, and even experts have varying opinions about how to size bras based on measurements. Furthermore, manufacturers can differ in their sizing, particularly with cup sizes larger than D. Every woman's body is different, so after being measured, she should try on several bras in that size to see whether it is right for her.
Tips for a Properly Fitting Bra
As mentioned above, a proper fit is essential to ensuring that the bra supports and flatters a woman's figure. There are several things to look for in a well fitting bra.
If it is underwired, the underwire should rest completely flat against the ribcage. It should not dig into the breast tissue at all; this is a sign that the bra is too small.
The bra's fabric should rest against the skin, without gapping, creasing, or bunching. Those are signs it is too large.
The bottom edge of the bra should be parallel to the floor. The back should not ride up at all.
There should be room enough for two or three fingers under the back band, but no more.
The bust should not be bulging out of the cups or around the underwire at the sides.
The bra should feel comfortable and supportive, and not leave any marks or lines.
These guidelines should help women determine when a bra is the right fit. Consulting a lingerie fitter is another way to get expert advice, and it is usually free of charge.
General Bra Care
Bras require special care to keep them at their best for a long time. Proper care helps them maintain their elasticity for optimal support, and it also keeps delicate fabrics and detailing looking beautiful.
Women should always start out by fastening the loosest hooks in the back of a new bra. This slows the stretching process, whereas attaching immediately to a tighter hook causes the bra to stretch out much more quickly.
It is a good idea to have a few bras that can be worn in rotation. Allowing a bra to rest between wears lets it return to its original shape. Therefore, try alternating between different bras and avoid wearing the same bra two days in a row.
Hand washing is the gentlest way to clean a bra. Experts recommend using cool water and a gentle soap to wash after every two wearings. If machine washing, use the gentle cycle, clasp the bra before putting it in the machine, and use a mesh lingerie bag if possible. Always line dry bras.
How to Buy Bras for Plus Size Women
Bras are available in plus sizes for fuller figured women. And while it used to be that there was little selection among bigger bras, manufacturers have begun to make beautiful styles for women of all sizes. Those who find that department stores and other larger chains do not carry their size may have better luck at speciality lingerie shops or through Internet lingerie specialists. Some even specialise in plus size bras and underwear. In addition, online auctions like eBay have a broad selection from which to choose, and can be a great place to find a bargain. When purchasing online, it is a good idea to check the return or exchange policy, since not being able to try on the bra means there is a chance it may not be the right fit.
How to Buy Bras for Plus Size Women on eBay
Once you are ready to start shopping for bras, you'll find a wide selection of them on eBay's online auction website. Searching on eBay is a relatively straightforward process. To begin, go to eBay's home page and enter keywords like green balconette bra into the search bar. More specific keywords yield narrower search results. You can further refine the search results by selecting brand, price, size, and other limiting factors. For more suggestions, visit eBay's Search Tips page.
Before bidding on a bra, read the product description carefully, checking for details like size, manufacturer, materials, quantity, and the seller's return policy. Since bra fit can vary depending on model and brand, it is a good idea to look for sellers who offer a refund, just in case. If you have a question, you can contact the seller through eBay.
You can also check the seller's feedback rating and read comments left by previous customers. A high rate of positive feedback is a good indication that the seller is reliable. Top-rated sellers have earned their status by consistently providing the highest level of customer service.
Conclusion
Plus size women have particular needs when it comes to finding a bra that fits well, supports their bust, and creates a flattering, curvy line. Experts recommend bras that lift upwards to elongate the torso and help define the waist. Support is also essential for comfort and style. Bras designed for fuller figures often have structural features that maximise support.
Fortunately, plus size women have a range of styles from which to choose. Selecting a bra depends partially on the level of support needed and the type of garment worn. Styles include full-cup, balconette, moulded, plunge, multiway, and minimiser. Determining one's real bra size is an important step in bra shopping; women can measure themselves or go for a fitting. When trying on a bra, there are also certain signs to look for in a proper fit. Finally, once the perfect bra has been found, it requires special care to keep it in optimal shape. Plus size bra shoppers have many choices. Though it may require some persistence to find the right size and style for them, with some basic knowledge women can get a bra that looks and feels wonderful.