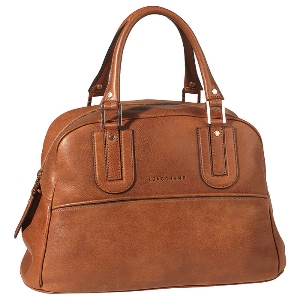 Throughout their history, handbags and their precursors have served practical functions while simultaneously making a fashion statement. Over centuries and millennia, the form and contents of the purse have varied. Ancient Egyptian hieroglyphs depict men wearing purses around their waists; in the middle ages, girdle pouches began to symbolise the wearer's status, as well as reflect the fashion of the times, and they held everything from coins to daggers. But it was not until the development of the railroad that the handbag as we know it really emerged. People travelling long distances as early as the mid-nineteenth century needed handheld luggage. This marked the emergence of some of the most famous handbag designers, Thierry Hermes, and Louis Vuitton.
Today, handbags come in a range of sizes and shapes. Celebrities and designers inspire trends, while classic and vintage styles remain popular, and certain handbags are instant status symbols. The range of choices can be overwhelming; by informing themselves about the basic differences between types of handbags and kinds of leather, shoppers can find a stylish leather handbag to carry everything they need. Handbags are also the perfect gift if you are looking to buy someone something special.
Leather Tote Bags
Totes are roomy handbags with handles that are often, though not always, large enough to go over the shoulder. Tote bags are made to carry lots of items, so they are the perfect companion for work, gym, shopping, a day at the beach, or as a carry-on bag for travel. They are usually rectangular in shape, and may have a completely open interior or be divided into compartments. Internal compartments for mobile phones, wallets, and keys can be very convenient, as they save the wearer the trouble of searching for those smaller items. External pockets are also a common feature. Totes may be open at the top, or they close with a magnetic snap or zipper. For people concerned about the security of their belongings, zippered closures are highly recommended.
Trendy leather totes feature decorative details like tassels and studs, whereas classic totes are usually simpler in appearance. Totes come in different colours and shapes to match different personal styles. Solid, neutral colours are easiest to match with different outfits, so buyers looking for a versatile tote that can go everywhere and with everything may want to consider one in brown, black, tan, or cream. If versatility is less of a priority, shoppers can look for bright seasonal colours and bold designs.
Stylists note that choosing a larger tote bag can be instantly slimming. Since the bag draws attention, it should fall next to an area the wearer wants to accentuate; for example, a slender waist, or curvy hips.
Leather Shoulder Bags
With the straps that go over the shoulder and enough capacity to hold all of the day's necessities, shoulder bags are often the handbag that gets the most use. Shoulder bags come in a wide range of styles, sizes, colours, and with several different closure options, including flap enclosures. They are the ideal bag for day wear and casual evenings out; more structured styles work well for professional occasions, too. As with tote bags, internal organizing compartments are convenient for storing keys, lipstick, and mobile phones.
One popular style of shoulder bag is the hobo bag. The hobo bag is leather, has a slouchy shape with rounded corners, and may have one or two straps that fit over the shoulder.
Leather nappy bags are a stylish way to tote baby supplies. They are designed to hold nappies, a baby bottle, a changing pad, and other baby supplies.
Leather Crossbody and Messenger Bags
Crossbody and messenger bags are a convenient way to carry larger items and keep the hands free. They feature a long strap that goes over the shoulder, and the bag itself rests at the waist or hip. Larger leather crossbody and messenger bags with extra pockets are stylish choices for going to school or travelling, while medium and smaller sizes work well for casual outings. Shoppers should pay attention to a bag's strap length, making sure it is a good size for them and that the bag does not sit too high or low. Adjustable straps are a good option.
Leather Satchels
Satchels have shorter handles that are meant to be carried by hand, making them true handbags. They tend to be small- to medium-sized, are longer than they are wide, and come in structured and unstructured styles. Some satchels have a strap that can be worn over the shoulder, or the bag itself can be tucked under the arm when both hands are needed. Leather satchels have a classic look that makes them a versatile and enduring part of a wardrobe. They work well with dressy as well as more casual outfits, and are perfect for parties and nights on the town.
Leather Evening Bags and Clutch Purses
Evening bags and clutch purses are the fanciest form of handbags. They are small, with delicate detailing, and meant to carry only the bare essentials for formal and semi-formal occasions. Evening bags or purses may have a strap that can be tucked in; clutches are strapless and must be hand-held. Wristlets are yet another variety, with a small strap that fits just over the wrist.
Shoppers should assess how often they plan to use an evening bag. For infrequent use, stylists recommend buying a purse that matches a range of formal wear: a simple black or white bag is likely to last a long time and work with virtually any dress, and will not go out of style. Leather evening purses and clutches are both elegant and durable.
Size and style are additional considerations when purchasing an evening bag. One factor is capacity: how much does the bag need to carry? Overstuffing a bag destroys its elegant effect, so it is better to opt for a larger clutch or evening purse if carrying a fair amount of items. Another factor is body shape and size. Petite frames may look overwhelmed by a large evening bag, whereas a small bag may look awkward on fuller figures. Another rule of thumb is to avoid repeating one's body shape: curvy women look better with more structured purses, while women with fewer curves are better suited by rounder purses.
Leather
When choosing a leather handbag, the quality of the leather is just as important as choosing style, colour, and size. Leather varieties and preparation processes vary in their look, feel, and durability, as outlined in the following chart.
| Leather Type | Description |
| --- | --- |
| Top-Grain Leather | Uses the outer layer of the hide; sanded or processed to remove natural markings, creating a soft, smooth texture; very durable, yet the processing reduces full durability |
| Full-Grain Leather | Uses the outer layer of the hide, but is unprocessed; natural markings are evident; strongest kind of leather, highly durable |
| Napa Leather | Usually dyed black; remarkably supple feel; genuine Napa leather is very durable |
| Tooled Leather | Tools used in the final stages of processing to create unique, intricate designs, texture, and colour |
| Quilted Leather | Stitching along leather creates a puffed, quilted effect |
| Patchwork Leather | Formed from different pieces of leather sewn together; highly popular from the 1960s through the 1980s |
Another consideration is the animal the leather is sourced from. Different animal skins have specific characteristics. Cowhide is the most common kind of leather. Sheepskin is the second most common, and is somewhat less durable than cowhide. Goat and kid leather makes up only about five percent of leather products; it has a finer suede than cowhide, and is more durable than sheepskin. Pigskin comprises about ten percent of leather products; it can produce a fine suede but has large pores that are visible on top-grain leather. So-called exotic leathers like alligator, ostrich, and snake are sought for the unique markings on the skin.
How to Buy Leather Handbags
There are a few important considerations to keep in mind when shopping for a leather handbag. The first is budget: since leather handbags have a tremendous price range, it is important for shoppers to decide in advance how much they are willing and able to spend. This narrows the enormous selection and makes shopping simpler from the start. The second step is to decide what kind of handbag they need, based on where and how often they plan to use the bag, and how much they need to carry in it. Finally, they should consider things like colours and shapes that complements their body type and wardrobe.
Leather handbags are widely available for purchase. They can be found at department stores, speciality shops, vintage shops, and markets, as well as online, through Internet retailers and auction websites like eBay.
There is a large market for designer handbags, as well as imitation designer-handbag replicas. Genuine designer handbags are well-crafted from high-quality materials, and may be a worthwhile investment if they fit within one's budget. End-of-season sales, second-hand shops, and online auction sites are good ways to find more affordable designer handbags. Imitation designer handbags can usually be identified by poor craftsmanship and materials, misspelled labels, and lack of hardware detailing, among other things.
Buying Leather Handbags on eBay
eBay is a great place to find quality new and used leather handbags at affordable prices. To begin searching, go to eBay's home page and enter keywords into the search bar. General terms like "clutch purse" yield a high volume of results, whereas more specific terms like "black zippered clutch purse" narrow the results. Your approach may differ, depending on how targeted your shopping is.
Before bidding on a handbag, it is important to read the product description carefully. It should have specific details such as the kind of leather, the brand, dimensions, item condition, and the seller's return policy. When shopping for designer bags, check for a guarantee of authenticity. Look at the shipping costs, too, and factor those in when deciding what to bid.
You should also get to know a little about the seller by reading their feedback. This is particularly true when looking for designer handbags: comments left by previous customers may give you a better sense of the seller's reliability. Top-rated sellers consistently provide the highest level of customer service.
Conclusion
Leather handbags are durable, versatile, and functional elements in many women's wardrobes. They combine practicality and style, and when shopping for a leather handbag, consumers should take both factors into account. There are several types of leather handbags; women may want to have several different kinds to serve different occasions. Check out Michael Kors for a wide range of leather handbags on eBay.
Tote bags are highly functional and can carry a large amount of items, making them ideal for travel, the beach, and work. Shoulder bags are also roomy, though slightly less so than totes; they fit conveniently over the shoulder and can go anywhere. Crossbody and messenger bags are also quite functional for times when the hands and arms need to be free. Satchels are typically hand-held, and their classic lines make them good for parties and evenings out. Formal occasions call for an evening bag or clutch, which are meant to carry just a few items and complement elegant attire.
When shopping for a handbag, it helps to discern between the durability, appearance, and feel of different kinds of leather. Finally, it is important to keep in mind the intended use of the bag, one's own fashion sense and body type, and a basic price range. By following these basic steps, women can find a quality, stylish leather handbag that is just right for them.