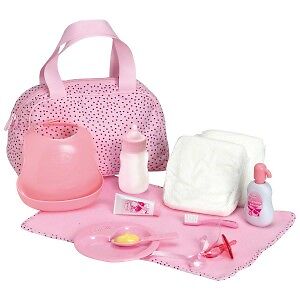 Whether it is dolls for collecting or dolls for children, having the right accessories can ensure the maximum pleasure from the item is gained. Traditionally an activity loved by females, playing with and collecting dolls is now enjoyed by a wide range of individuals. This activity can be shared across generations. A doll can make the perfect addition to any play box or centre piece to a display cabinet in any family room.
eBay offer a vast array of doll accessories to suit any user. With the easy to use search functions it is simple to find the exact product desired or even to search through the choice until the perfect accessory jumps out.
Because the use of the dolls is as individual as the user themselves, here is a complete guide to buying the perfect accessory for any occasion.
Vintage Dolls Accessories
· Collecting vintage dolls is a very popular hobby. The word 'vintage' is used to describe a doll made between 1930s and 1960s. Anything pre 1930 is labelled as 'Antique'. As this is a particularly niche area of collecting, it is vital that the hobbyist is aware of the accessories being sought after. This will ensure an authentic item is purchased every time.
· Vintage dolls clothing is just as important to a vintage doll collector as the doll itself. Again, the definition of 'vintage' in this instance is for clothing made between 1930s and 1960s.
· Vintage dolls clothing and accessories are largely replicas of the fashion of the era. As a result, it is incredibly detailed and often has many different components. Each item is made to a very high standard, often with intricate detail. Because the product was made to be an ornate item rather than to play with, the time it took to create the intricate detailing was justifiable.
· Because of the nature of the product, there are many different places to find vintage doll accessories. To begin a search, it is advised to look at eBay, Antique shops, antique auctions or other collectors.
Antique Dolls Accessories
When collectors discuss Antique Dolls Accessories they are most likely referring to the clothing. The most common vintage doll accessory is Dolls Hats, Dolls Clothes and Dolls Shoes. These accessories often went hand in hand with the outfit, made to match.
When Buying Vintage or Antique Dolls Accessories
As this is a niche line of collecting, make sure you assess the quality of the product before purchase. Ask questions of the seller like:
· What are the materials
· Who was the manufacture
· What is the history of the product
· Where did you purchase the product.
This will help identify the authenticity of the product to ensure it is indeed, vintage or antique.
Modern Collectable Dolls
The modern collectable doll labels dolls created post 1980. There are many different companies manufacturing lines or on-off modern collectable dolls, including (please note this list is not exhaustive):
· Tonner Doll Company
· Madame Alexander
· Lee Middleton Original Dolls
· Vogue Dolls
· Only Hearts Doll Club
· Adora Original Dolls
· Marie Osmond Dolls
· Jan McLean Dolls
· Annette Himstedt Dolls
· Effanbee Dolls
Each of these companies produce dolls clothes and accessories in the style of the doll being purchased.
This label also includes 'craze' dolls from the era that were popular at the time. Some are no longer in production, and some which are still popular as toys, for example cabbage patch dolls and barbie dolls.
A great place to find clothing and accessories for modern collectable dolls is at collector's conventions and fairs.
Barbie Dolls Accessories
Most dolls enthusiasts will categorise the Barbie Doll into two categories:
· Modern – Barbie dolls made after 1970.
· Vintage – Barbie dolls made between 1960 – 1970.
The range of accessories for Barbie dolls is incredible. There is without a doubt something for every taste. The range of accessory products available, range from individual items of clothing, clothing accessories, buildings (including dolls' houses, furniture and décor) vehicles and scene (for example, beach scenes).
How to Identify the Dolls Era through Literature
To identify the make and category of any doll and accessory i.e. what era, seek out literature on the topic. This is available on the internet, websites, blogs and social networks, or in published books and magazines. Each specific make or model of doll will have distinct markings or labels that mark the identification. When purchasing on eBay, if in doubt, always ask the seller.
Modern Choice of Dolls and Accessories
There is no shortage of the type of doll to choose from. Some of the choices include:
· American Girl Dolls
· Barbie Dolls
· Baby Dolls
· Bratz Dolls
· Cabbage Patch Dolls
· Groovy Girl Dolls
Clothes and Accessories for Modern Toy Dolls
Similar to the vintage doll,, clothes and accessories for modern dolls often reflect the era they are designed and manufactured in. As, more and more products flood the market, so does the choice of accessories and clothes. Most dolls will have items specifically made to fit and will be available as individual items or in sets or packages. The easiest way to locate the desired item is to search using the dolls make or brand.
Baby Doll Accessories for Children's Toy Dolls
Most children love to play. It is their way of exploring and experimenting with the world around them. As a result, their play often replicates real life happenings or every day events and routines. The most common person in any child's life is their carer and the events that they do with this person will, generally, surround their everyday routine.
As a result, when young children play with dolls, they do so giving them all the care their main carer gives to them. For a child to have a full experience with their doll, there are a few 'must have' baby doll accessories to maximise play and by default, learning. These items are:
· A bed for the doll. This could be a cradle or small cot.
· A bottle for the baby doll to 'feed'.
· Blankets to tuck the baby doll in bed and keep them warm.
· A buggy to transport the baby outside of the house.
· A strap on carrier for the child to carry the baby doll around on their body.
· Eating utensils. A requirement to feed the baby doll 'solid foods'.
This list is not exhaustive and merely touches on the possible accessories available. To help make the choice of which accessories to buy, consider the personality of the child playing with the doll. It is also advisable to ask the child to assist with the purchase. They will very quickly let you know their likes and dislikes.
Other Ways for Breaking down Dolls Accessories Categories
Doll enthusiasts and collectors will often break down the types of dolls even further into specific categories. These include:
· Antiques Dolls (1800s – 1920s inclusive)
· Dolls by type – often this is the brand of the company as well as the doll's shelf name.
· Dolls made in the 1930s to the 1950s
· Dolls made between 1960s – 1970s (inclusive)
· Modern Dolls (1980s +)
How to Buy Doll Accessories on eBay
· eBay is the perfect way to purchase doll's accessories.. With hundreds of products available for every kind of doll collector or enthusiast (as well as all the children who enjoying playing with dolls) – eBay offers a 'one stop shop' and houses products in all the different categories outlined above. Alongside this, the flexible and secure payment options available ensure an easy and stress free exchange.
· To search for the product wanted, simply go to the Dolls & Bear category. From here you are able to refine your search further under the sub-headings and portals. If you want to browse certain makes or manufactures of a particular doll accessory,, this is possible using the search function conveniently located on each page. If a more refined search is then wanted, simply use the filters on the left hand side of the page to create a more advanced listing.
· It is advisable to read all of the description and view all of the photographs available. This will ensure that the correct product is purchased. If in doubt or require further information, simply Ask<<the<<Seller who is there to answer questions and provide all information about the product. If in doubt about any of the above, visit the Buying<<Tips page for more information.
· When a purchase is ready to be made, the options are to Bid,, Buy<<it<<Now,, or put down your Best<<Offer.. As mentioned, PayPal<& is easy to use and offers a safe exchange of funds for the goods. All eBay users are protected by the Buyer<<Protection<<Program so there is no need to be concerned.
Conclusion
Collecting dolls accessories is a varied and exciting hobby. Similarly, children love playing with dolls and it is often in their childhood that this love of collecting begins. Once the exact product wanted is identified, it is easy to find on eBay. The description and photo supplied by the seller make it easy to find exactly what is wanted; ready to be purchased to enhance any doll lover's collection.
With a wide array of choice, your doll can be the best dressed and housed doll that you know.