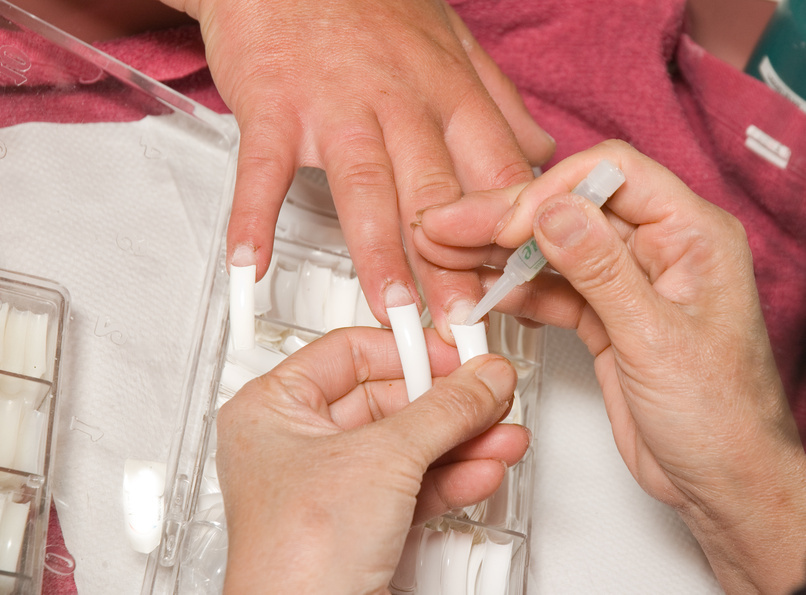 A manicure is an ancient cosmetic beauty treatment specifically for the fingernails and was originally only available via a beauty or nail salon. As they've grown in popularity technology has developed to allow consumers to do their own manicures from home. The most popular style of manicure is the French and this type of manicure is designed to make false nails look as natural as real nails with pink bases and white tips. They give an understated yet polished appearance to any fingernail.
As home manicures are becoming the norm it stands to reason that demand for all the related products and accessories has increased. The huge range of products for ensuring the perfect French manicure have developed over time and the widest range of different types of product can be found online, specifically on eBay where sellers offer up a huge array of nail care and related products.
Whether buyers are looking for cost-effective choices or a specific discontinued line there is a chance it can be located on eBay quite simply, and for an affordable price.
What is a French Manicure?
A French manicure is a particular type of false nail application and treatment designed to make false nails look as natural as possible. Generally it means applying a white tip to the false nail and using a neutral pink or similar natural shade for the rest of the nail's colour. Despite the name the manicure style is said to have originated from the United States, with no links to France whatsoever.
With its roots in the last century this type of nail treatment has staying power. Demand hasn't lessened over time and today there is still a strong interest in French manicure kits and related products for consumers to replicate their salon manicure at home. French manicures became particularly popular in Hollywood in the 1920s and the manicured look became popular with the masses soon after. As a relatively cost-effective and easy to maintain nail art design, French manicures never fail to look classy and stylish, without being over the top.
Tools and Equipment for a French Manicure
To create the perfect French manicure the nails need to be in the best possible condition and there are a range of different tools and accessories that are often required including:
Similarly, other accessories including cotton wool, hand creams and massage lotions can be used to create the full relaxing manicure experience but the above equipment is the most basic required to perfect a French manicure.
Steps for the Perfect French Manicure
The home French manicure can be a deluxe experience or it can be simply designed to get the best-looking nails in the quickest possible time. A French manicure is designed to make nails look natural, fresh and shiny. Below is exactly how to achieve the perfect French manicure in eight steps:
| Step | Process |
| --- | --- |
| Step One | Trim the natural nails short so the false nail can be easily attached then file the nails evenly. |
| Step Two | Push back cuticles using oil and a cuticle pusher. |
| Step Three | Lay out false nails and apply glue to the first one to be applied. |
| Step Four | Place the false nail over the natural one pressing down and holding it in place to avoid any air bubbles getting trapped. |
| Step Five | Shape the false nail once dried and apply base coat. |
| Step Six | Once dry apply the chosen neutral nail polish colour. |
| Step Seven | Once fully dried apply the white nail tip. |
| Step Eight | Repeat the process for the rest of the nails. |
The sections relating to false nails can be removed for consumers who are using their natural nails for the French manicure, which is entirely possible too. Not all consumers choose to use false nails, although they are often admired for giving a shinier and fresher look to the manicure as a whole. However, natural nails in good condition can be just as striking.
Manicured Nail Care
Looking after perfectly manicured nails guarantees the effect lasts longer. As false nails tend to be acrylic there are a number of standard care guidelines wearers should keep in mind.
Firstly, acrylic nails need to be kept dry so they don't loosen or become damaged. They are liable to lift if wet and this allows bacteria and fungi to grow beneath potentially damaging the natural nail permanently. Wear gloves for household tasks and towel dry them thoroughly whenever they do get wet.
Secondly, always use antibacterial soap or spray so you can avoid any infections getting under the nails. Thirdly, it's recommended you swab your nails with rubbing alcohol at least once a day to keep them clear of dirt and bacteria. Using rubbing alcohol can leave nails looking slightly cloudy or off-colour, but this can be easily rectified with a re-application of the chosen natural nail polish.
It's also important to keep in mind that as soon as a nail cracks or snags it should be filed down as soon as possible to avoid further damage. A snag or crack can lead to a bacterial infection and damage to the natural nail can mean that wearing false nails is no longer a possibility. Caring for a French manicure properly helps it last longer and ensures it looks its best for its lifespan.
Cost-effective French Manicure Nails and Accessories
As French manicures are so popular and have been for such a long time there are a huge range of different products on the market, offering buyers lots of different options when selecting their preferred product. Long-time French manicure fans can find their regular favourite products on eBay and there are also plenty of manicure kits, which mean buyers could consider a cost-effective multi-buy purchase if they're running low on any products in their nail accessory kit.
French manicures are quick to do and easy to maintain, but this there are necessary related equipment and products that will help keep a manicure looking perfect for longer. Many of these items are available in multi-buy or bulk buy purchase options via eBay, which is often the most cost-effective choice for stocking up on all the necessary accessories.
There are luxury branded products available on the site too which appeal to a different type of customer and further show that it doesn't matter what budget is available, French manicure false nails and all the necessary related products can be sourced at cost-effective prices.
Buying French Manicure Nails and Equipment on eBay
As French Manicures are amongst the most popular nail beauty treatment related products are in high demand and can be easily located and bought through eBay. Using eBay to purchase French Manicure nails and equipment could not be simpler. Beginning with a general browse it is possible to find related products in many different subcategories on the website.
Buyers should begin by visiting the health and beauty category and then selecting the hand and foot care subcategory. From this point there are a number of options. French manicure kits can be found under the manicure kits section whilst other accessories such as nail tips and files, clippers and other tools can be located separately. It is also possible to purchase false nails via this section and within the false nail category it is also possible to find specific French manicure nails.
Buyers can also consider using eBay's search bar to find their preferred item. When there's a particular brand or type of product in mind it is perfectly possible to enter the search term into the search bar and all related products will be revealed. Not all products shown will be relevant, but the search can be further pared down using the left-hand sidebar to show only health and beauty related items. There is more information about using eBay's search facility on the Search Tips page.
Conclusion
The French manicure is a classic fashion statement which is designed to be understated yet striking. It has been popular for nearly a century and interest in this type of manicure hasn't waned. As new technologies have developed to enhance and improve this natural look nail effect demand has just increased.
The classic French manicure shows no sign of losing its popularity today, and, therefore, products relating to it are still in high demand. As manicures from home are a much more common option too in the modern age, the range of products buyers require has widened. The huge range of potential accessories and equipment buyers are looking for can be found on eBay and it provides a single marketplace for a wide range of different nail care products.
Different buyers have different preferred products and using eBay provides everybody with a competitive range of prices and products. Consumers who are looking for budget friendly options will not be disappointed whilst luxury, top-end brands are also readily available.