Wade Ceramics are a perfect example of how the word "antique" stretches to encompass whatever is most desirable. The Wade pottery in its various locations has more than 150 years of work behind it. But 20th century decorative tableware and above all, the 1950s Wade Whimsies, are most of what collectors refer to as "antique Wade ceramics".
Wade Heath Decorative Tableware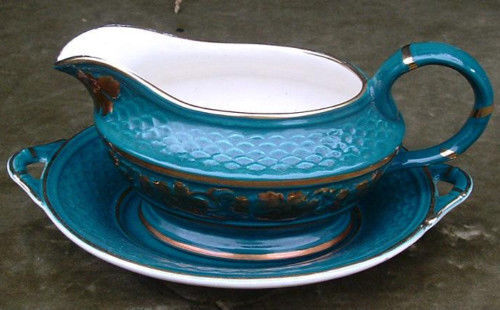 The Wade Heath Factory began producing decorative tableware in 1856 and continued to produce well into the 20th century. Wade Heath pottery offers the collector a wide range of styles with visual references to both Spanish majolica and Roseville from the United States. Many Wade Heath Art Deco pieces are available. Flaxman Ware refers to pieces with a particular matt glazing that originated in the A.J. Wade Company's Flaxman Tile Works. The Wade Heath line also includes the licensed Mickey Mouse figure and toy Mickey Mouse tea set released in 1935.
The Wade Whimsies
The best-known Wade pieces are the small figurines that were at one time given away with Red Rose Tea and other promotional items. The Wade Whimsies began as a whim of Art Director Iris Wade, with the first series released in 1954.
| Name | Theme | Years Produced | Popular Examples |
| --- | --- | --- | --- |
| First Whimsies | Animals | 1954-1961 | English animals series, including dog; English country animals series, including shire horse |
| Hat Box | Disney characters sold in round boxes like hat boxes | 1956-1965 | Lady and the Tramp |
| Drum Box or Animal Band | Animal figures in round boxes like drums | 1957-1959 | Jem the Bulldog |
| Red Rose Tea Whimsies (Canada) | Miniature animals | 1967-1973 | Bluebird, corgi, and otter |
| English Boxed Whimsies | Miniature animals; first 25 based on Red Rose Tea whimsies | 1971-1984, later in commercial and limited editions | Fawn, spaniel, and bush baby |
The Snippets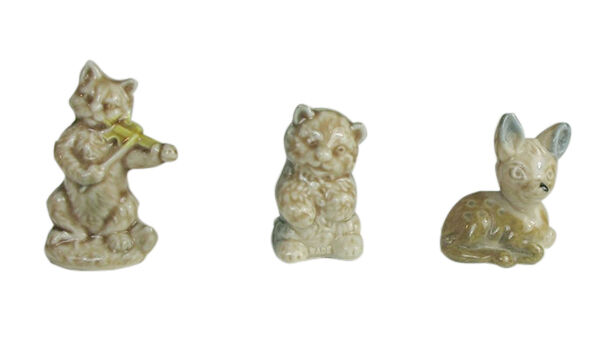 Another popular set of Wade figurines released in the late 1950s were the Snippets. These thin figures from 1956-1958 were made of flat porcelain with a box-like base. They broke easily, which makes them rare today and relatively valuable. One set are Hansel and Gretel characters, including Hansel, Gretel, and the bear.
Wade in Ireland and Scotland
Wade's works in Ulster employed more than 400 workers at its peak, producing Irish themed giftware in pottery and porcelain, including decanters, tankards, tableware, ashtrays, and the leprechauns, fairy folk, and Irish song figures that collectors value. Scots whisky proved another profitable line of work, and the Wade mark may be seen on branded decanters for such whiskey labels as Bells, Chivas Regal Royal Salute, Grouse, Glenfiddich, and Glenlivet.