Introduction
The Big Bang Theory is an American comedy television series created and executively produced by Chuck Lorre and Bill Prady.

Like the name of the series itself (with the exception of the first episode "Pilot"), episode titles of The Big Bang Theory always start with "The" and resemble the name of a scientific principle, theory or experiment, whimsically referencing a plot point or quirk.

The Big Bang Theory '​s eighth season premiered on September 22, 2014.[1] The series was renewed for three additional years in March 2014, through the 2016–17 season.[2] As of November 13, 2014, 168 episodes have aired.
The Big Bang Theory | Season 1 | Episode 1
Here you can watch the first episode of The big bang theory to see if you like it. You wont be disappointed with Sheldon's lack of social skills and Leonard's sarcasm works brilliant ensured to make you laugh!
The Main Characters
The four main male characters are all avid science fiction, fantasy, and comic book fans and memorabilia collectors. There are also three female characters interested in beauty fashions and socialising.
Johnny Galecki[39] as Leonard Hofstadter, PhD – An experimental physicist with an IQ of 173, he received his PhD when he was 24 years old. His mother, Dr Beverly Hofstadter, is a neuroscientist and psychiatrist who provided little, if any, nurturing when Leonard was growing up.
Jim Parsons[40] as Sheldon Cooper, M.A., PhD[41] – Originally from Galveston, Texas,[42] he was a child prodigy with aneidetic memory who began college at the age of 11 (after completing the fifth grade), started graduate studies at 14, and earned a PhD at 16. A theoretical physicist researching quantum mechanics and string theory, he has two master's degrees, a PhD and a Sc.D. However, despite his IQ of 187, he finds many routine aspects of social situations and life in general difficult to understand and deal with.
Kaley Cuoco[43] as Penny – An aspiring actress from a town outside of Omaha, Nebraska,[44] Penny lives across the hall from Sheldon and Leonard. She has gone to casting calls and auditions, but has not been very successful thus far. To pay the bills, she is a waitress and occasional bartender at The Cheesecake Factory.
Simon Helberg[46] as Howard Joel Wolowitz,[47] M.Eng.[48] – He works as an aerospace engineer, is Jewish and lives with his mother until season 6. Unlike Sheldon, Leonard and Raj, Howard lacks a PhD, earning him Sheldon's scorn.He fancies himself a ladies' man and devises outrageous pick-up lines, which have limited success with women.
Kunal Nayyar[49] as Rajesh Ramayan "Raj" Koothrappali, PhD – From New Delhi, India, he works as a particle astrophysicist at Caltech.[50] His family is very wealthy. He talks to his parents, Dr. and Mrs. V.M. Koothrappali, via webcam. He is very shy around women and is unable to talk to them for the first six seasons (except for his mother and his sister), unless he drinks alcohol.
Melissa Rauch as Bernadette Rostenkowski-Wolowitz, PhD (recurring season 3, starring since season 4)[54] – a young woman with a very high-pitched voice who is initially a waitress co-worker of Penny's, paying her way through graduate school, studying microbiology.
Mayim Bialik, PhD, as Amy Farrah Fowler, PhD (guest starring season 3, starring since mid-season 4)[55] – a woman selected by an online dating site as Sheldon's perfect mate after Raj and Howard secretly set up an account using Sheldon's information, prompting Raj to comment, "We finally have proof that aliens walk among us!"[56] The two have many similar traits, though Amy eventually becomes more interested in social and romantic interaction and is more socially aware than Sheldon. Once she and Sheldon meet, she becomes, as Sheldon puts it, a girl who is his friend, but not his "girlfriend".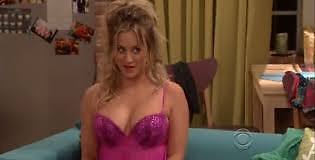 The Big Complete Series
Clink the picture to be directed to eBay page to buy the complete box set season 1-7. You can be sure to get addicted and spent most of yours Sunday's under duvet, snacks to hand watching this back to back!