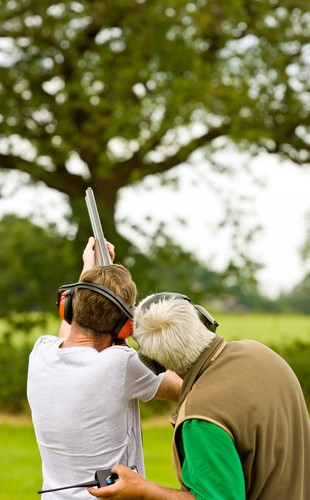 Clay pigeon shooting is a sport where a shotgun is used to shoot cartridges at special flying targets, or birds, released through a trap, called clay pigeons. There are many varieties of trap, known by the prey they are designed to mimic, ranging from high pheasant, dropping duck, running rabbit and rising teal. The sport can be undertaken for fun or for competition. In either event, there are a number of useful accessories to increase safety, comfort and enjoyment.
Clay Pigeon Accessories
There is a wealth of accessories available to the clay pigeon shot. The regular clay pigeon shot is likely to join a club, which will almost certainly require some mandatory safety accessories. In addition, the owner of a shotgun will require a range of accessories designed to protect, clean, or help with using the gun. A wide range of clay pigeon accessories can be found on eBay, and include:
Safety Accessories
Safety is always of paramount importance when using a shotgun and safety accessories are important both for the health and comfort of the shooter.
Ear Defenders
The level of noise from a 12-bore shotgun reaches a volume of around 156 decibels (dB). To put this into context, it is worth noting that even the sound of a jet taking off only reaches 140dB, while normal conversation takes place at around 60dB. Sounds from 85dB have the potential to damage the human ear.
Firing a large number of cartridges in relatively quick succession will instantly damage the eardrums, so some kind of protection is essential. Ear defenders come in many shapes, sizes and designs and the choice is largely down to personal choice and cost.
Style

Advantages

Disadvantages

Small

Block out all sound

Very inexpensive

Easy to insert and remove

Handy to carry as spares or for backup

Easy to lose

Not washable

Need to remove as they block out all sound, preventing conversation.

Cannot be washed so can only be used once

Rubber ear plugs

Small

Effective at blocking sound

Top quality rubber plugs shut down sound when the shotgun fires, then reopen to allow normal sounds to filter through

Inexpensive

Easy to insert and remove

Washable and reusable

Harder than foam, and correspondingly less comfortable especially over longer periods

Does not mould to the ear as well as foam

Ear Defenders

Headphone style, placed over the top of the head, and covering the ears

Relatively cheap and good value for money though significantly more expensive than foam or rubber plugs.

Keep the ear warm

Blocks out sound

Easy to remove between stands

Comfortable to wear

Bulky to carry and to wear

Can interfere with mounting the gun

Electronic Ear Defenders

Good value for money

Blocks out the harmful sound, while allowing quieter sounds such as conversation or instructions through to the ear drum

Easy to remove between stands

Comfortable and keeps the ears warm

Available with Bluetooth to allow mobile phone connection

Bulky to carry and to wear

Can interfere with mounting the gun

Expensive

Custom Fit Ear Plugs

Fitted by an audiologist to the user's own ears, these are extremely comfortable to wear

Very effective sound isolation

Can be bought with filters that close with the shotgun's sound waves

Alternatively, can be bought with electronics that eliminate the harmful sound levels while amplifying quieter sounds

Very expensive both in money and time particularly if filters or electronics are fitted
Shooting Glasses
Shooting glasses provide excellent eye protection, which is helpful as a shotgun will have some recoil and is fired from the shoulder with the face resting on the stock. In addition, shooting glasses come in a range of materials and tints, and may also help improve accuracy.
Shooting glasses normally come with a protective soft sleeve to protect against scratching. It is a good idea to invest in a hard case is ideal to protect the shooting glasses not only from scratching, but also breakage. It is also possible to buy an extra case to store and protect any spare lenses.
It is essential that shooting glasses are comfortable and don't pinch or interfere with aiming the gun. If external ear defenders and/or hats or caps are worn when shooting clays, it is always worth wearing them when trying on shooting glasses to ensure the fit is comfortable.
While general sports goggles are acceptable, there are advantages to buying shooting glasses, particularly where the lenses are concerned.
Impact-resistant or shatterproof lenses with a scratch-resistant hard coat
Polycarbonate is the material used for bullet-proof glass, and is an ideal material for shooting lenses as it is impact-resistant, light, hardwearing, and scratch-resistant.
Lenses should be large enough to cover and wrap around the sides of the eyes to provide protection from any debris flying from any direction
Special padding on the frame around the eyes to
Cushion face in case of heavy recoil
Keep out wind and dust
Prevent the glasses fogging up
Adjustable nose pads for added comfort, made from soft plastic or rubber
Whether adjustable or rigid, an ideal frame has rounded corners for comfort
Spring hinges for the arms so that the frame can flex during recoil
Shooting glasses are available in different lens colours, often including a set of up to five different interchangeable coloured lenses to cover most lighting conditions
Colour

Benefit

Yellow / orange

Block haze and blue light

Enhance the colour of orange clays

Bright yellow tints are excellent in low light

Amber-Brown

Good at blocking blue light on a cloudy day.

Amber improves contrast and perception of depth

Versatile all-rounder

Purple - Vermillion

Enhances the colour of orange clays, making visibility easier especially against colourful background or trees

Highlights targets against difficult backgrounds like trees

Grey, grey-green

A neutral colour that reduces glare in bright sunlight but does not otherwise affect visibility of colours

Good all-weather tints

Good in bright sunlight

Clear

Glasses with clear lenses provide eye protection, but no effect on vision

Useful for night shooting
Recoil Shield / Shoulder pad
Recoil can be uncomfortable at best and painful at worst. Fortunately it is possible to buy a recoil shield or pad to diffuse the recoil. A shield can be worn inside or outside clothing. The following points need consideration and comparison before buying:
Make sure it can be worn on the shoulder of choice. Many are reversible for wearing on either shoulder
It is best to buy an adjustable recoil shield to achieve the best fit with enough room for movement, but not so much that it interferes with mounting the gun to the shoulder
Weight and thickness are important considerations for comfort and effectiveness. Modern material allows for a thinner shield and lighter weight.
Shield materials include :
Energy-absorbing foam
Latest polymer technology which is soft and flexible until impact. On impact the molecules lock together, absorbing and redistributing the recoil, making it more comfortable for the shooter, before reverting to its original soft, flexible state.
It is sensible for a female shooter to buy a recoil shield built specifically for women for greater comfort, and, in some cases, the ability to attach it to a bra strap without the need to remove clothing.
Suede is a useful non-slip and machine washable surface
Toe Protector
A toe protector is a small piece of leather which can be strapped onto shoes or boots so that the shooter can rest the gun's hot barrels on the toe protector without harm either to the foot or footwear.
Miscellaneous Accessories
In addition to the safety accessories described above, there are a number of other useful accessories for the clay pigeon shot, including:
Shotgun cleaning kit
Keeping a shotgun clean and well maintained is essential to keep the shotgun in good condition and avoid damage or corrosion to the barrels. Specifically moisture and residue from cartridges needs to be removed, and the shotgun needs lubrication to maintain reliability. Moisture is hugely damaging to gun barrels.
Traditional cleaning kits involve a long rod with a variety of brushes, oils and solvents which are passed through the barrels at the end of a day's shooting.
There are a number of cleaning products available, and a regular cleaning kit would include:
Cleaning rod with metal and wool brushes
Cleaning patches
Gun oil
It is also possible to buy a bore snake, which is a rope-like shotgun barrel cleaner, which can simple be dropped down the bore and pulled through to remove residue and moisture. Though not a substitute for a gun cleaning kit, it is very handy for quick cleaning, and has the advantage of being washable.
Gun sleeve
Guns need to be looked after carefully to ensure that they stay in good condition, and are protected from dust and moisture. A gun sleeve will hold a single shotgun and provide protection both while travelling and while walking between stands. It is a useful and attractive accessory which protects the gun from the knocks and bumps, and from any adverse weather conditions. Gun sleeves are available in a range of materials, including leather, canvas, and more rarely nylon and cotton.
There is normally a protective lining on the inside, again in a range of materials from lamb wool, nylon or cotton. Gun sleeves generally have zips for opening and closing, making it quick and easy to put the gun away or remove it from the case.
Cartridge Belt
Cartridge belts are very useful accessories when shooting clays. The advantage of the cartridge belt is that it is much faster to reload from a belt around your waist than from a cartridge bag on the ground, especially if the loops are elasticated so that the cartridges can simply be pushed up from below. Cartridge belts are available in a range of materials, including leather and nylon, and will normally carry anywhere from 20 to 30 cartridges.
Cartridge Bag
Cartridge bags are essential in that they are a useful and compact way of carrying up to 250 cartridges, and therefore ensure that there is little or no danger of running out of cartridges. A cartridge belt can be loaded and re-loaded from the cartridge bag during the day.
Cartridge bags are available in a number of shapes, sizes and materials, from leather to canvas to modern synthetics. In addition to simple bags that are designed simply to hold cartridges, is it also possible to get cartridge bags with extra pockets and side flaps, which are very useful for carrying other accessories such as shooting gloves, rain choker towelling cravat (which stops the rain running down the neck in adverse weather), caps, shooting glasses and ear defenders.
Shooting Vest
Though not essential, a shooting vest is a useful article of clothing for the clay pigeon shooter. They are made specifically for effective shooting, and it is vital to ensure the fit allows for the movement of mounting and swinging a gun, while not being so loose as to result in catching up when mounting the gun. If buying a vest, it is worth looking for a style that offers aids to comfort and efficiency, such as:
Good quality materials, stitching and finish.
Suede is a useful fabric for mounting area and provides a good finish for mounting the gun.
Cartridge pockets
Lightweight and cool
Adjustable features are useful for customised fit
Shooting vests are either right or left-handed
Too much padding on the mounting surface can be a disadvantage as it is helpful to be able to feel the butt of the gun on the shoulder for mounting and aiming consistency
Clay Pigeon Traps and Clays
For those who want to shoot clays on their own land or property, it is possible to buy clay pigeon traps, designed to throw the clays into the air. It is also possible to buy the clays themselves. Traps vary from relatively simple one-at-a-time models to those which can be loaded with multiple clays, with the ability to throw "running rabbits", "rising teal" and "high pheasant".
Where to Buy Accessories for Clay Pigeon Shooting
Armed with the information above on what to look for in terms of clay pigeon shooting accessories, it is worth looking at eBay, which has a wide variety of brands, styles, prices and choices, and some excellent prices from trustworthy sellers.
To search for clay pigeon shooting accessories, visit the Sporting Goods portal. Alternatively you can use the search box provided to type in specific information for a more refined selection. Visit eBay's search tips for more advice.
Buying on eBay
Once a selection has been made, there are three choices when buying on eBay:
Place a bid in order to buy at auction by the date that the seller has advised if you are the highest bidder
Buy It Now allows immediate purchase of the rifle scope
Best Offer means the seller is prepared to accept Best Offers from buyers, possibly at a lower price than the Buy It Now price
Delivery and shipping information is provided by the seller and needs to be considered at point of bid, along with delivery insurance.
It is recommended that you only purchase from sellers who are authorised through eBay. Buying through PayPal will ensure the transaction proceeds directly between the seller and buyer. eBay users are protected by the Buyer Protection Programme.