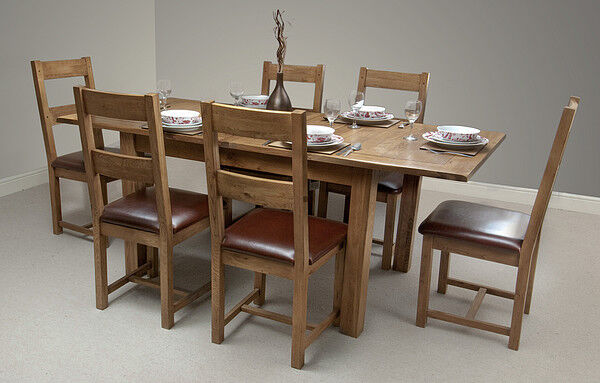 There are many people who need dining furniture but are wary of the expense, such as college students, young professionals, and new families. Dining sets can be expensive, but the cost can be lowered if the chairs and table are bought separately. Affordable dining room chairs can be bought from both offline and online shops, including thrift shops, vintage shops, and Internet sites like eBay..
Dining chairs are integral parts of the overall dining experience, so they need to be comfortable yet functional. Just because the dining room chairs need to be affordable and practical does not mean that they need to lack style. There is an overwhelming variety of styles and designs for dining chairs at affordable prices, which can make the selection process a bit difficult sometimes. The shopping experience can be simplified by knowing what styles of chairs are more affordable than others, what features can be added without going over budget, and what materials are durable and affordable in the same time.
What to Look for in a Dining Room Chair
Dining room chairs need to complement other furniture in the dining room, but they also need to be practical purchases if the shopper is on a budget. Some features of dining room furniture can be neglected but others are important and should not be overlooked.
Fit and Space for Dining Room Chairs
The buyer should consider the available dining room space and take accurate measurements to determine the size ranges the chairs should be in. Most people measure only for the table when considering dining space, but the chairs are just as important, since they take up space as well. When taking measurements, one should leave additional space between the chairs and other pieces of furniture or the walls so that everyone can move comfortably when the chairs are pulled out.
The shape of the dining area also affects what kind of chairs a person should buy because, along with the area dimensions, it could influence the depth of the chair seat, the height of the back, the design of the legs, and more. Finally, it is also important to check the dimensions of the doors to make sure the chairs can actually fit through the doors into the dining room.
Height of the Dining Room Chairs
The seat height determines how comfortable a person is when sitting. Petite persons are more comfortable with chairs with lower heights,, for example, while tall people are more comfortable when sitting on higher chairs. A buyer should measure how far the underside of the dining table is from the floor to get an idea of the ideal height of the chairs. Most dining room chairs fit under standard height tables, but it is always a good idea to check by comparing the height of the table and that of the chairs.
Dining Room Chair Materials
There are many materials used for dining chairs, some more costly than others. Materials like wood, metal, and plastic are some of the more affordable. Pure plastics, however, should be avoided as they are not very sturdy. Instead, one can choose dining chairs made of plastic synthetics that are as strong as any wood or metal, but cost less.
Wooden Dining Room Chairs
Most dining room chairs are made of wood generally because they are easy to manufacture and because wood is the most popular material for furniture. Solid wood dining room chairs can be expensive, though there are more affordable chairs made of cheaper wood, such as pine, which is a good choice despite not being as durable as the more costly oak or maple.
Some wooden chairs are made of plywood, cheaper wood, or other sturdier synthetics that are covered with natural veneers made of thin sheets of more expensive wood. Dining chairs made of these materials are a good way to get the luxurious look of wood types like teak or mahogany at a much cheaper price. However, if one is looking for quality dining chairs, a good choice is hardwood rather than plywood.
Metal and Plastic Dining Room Chairs
Metal and plastic chairs are often used in retro and ultra-modern dining areas. Many people do not consider plastic furniture options because the initial impression is of tackiness. Still, there are plastic dining chair styles that are not as gauche as those in kindergarten classrooms. Plastic and metal chair combinations are also increasing in popularity because they can be as durable and affordable as solid wood dinner chairs. There are many examples of pure metal designs with wrought iron dining furniture and accessories.
Upholstered Dining Room Chairs
Any kind of chair can be made more comfortable with proper cushioning and upholstery. For the shopper looking at metal dining chairs or plastic chairs, upholstery is important. Affordable upholstery can be made of cotton-polyester blended fabrics which are soft, durable, and easy to clean. One should make sure that the fabric has a tight weave for longer lasting material. Microfibre and vinyl blends are good choices for active households because they are more resistant to stains and are easier to clean than most other fabrics. Leather lasts long but many good leather chairs can be expensive; however, faux leather chairs can look almost identical to leather ones, while being less expensive.
Affordable Dining Room Chair Styles
There are many kinds of chairs that can be used in a dining room.. Many people use chairs that are not generally made for the traditional dining area, because many dining rooms are not strictly used for dining purposes only.
Fibreboard Chairs
Medium density fibreboard chairs are simple and, while some might call them flimsy, they are strong enough to last decades. Many dining chairs made of this material are elegant and generally painted in black and white, which can match virtually any contemporary style dining table.
Wicker Chairs
Wicker chairs are made out of bendy, flexible plant fibre that is lightweight and strong, such as rattan, reed, bamboo, and willow. These plants have tough fibres that are lightweight when dried which contributes to the low weight of the furniture. They are comfortable and can last a lifetime of use.
Bar Stools
Bar stools are another option for affordable dining room chairs. They can be acquired in different heights and are particularly suitable to bistro-style dining tables or kitchen-dining areas with counters or islands. Bar stools are simply designed, which contributes to their low cost. They can also be made with cheaper woods or metals. Black-coloured upholstery can go with nearly any style of bar stools in the room.
Folding Chairs
Those who like folding chairs can choose iron folding chairs as an affordable option as they are significantly cheaper than chairs made of hardwood, not to mention these folding chairs can be used both indoors and outdoors. They are an excellent addition to a dining room or kitchen with a modern decor and glass or metal dining room tables.
Wooden Chairs
Finally, unfinished wooden chairs can also be more affordable than their counterparts sold in furniture stores. The best places to acquire these chairs are wood workshops and carpentry businesses. Unfinished wooden chairs are not yet varnished, stained, or painted, so they are cheaper than many finished solid wood furniture. Buyers could finish the chairs with any design they wish or have them upholstered according to their preferences.
Buying Affordable Dining Room Chairs on eBay
eBay is one of the most affordable avenues of acquiring virtually any kind of product, dining room chairs not exempted. It is easy to look for what you want on eBay. Simply go to the home page and type in your keywords to be able to peruse a wonderfully diverse selection of dining furniture items. Then you can use the site tools to narrow down the selections and bring forth the items that are more relevant to your needs or preferences. It is possible to order the results list by price and condition or even the proximity of the seller's location to your area.
You can get more relevant results by entering more specific keywords into the search bar as well. A search by keywords such as "pine dining chairs &" would offer more relevant results if you are looking for this type of wood than simply searching for "dining chairs". Always remember to evaluate both seller and product to ensure the items you acquire are what you expect to get when the shipping boxes finally arrive. Also, try to determine whether it is possible for you to drive to the location yourself to pick up the furniture to save on delivery fees which can be quite expensive for large furniture items, including dining chairs.
Conclusion
Dining room chairs are an important component of any dining room. There are many types of affordable dining room chairs and the only thing one needs to do to find them is to know where to search. eBay, for example, has a wide selection of both used and new dining room chairs made of pine, faux leather, plastic, and other materials suitable for any budget. One can also decide to buy other types of affordable chairs, such as bar stools, folding chairs, or wicker chairs that are multipurpose and can be used as cheaper alternatives to traditional hardwood dining room chairs.
Although usually people buy dining room sets to have matching furniture, sometimes buying chairs and dining tables separately can be a way to reduce expenses. There are a number of sources for affordable dining chairs. For those who do not mind buying used furniture, thrift shops, vintage shops, home auctions, and eBay are all good options.