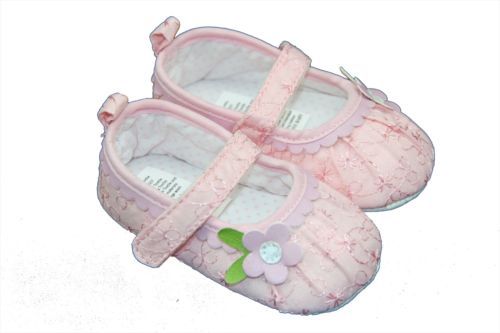 Baby shoes invariably find their way into a layette many months before baby wears them, even before baby is born, because eager parents cannot resist the fun that comes from shopping for their newborn. It helps too, that whatever collection of baby shoes one looks at, they are all lovely and a joy to behold.
With sellers spanning the globe, eBay knits thousands of baby shoes into a collection so large and varied that whatever style, design, and material one has in mind, they are most likely to find it here. This vast assortment is a bit overwhelming to some; however, those who are well-informed know to strain all the information through various filters until they find the perfect baby shoes. Factors to consider when shopping for baby shoes include price or their personal budget, size, style, type of fastening, and material; these factors narrow down the assortment until one is left with a manageable number of everything that they fancy, be they Chinese silk booties, jelly water shoes , or ballet slippers in fine satin.
Budget
Budgets do not constrain; rather, they set a workable range for shoppers without distraction or confusion. Thus it is wise always to start shopping by deciding on a budget. The profusion of baby shoes on eBay covers every conceivable quality and price, from the high-end designer baby shoes gleaming with superior construction to the good-quality pair at a reasonable price. Sometimes one finds very inexpensive shoes whose price is not reflective of quality but the advantage of online shopping.
Shoe Size
With worldwide sellers, shoe sizes vary according to the manufacturers who are not bound to follow any shoe sizing criterion. The best method to buy well-fitting shoes is to measure the baby's insoles and use this figure to buy shoes that correspond to this measurement, whatever the stated size. That said, UK sizes measure in millimetres to the nearest 0.5-mm mark, which means they offer a more spot-on fit than the other measurements in centimetres or inches.
A qualified shoe fitter offers accuracy and a professional fit to measure baby's delicate feet. As this service is not always available, a parent can stand the baby upright on a flat surface to measure the length and width of both feet. The final measurement is the figure from the longer foot. Parents should always measure baby's feet just before buying shoes, not use a figure they had months ago since the rapid rate of growth that babies go through changes this figure every few months. Babies cannot express themselves and might suffer discomfort and injury from ill-fitting shoes. When shopping for baby shoes, consumers often add about 15 mm to the foot measurement to allow room for baby's toes to wiggle.
The table below illustrates foot measurements and the sizes that often correspond. Such charts should be used as guidelines only; as stated above, it is necessary to measure baby's foot to get an accurate measurement, and buy baby shoes on eBay according to the foot measurements and the seller's own chart.
| | | |
| --- | --- | --- |
| Age of Baby | Shoe Size | Foot Measurement in mm |
| Baby (0-3 month) | P | 89-93 mm |
| Baby (3-6 month) | Q | 98-102 mm |
| Baby (6-9 month) | R | 107-111 mm |
| Baby (9-12 month) | S | 115-119 mm |
| Baby (12-18 month) | T | 123-127 mm |
Moreover, if the baby has well-fitting shoes that are size Q but a final foot measurement of 108 mm, the parent should ignore the size and use the measurement to match with the corresponding size on the seller's chart (in this case, size R).
A Note on Baby's Foot Development
Many British doctors recommend waiting until a baby is much older, or starting to walk, before plonking heavy supportive shoes on their tiny feet, because baby's feet are more likely to develop faster this way without any risk of injury. Until then, shoes with soft soles, booties, socks, and bare feet are ideal for feet that are in the process of developing mobility. The rule of thumb is, if a person can squeeze and bend the sole of the shoe in one hand, then it is suitable for babies under the age of three.
Style
While parents might choose to buy shoes strictly according to their tastes, doctors strongly suggest choices that are safe for the baby and encourage healthy feet development, such as booties, socks, and slippers before they start to walk, and saving hardier trainers and boots, for when they are much older. First shoes are lightweight, non-slip and bendy enough for the little one gaining confidence with their toddle, while pram shoes provide the perfect finish for special occasions.
Gender
Though many baby shoes are unisex, many shoes differ slightly according to whether the baby is a boy or a girl. Thus, baby shoes can be filtered through gender, either into shoes for baby and toddler girls or baby and toddler boys. This filter helps to ensure that one buys just the right shoes for the baby.
Condition
Shoes described as ' new with box ' are untouched and unused and come with their original packaging. Though brand new, they might be considerably cheaper to buy online than at brick and mortar stores. A description of new with defects refers to baby shoes that are slightly defective but unworn; depending on the type of defect, these shoes can be a bargain. Shoes in used condition might surprisingly be more durable and of better construction material than new ones. Shoppers on the ball always look for great bargains by rifling through the item descriptions for acceptable defects and signs of wear, and then measuring their value against the price tag.
Material
Baby shoes must have good ventilation and absorbency and be of a lightweight material such as soft leather, canvas, or fabric such as cotton blends and satin. Warm faux leather, fleece, and faux fur synthetics trap air within the shoe and while they are good for cold seasons when warmth is desired, the sweating these shoes cause may result in blistering.
Features and Fastenings
Different fastenings each offer different advantages and disadvantages. Velcro strips are convenient and quick fastenings but pose a risk with an older baby who might try to remove the shoes when away from the parent's eyes. Laces take longer to tie up but, once done tight, hold the feet in securely. Slip ons slip off just as on, while zips and buckles can cause injury if the metal snags a surface or skin.
The eBay Buying Process
Buyers the world over use eBay as a hub for their online shopping activities because of the secure payment method used in transactions, styles galore, and ease of shopping. Others make it their first stop when searching for rare, out of stock, and whimsical items. Everything is well laid out and within reach; most listings include large images that clearly show signs of wear in used items.
Shopping Made Easy
Buyers who use their My eBay account while shopping get a host of benefits over those who do not. With My eBay, shoppers can save all items of interest from searches while discarding the rest for a more focused browsing. They can also access their previous searches, just in case they want to go over the results again. My eBay also allows buyers to save their favourite sellers and stores for quick access as well as notes for their thoughts and reminders on everything they have there.
eBay Top Sellers
Top sellers on eBay are those who have achieved a consistent and positive rating from the buyers; their excellent feedback means that they have proven themselves trustworthy over time in terms of quality and customer satisfaction to all buyers. They are also happy to respond to questions and any issues relating to their listings and transactions. Sellers attain Top Seller status through sheer effort and a dedication to please buyers all over the world with quality of service.
How to Buy Baby Shoes on eBay
You can start your search on the eBay home page with a simple keyword such as ' baby shoes ' or use more specific terms and brand names. The search bar is on every page for ease of use, so you do not have to come back to the home page if you want to search again using another term. Filter your results to get what you want and ignore the distraction of the rest.
Read the listing descriptions and look closely at the photos of the items, focusing on the seams of the shoes' material for frays and splits or other signs of wear that are not acceptable to you. Remember to add 15 mm to the baby's foot measurement and use that final figure to select a matching size on the seller's size chart. Be sure to check the postage fees and whether you qualify for free shipping. Once the shoes arrive, try them on the baby for size. If you can slip a pinkie between the baby's heel and the back of the shoe, up until the first knuckle, then it is a good fit.
Conclusion
Young babies who have yet to start walking need soft-soled shoes that are protective but not restrictive to their feet's development. It is important that parents do not sacrifice comfort and fit to indulge in a particular style or design. Babies cannot communicate their discomfort, so it is up to parents to check baby's feet regularly for bruising or any signs of tightness after they take the shoes off.
When shopping for baby shoes on eBay, consumers should first consider their budget and determine foot size; material, fastenings, and condition of the shoe are other important factors in getting a good value for the money. It is best to dress babies according to the season and their activities; for instance, summer invites lightweight open shoes while winter requires warm boots. Once the child starts running around, smart mummies come right back to eBay to sell off their baby shoes and go another round for children's shoes that are good quality, durable, and a proper fit.