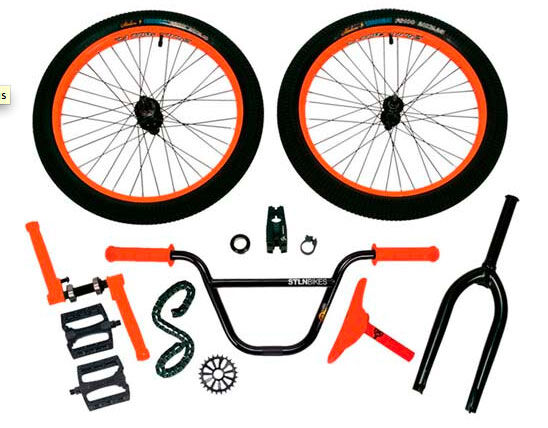 There are very good reasons to buy bike parts rather than have them fitted.
Beside the necessity of replacing existing broken or worn out parts, like for like, you can make sure a quality part is used in a repair. There is also the opportunity to upgrade to increase value and performance, to give a vintage, retro or even quirky look, or even as the component parts of a rebuild or custom build bike.
Looking on eBay provides a big picture of what components are on the market, both new from trusted sellers and used via auction. This makes it easy to compare prices. Each item advertised should have precise references about size, style, make and fitting. This guide helps you to understand what to look for at two levels:
General: Basic information about, say, front forks as a component.
Bike-specific: This will note any significant variations which may apply to particular kinds of bike; racing, hybrid, mountain, BMX, cruiser, town.
Bike parts explained
To make choosing parts easier, it is convenient to divide a town bicycle into seven separate, logical systems – 1. frame, 2. forks, 3. drive-train, 4. wheels, 5. handlebars, 6. seat ,7. brakes
This is the skeleton of any bicycle, to which everything else is attached or from which it hangs. It is the starting point for anyone wanting to custom build a bicycle. There are two aspects to consider:
the material it is made from

the geometry of its configuration.
| Material | For | Against |
| --- | --- | --- |
| High-Tensile Steel | Strong, most affordable, nice ride; found on entry-level bikes, town bikes and bikes over ten years old | Weighs more and can rust if not cared for |
| Chromoly Steel | Affordable steel alloy offering light weight and a great ride | May rust if not cared for; more expensive than High-Tensile Steel |
| Aluminium | Light, strong, affordable, does not rust, great ride, today's favourite material for nearly all bikes | More expensive than High-Tensile Steel |
| Carbon-fibre / composites | Lightest, strong, does not rust, great ride | Expensive and difficult if not impossible to repair |
| Titanium | Light as aluminium, strong as steel, responsive feel | The most expensive |
Aluminium, steel and titanium can usually take dents, but cracks, bends and huge dents mean the frame needs to be replaced. With carbon fibre frames, dents and scratches that do not fully penetrate through the resin clearcoat are nothing to worry about. But if it is chipped it is most likely ruined.
| Geometry | Description |
| --- | --- |
| Racing bike | Shorter head tube and longer top tube to tilt the rider forward into an aerodynamic position |
| Hybrid | Different angles and lengths according to variant – country, performance or comfort |
| Town | Angle of the vertical tube provides stability to ride with one hand |
| Mountain | Frames are 3 inches smaller than a road bike |
| BMX | Sizing governed by the top tube length - 20.5inches average for 5ft to 6ft in height. Taller people or children should select a size up or down |
The front forks are the intermediary between rider and road via the front wheel as it rolls along. The forks need to have both strength and resilience to iron out uneven surfaces. As a rule they are made from the same material as the frame. There are several variations in material, angle and action:
| | |
| --- | --- |
| Racer | Aluminium is a bit too stiff, steel a little too heavy. Carbon fibre is popular because it absorbs shock while offering fine handling |
| Cruiser | Springer forks are a notable distinguishing feature |
| BMX | Choice of 10inch or 12inch versions sometimes tapered to save weight. Forks should be drilled ready to accept pegs |
| Mountain | At the front these bikes have suspension forks with air springs, coiled springs or rubber springs inside |
| Hybrid | Some have suspension forks with less travel than mountain bike |
3. Drivetrain
This is the set of components that allow the rider to drive the bike forwards. It is made up of the crankset, bottom bracket, sprocket, pedals, chain, rear hub and gears.
Regardless of price, it won't be much fun riding the bike if the gearing isn't appropriate for the rider's fitness levels and where and how they pedal. The crankset comes with 2 'double' or 3 'triple' chainrings. Attached to the rear wheel are sets of cogs of different diameter clustered on a block or cassette which drive the wheel as you pedal. Depending on the components on the bike, there will be from 8 to 10 cogs on the rear cassette.
To work out the total number gears there are on a bike, simply multiply the number of chainrings by the number of cassette cogs. For example a model with a triple chainring on the crankset and a 10-cog cassette has 30 gears. Reasonably fit people riding in flat to rolling terrain will probably be fine with a double chainring and 8 to 10 rear cogs.
A rule of thumb is that drivetrains which are road-oriented provide smoother shifting than those with mountain oriented components.
Three names dominate drivetrain components – SRAM with an emphasis on mountain and hybrid bike, Campagnolo with an emphasis on racing bikes and hybrid bikes and Shimano who do everything. The exception is for hub gears on Cruiser and Town bikes, where Sturmey Archer is the name look out for, having the reputation for quality.
Knowing the rim size is fundamental to choosing the right sized bike. Some sellers will list a bike's wheel rim size, which works as a useful measurement when you shop for a child-size bike.
| Rim size | Child height |
| --- | --- |
| 12 inch | 28 to 38 inches |
| 16-inch | 38 to 48 inches |
| 20-inch | 48 to 60 inches |
Modern mountain bike wheels come in three diameters: 26in, 27.5in and 29in. Most modern trail rims have an internal diameter of between 19 and 24mm. The wider the rim, the better support and fatter profile it will provide for a bigger tyre. But bigger rims can be heavier.
Most standard road bikes, town bikes ad hybrid bikes are 700c. There are some women's road bikes that have 650c sized wheels. Older touring and sport road bikes may be 27 inch wheels. The reason that 27 inch became the standard is that it optimised many aspects of performance, weight and economy. Larger diameters require larger hubs for stability. This increases the price of the complete wheel.
| | |
| --- | --- |
| Hybrids | 26" or 700c, wheels fitted with tyres 28 to 40mm wide |
| BMX | Tracks are often hard-packed earth so low rolling resistance is important. Tread provides optimum speed, traction and grip for cornering and accelerating |
| Town | Semi-slick road tyres with shallow tread, medium to wide (1.5" to 1.75") providing a balance of speed and cushioning |
| Racing | Typical tyres on an entry level racing bike are 7000X26c, giving a narrow, slick profile to the road for least resistance |
Hybrid and mountain bike handlebars are typically flat and go straight out from the stem. With a wider grip, usually about shoulder width, these handlebars allow riders to sit upright
BMX Almost always referred to as bars and in variations of the bullhorn, these should be chosen with the same material as the frame and forks. Also look out for heads treated and/or multi-butted for better weight to strength ratio.
Town Angled back handlebars, North Road style, have a moderate rise and are swept back towards the body, aiding an upright sitting position.
Cruiser The most popular brand is Electra with designs ranging from the classic old school bar to the outlaw hanger to the bullhorn.
Racing The drop handlebars are positioned lower than the saddle in order to put the rider in a more aerodynamic posture.
6. Seat, Seatpost, Stem, Handlebars

These components tend to be very durable. But look at the seat for signs of tears, and check the seat rails are straight. Cheap or abused tubing can be bent, and heavily used seat posts and stems can develop tiny cracks resulting in creaking noises when they're under load.
Cruiser bike seats can play a big role in customising to individual tastes with quirky covers designs, extra padded seats, internally sprung seats, twisted seat trims or vintage leather.
Town The saddle is typically moderately broad, cushioned and springy. A high end roadster may often boast a shiny leather Brooks saddle
BMX The choice is between the traditional railed version, or a newer pivotal style which uses a single bolt to give adjustability at the same time as saving weight.
Hybrid hybrids offer an optimum combination of comfort and support. Look for anatomical shapes, cut-outs to eliminate pressure on soft tissue (which prevents numbness and pain), flexible frames, gel padding and cushioning springs
The aim is to provide more control over speed and to be able to stop fast with very little hand effort.
Rim brakes Most hybrids and racing bikes are equipped with rim brakes called linear- or direct-pull brakes. These are powerful stoppers and excellent for all-round riding, from casual neighbourhood excursions to commuting every workday, even in nasty weather
Disc brakes feature callipers and rotors at the centre of the wheels, car-style. More often seen on mountain bikes, they perform reliably in the worst conditions – rain, snow, mud.
BMX brakes depend on the particular discipline. Racers require pure stopping power so they prefer linear-pull brakes. Freestylers are more interested in control than grip and they prefer U-brakes front and rear which offer better modulation.
Buying Used Replacement Parts
Buying used replacement parts for bikes is the best way to get good value. Sometimes they are nearly new; sometimes they have never been used. Nevertheless, market forces prevent the seller from asking anywhere near the original price. This provides a great opportunity to buy premium brands like Shimano and Campagnolo for less than shops charge for new parts of inferior provenance and quality. It is also more sustainable to buy used parts.
Start by searching extensively for pre-owned parts on eBay and get to know market price levels. Having made a short-list, read through the product descriptions thoroughly to tell whether the parts meet your needs. Look carefully at the photos, check they are of the original product and not just a stock photo from the manufacturer's website. If you are not satisfied with some of the details then do not hesitate to Ask the Seller to get clarification. You may also want to request further photographs if you want to see parts of the product more clearly or from an angle not shown in the listing.
Try to ascertain the reasons for selling. Many cyclists sell because they want to upgrade. This means that it is possible to get relatively new wheels in a good condition at very competitive prices. If you are not clear about the history of the parts, especially major components such as forks, frames and wheels – then you can ask the seller. If they have been taken off a bike belonging to the seller, was it kept indoors or outdoors and what kind of mileage has it done?
How to Buy Bike Parts on eBay
Now that you've worked out which Bike Parts you want, find them quickly on eBay. While you shop, don't forget Tyres & Wheels , Handlebars & Stems, Headsets, Drive, Brake Components and Saddles & Seatposts. To start shopping, go to the Sports and Leisure category. Click the Sporting Goods portal and click Cycling.
Categories: The Categories list on the left side of each page will help you narrow down your listings by item type. You'll find links for Bikes, Bike Parts, Clothing, Footwear & Helmets, Cycling Accessories, Trophies and Other Cycling. As you refine your search you'll be able to narrow down your choice by subcategory.
Product Finder: Use the Bike Parts Finder to quickly narrow down item listings by type of tyre, brand, model and condition (new or used).
Keyword search: Search eBay listing titles for specific words. For example, if you want to find cruiser parts, type the keywords "cruiser parts" (without quotation marks) into the Search box. Click "Search title and description" to expand your results. Visit eBay's Search Tips page for more tips on searching with keywords.
If you can't find exactly what you want, try browsing eBay Stores or tell the eBay Community what you're looking for by creating a post on Want It Now, or save a search on My eBay and eBay will email you when a matching item becomes available.
Buy Bike Parts with Confidence
Make sure that you know exactly what you're buying and understand how eBay and PayPal protect you.
Know your item
Read the details in the item listing carefully.
Remember to add delivery costs to your final price. If you're buying a high value item, check that the seller will insure it until it is delivered to you.
If you want more information, click the "Ask seller a question" button on the seller's profile or the "Ask a question" link at the bottom of the item listing page.
Always complete your transaction on eBay (with a bid, Buy it Now or Best Offer) otherwise you will not be covered by eBay Buyer Protection.
Know your seller
Research your seller so that you feel safe and positive about every transaction.
What is the seller's Feedback rating?
How many transactions have they completed?
How many positive responses do they have?
What do buyers say in their Feedback?
Are they positive about the seller?
Most top eBay sellers operate like retail shops and have a returns policy.
Do they offer a money-back guarantee?
What are their terms and conditions?
Buyer protection
In the very unlikely event that you do not receive your item or it is not as described, eBay Buyer Protection your purchase price plus original delivery cost.
Conclusion
This overview of the bicycle parts and components available on eBay provides an idea of just how wide the selection is and how each type of bike can have its own dedicated versions. To find out more look at the guide for any particular kind of bike and it will contain more details and specific descriptions to help with your search.