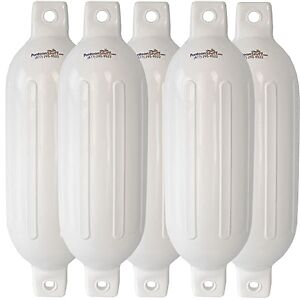 Owning a large ticket item such as a boat is a source of great excitement as well as pride. Taking care of the boat by keeping it clean and well maintained protects the considerable investment made. One of the most important ways to protect a boat is through the use of boat fenders. Any boating enthusiast looking to buy fenders should understand the implications of the choices to be made. Whilst fenders are not necessarily expensive, they often protect very expensive boats. Therefore, making the wrong purchase could have disastrous consequences.
Buyers need to consider the size of the boat as well as the performance of different fender shapes to select the best type for the job. With a clear understanding of their options, shoppers can make informed decisions and select the right boat fender for their needs.
What Are Fenders Used For
Fenders protect the finish of a boat from damage while it is approaching a mooring or another boat. They also protect a boat from wave and wash action whilst it is moored. Fundamentally a fender acts as a shock absorber that prevents damaging marks and breakage to the side of a boat. Fenders come in a range of sizes, made from a variety of materials but most importantly in a range of sizes. In the most simple terms, the larger the boat, the larger the fender.
For those with an eye towards recycling, some fenders are made from products such as car tyres or polystyrene blocks, but those who use this approach might run the risk of accidental damage, as there is no way of knowing what weight these materials can effectively absorb. For best protection, a fender that is made for the purpose is more reliable. The materials used are modern, heavy duty types of vinyl that are incredibly flexible. For additional strength a foam core is often added. This type of fender has remarkable strength and means that smaller fenders that take up less stowage can be used.
Choosing the Best Fender for the Job
Choosing the best fender for a particular boat requires considering a number of factors. The size of the boat, the number of fenders and the type of fender all need to be considered together. Of slightly less importance is the mechanism for securing the chosen fender to the side of the boat.
How Many Fenders Are Needed
One fender per 3 metres of boat is recommended, with a minimum of three boat fenders. One should be positioned where the beam of the boat is at its widest. The second should be positioned mid-way between that and the stern and the third between the widest beam and the bow. Generally, a boat should be equipped with enough fenders to protect one side only. Storing enough fenders to protect both sides of a boat takes up too much valuable stowage, and spare fenders left lying around might cause accidents while on the water.
Types of Fenders
The types of fenders required are determined by the type of boat being protected. Powerboats and sailing boats tend to have larger displacements and require larger fenders. A variety of boat fender shapes and sizes is often needed. Smaller, horizontally-hung sausage fenders are used when mooring against other boats, and larger, round ones are used when mooring at a fixed berth. Smaller trailerable boats use fenders far less frequently, so a minimum selection of three appropriately sized sausage fenders should be adequate.
Sausage Fenders
Elongated sausage fenders come with a rope tie at either end. With an appropriate tying mechanism this means that they can be used in the vertical or horizontal position. In their larger sizes they are available with air foam interiors to provide additional strength. Some models also feature internal wire rods, just below the surface which help to ensure the fender rolls against a berth or boat rather than slip.
Round Fenders
Round boat fenders offer the greatest degree of protection because of the distance they create between the boat and the berth. They have a tying loop at one end which restricts them to a vertical mounting on the boat. For larger boats they provide excellent protection, especially when fending against other boats. The downside of these fenders is that due to their shape they require more space to store them safely.
Hybrid Fenders
Hybrid fenders are a cross between round and sausage fenders. They provide greater protection due to the diameter of the fender, and can also be mounted at both ends for both horizontal and vertical use. Due to their shape, they are also easier to store and offer a compromise between the features of sausage and round fenders.
Size of Fenders
The single most important factor when choosing a fender is its size. A fender that is too small may not be capable of absorbing the necessary amount of force. This leads to significant damage to the boat that at best might ruin an expensive paint job and at worse could require maintenance to keep the boat seaworthy.
| Boat Length | Sausage Fenders | Round Fenders | Hybrid Fenders |
| --- | --- | --- | --- |
| Up to 5 metres | 9 cm | 20 cm | 15 cm |
| 5 metres to 7 metres | 14 cm | 23 cm | 15 cm |
| 7 metres to 9 metres | 15 cm to 17 cm | 23 cm | 15 cm |
| 9 metres to 11 metres | 20 cm to 22 cm | 29 cm to 20 cm | 20 cm |
| 11 metres to 14 metres | 25 cm to 30 cm | 38 cm to 39 cm | 25 cm |
| 14 metres to 17 metres | 30 cm | 46 cm to 47 cm | 25 cm |
| 17 metres to 20 metres | 30 cm | 46 cm to 47 cm | 30 cm |
A fender that is too large is often cumbersome and might take up too much space when stowed on board. The required size of a fender is related to the size of the boat and to the shape of the fender concerned. For full protection, fenders should always be used in accordance with the manufacturer's guidelines.
Fixing a Fender to the Side of the Boat
Fenders frequently require adjusting, particularly if they are vertically suspended from a deck rail. Fender line clips are simple plastic clips that are designed to clip to a railing. A normal rope is tied to the fender; the rope is fed through the clip which is then secured to the boats railing. A simple loop knot is then used to secure the rope to the rail. Some manufacturers sell fender clips that do not require knotting skills. Rail mount hangers that clip onto a boat's rail are capable of holding rope up to 3cm in diameter. The hanger mechanism has a snap lock teeth mechanism that locks the role firmly and can be released with one single pull. Hook and loop adjusters have two straps of tough webbing with a fastener that allows for the length of the strap to be adjusted.
How to Buy Boat Fenders on eBay
Buying boat fenders on eBay is a simple process. First find the search bar which is on every eBay page, usually located at the top. Then type in "boat fenders" and eBay returns a list of items for sale that have boat fenders in their description. Do not be surprised by the number of listings, you may want to find a way of restricting your search slightly. You can do this by making your search term more specific, perhaps "round boat fenders" or "small boat fenders". eBay also offers you a number of filter criteria that are based specifically on the search term you type in. Expect to see filters for specific brands, new fenders or a price range amongst the filters offered.
Once a reasonable selection has been found, you can then start to review each listing in more detail. The listing contains a description of the item for sale that should tell you what you are want to know about the item. If one of your questions is not answered you can use the eBay messaging service to send a specific question direct to the seller.
Conclusion
Buying the right fenders is essential if the investment made in purchasing a boat is to be protected. Choosing between recycled fenders such as tyres or polystyrene blocks and fenders designed specifically for protecting a boat might mean avoiding costly or dangerous damage to the hull of a boat. Generally the size and shape of a fender is considered to be more relevant than the material it is made from. Modern vinyl materials all tend to provide super strength.
Fender shape and size are the most important attributes and when measured with the size of a given boat provide a clear indication for the number of fenders required to protect it at the quayside and from other boats. It may be necessary to travel wide distances to find one and even then, the choice of fenders on offer may be quite limited. Having a clear understanding of the requirements means that a shopper can take advantage of the wide number of choices available through online retail platforms.