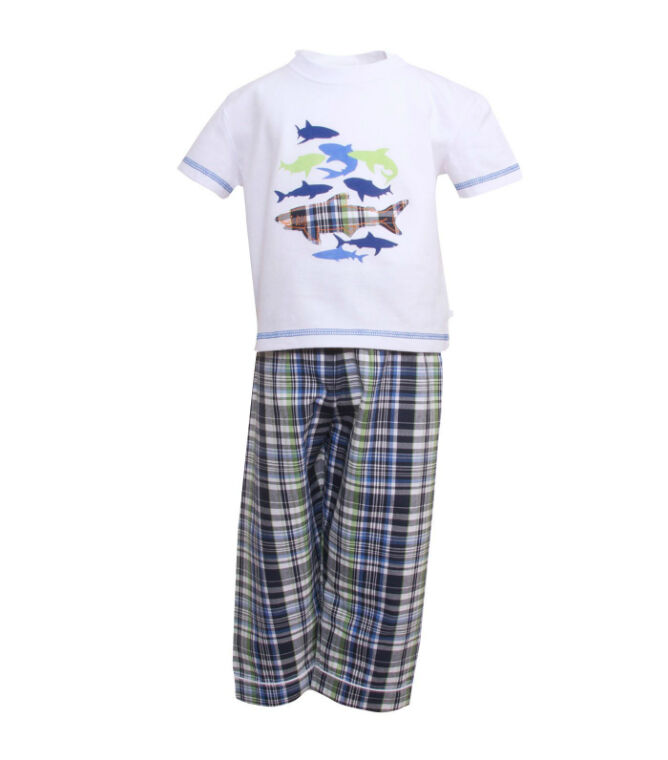 Whether bought as a gift or simply as a necessity, pyjama sets are an essential addition to a boy's wardrobe. They come in a variety of styles and designs, from classic stripes and checks to images of favourite superheroes and characters from cartoons. They are also available in a variety of materials, from natural fibres, such as cotton, to synthetics, such as polyester, each of which has distinct advantages, so shoppers should weigh up the benefits when making a choice. This buying guide will explore the types of boys' pyjama sets, and factors to consider when buying them. It will also address common fabrics used to make pyjama sets. While pyjamas and other nightwear can be purchased from a variety of department stores and bricks and mortar retailers, shopping online from an auction site, such as eBay , is another convenient option, offering a wider variety of items than may be available from other sources.
A History of Pyjamas
The term pyjama originally comes from a Persian word meaning "leg covering" or "leg garment". Pyjamas became popular in the West after 1870, when they were brought from Eastern countries by Western travellers. By the 1930s, pyjamas had become a staple of men's wardrobes. Made from cotton or silk, they could be worn around the home and as elegant nightwear. Pyjamas did not truly become popular with women until the 1920s, when they were popularised by the fashion icon, Coco Chanel, but by the World War II, they were an essential item for men, women, and children alike.
Factors to Consider Before Buying Pyjama Sets
If the pyjama set is intended as a gift, it is a good idea to check with the parents to see what the boy is interested in, which could include sport, television, or books, and which colours he prefers. Also be sure to check what size clothing he wears. Sizes in the UK are stated in years, as opposed to by height in other European countries, but children who are taller or smaller than their peers may require a different size. Parents shopping for their own child should consider involving him in the process, which allows for the child to find something that he really likes. The season should also be factored into a decision, especially when buying for younger children. Flannel pyjamas may be comfortable on chilly nights, but they may be too hot for a summer evening. Finally, look for a durable fabric that will wash well, so that the child can continue to wear the pyjamas as often as he likes.
Boys' Pyjama Set Designs
Pyjama sets consist of two parts, the top and bottom. Tops can have short or long sleeves, with a pullover design and a crew neck. Other designs may button up at the front and even have a pocket. Most pyjama bottoms have an elasticated waist, and some may also use drawstrings to adjust them as needed. In general, pyjama sets come in matched pairs or in a mix and match set that allows the child to choose whichever combination he prefers.
In addition to the style of the fabric, pyjama sets come in a variety of designs. Plain colours and prints such as stripes and checks are common, neutral options, but football fans may enjoy pyjamas with the club crest or club colours of their favourite teams, such as Manchester United . Other sets may feature characters from films and television programmes, such as Disney . Consumers can find more general prints focused on interests, such as skateboarding or music, in addition to branded merchandise.
Accessories
Some pyjama sets may include a matching bag to store them in, an ideal solution to pack when children are staying overnight at a friend's house. A toy that matches the set may also be a strong selling point, especially if the toy is from the child's favourite programme or film. Buyers can also consider completing the ensemble with a matching dressing gown and slippers, allowing the child to be fully decked out in cosy nightwear before bedtime.
Fabrics and Care
Children have more sensitive skin than adults, and so they are more susceptible to irritants. So, some parents may choose to use fragrance and dye-free detergents and fabric softeners to wash pyjama sets and other items of children's clothing. Fabrics commonly used in pyjama sets include both natural and synthetic fibres, along with some that are a combination of the two. However, synthetic fabrics may also include flame retardants, chemicals, and dyes that cannot wash out and have the potential to irritate the skin. On the other hand, these man-made fibres are also highly durable, do not shrink readily, and are often less expensive than their natural counterparts. In contrast, natural fibres such as cotton, linen, and wool tend to breathe better, keeping moisture off of the child's skin. They may also require more special care than synthetic options.
How to Know Whether a Fabric is Chemically Treated
Cotton, a natural fibre, is typically not treated with flame retardants, but this is not always the case. Under the UK's Nightwear (Safety) Regulations 1985, any fabric treated with a chemical flame retardant must carry a warning label. While the exact wording and design may change, this label should state something similar to: 'DO NOT WASH AT MORE THAN 50 DEGREES C. CHECK SUITABILITY OF WASHING AGENT'. Any fabric without a flame-retardant treatment must likewise carry a label saying 'KEEP AWAY FROM FIRE'.
Common Fabrics in Boys' Pyjama Sets
Most pyjama sets for boys use one of a handful of fabrics. The chart below explains the differences between these types. Buyers should always check the labels for specific care instructions, such as the ideal temperature and whether to hang the garments out to dry or tumble dry them. This will to help extend the life of the clothing and keep it looking good.
| Fabric | Description |
| --- | --- |
| Cotton | A natural fibre from the cotton plant. It is lightweight, absorbent, and breathable, making it ideal for warm weather. Can be a knit or woven, but wrinkles easily. |
| Jersey | A knit fabric made from cotton, synthetic fibres, or a combination of the two, but originally wool. It stretches and returns to its original shape easily. |
| Linen | A woven fabric made from the flax plant. Lightweight and absorbent like cotton, so it is ideal for warm weather, but it can be expensive. |
| Flannel | A woven fabric that can be made from cotton, wool, or synthetic fibres. Ideal for cool weather, it is soft and warm. |
| Fleece | A synthetic fibre made from polyester. It has water-resistant features and is warm and cosy to wear in cold weather. |
Another material worthy of note is elastane, a stretchy synthetic fibre more commonly known as lycra. This may be featured in the collars and ribbing of pyjama sets to help them preserve their original shape.
Buying Boys' Pyjama Sets on eBay
When you're ready to buy a pyjama set, visit eBay ' s home page and enter the items in the search box, such as 'boys' cotton pyjamas' or 'superhero pyjamas'. This can also be done from any page on the eBay site. From that page you can further filter the results to find exactly what you are looking for. You can also choose to narrow down your options by selecting those that offer free postage and packaging or express delivery, as well filtering the location of the seller to within certain areas. Choosing a local seller helps to ensure that your pyjamas arrive sooner. However, also look at the seller's feedback and rating. Good feedback and a high rating indicates a reputable seller, so you can feel confident in making your purchase.
Starting on eBay
If you are new to eBay, start by creating an account. While this is not necessary to browse, it does offer distinct advantages. After you have registered, consider which payment method you will use. PayPal is widely accepted, secure, and convenient, but eBay supports other methods as well. To learn more about these options, visit eBay's customer support page.
When you sign into your eBay account before a search, you gain access to a host of services that make the shopping experience easier. You can save searches to come back to later, save sellers that you like and have positive experiences with, and manage wish lists and watch lists.
Conclusion
First popularised in the 1870s, pyjama sets have become an essential and stylish addition to any boy's wardrobe. In addition to classic prints such as stripes, buyers can now choose bright and colourful designs of favourite superheroes, cartoon characters, and much more. These two-piece ensembles also come in a variety of styles, from pullover to button front tops, and bottoms with elasticated waists. They can be complemented by matching slippers and dressing gowns, while some pyjama sets come in a mix and match styles. Another important factor to consider when buying boys' pyjama sets is the material they are made of. Natural fibres such as cotton, wool, and linen may be gentler to skin, but they can be more difficult to care for than synthetics, such as fleece. Synthetics are also often treated with harsh dyes and chemicals that can irritate sensitive skin.
When buying boys' pyjama sets as a gift, consider the age of the child and ask his parents about his interests and preferences. Parents may also want to involve their children in the shopping process. Whichever option they choose, eBay is an excellent place to start shopping.