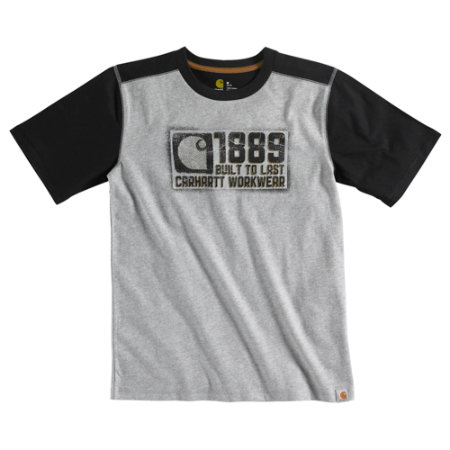 Buying boys' shirts can cause the most patient of parents to pull their hair out. While generally not as picky as girls, boys can still change their shirt style preferences on a whim. Involving boys in the shirt buying process is one of the best ways to ensure approval. Parents can involve their boys by shopping with them at big box department stores, boys' clothing stores, and online at eBay. However, involving boys in the shirt buying process does not eliminate the most difficult challenge to overcome when buying boys' shirts.
Boys tend to grow in spurts, sometimes growing a couple of shirt sizes within six months. Parents who understand how to shop for growth unpredictability have an advantage over parents who buy one size and then have to return a few months later to buy the same style of shirt in the next larger size. Besides growth spurts, parents have to consider other boys' shirt buying factors, such as the time of year, materials used to design a shirt, and for what occasion a boy wears a shirt. Parents should also learn about the different boys' shirt types, the boys' shirt size chart, and a few tips that ensure they buy the right shirt for their boy.
Types of Boys' Shirts
Boys' shirts come in a number of different sizes and styles. In addition, manufacturers utilise different materials to produce boys' shirts. Parents also need to factor in the time of year, price, and the purpose for wearing a boys' shirt. While there are numerous boys' shirt variations, parents can consider four general types of boys' shirts for their purchasing research.
Casual
Casual boys' shirts typically do not have a collar, such as a T-shirt or some other type of pullover shirt. Sleeveless tank tops are consider the most casual boys' shirt. Cotton T-shirts provide comfort in the form of a breathable material. Casual boys' shirts can be plain, multi-coloured, striped, or contain logos. Boys tend to wear casual shirts to school and informal extracurricular activities.
Sports
Many boys wear sports shirts and jerseys off the playing field or court. Three-quarter sleeve baseball jerseys are the most popular sports shirt choice, but boys can also be seen wearing basketball, football, or hockey jerseys that contain their favourite player's name on the back. Parents should consider buying this type of boys' shirt at a retail outlet, since it is cheaper than purchasing a sports shirt or jersey at a sporting event.
Short-Sleeve
Parents who buy boys' short-sleeve shirts most likely buy either polo pullovers or button-down shirts. An increasing number of school districts mandate some type of dress code that can include polo shirts. Most short-sleeve shirts are machine washable and provide high durability. Short-sleeve shirts can range from solid colours or plaid designs that do not have pockets, to utility shirts that contain multiple pockets. One of the more popular button-down, short-sleeve shirt designs is the block coloured look that bowlers typically wear.
Dress
Most boys only wear dress shirts for special occasions, such as weddings or school social events. Boys' dress shirts come in a wide variety of colours and designs, but the one common factor is that boys' dress shirts are typically button-down. Parents who consider buying a boys' dress shirt should consider the type of fabric used to make the shirt and the time of year the shirt is to be worn.
Factors to Consider for Buying Boys' Shirts
Parents not only have to consider numerous factors before buying boys' shirts, they must also rank each factor by importance. The following are the primary factors that parents should consider before they begin the buying process.
Material
The material used to produce boys' shirts goes a long way in determining shirt price and longevity. The more expensive the material used to produce a boy's shirt,, the longer its staying power. Polyester blends tend to provide the most durability, since colours do not run as they do on some cotton shirts, and polyester is one of the tougher fabrics. Boys' shirts made of a polyester blend tend to tear less and can withstand countless wash cycles.
Styles
Boys' shirt styles vary by age, with younger boys wearing more colourful and flamboyant shirt styles. Older boys tend to wear print designed shirts, especially if they attend a school that has a rigid dress code. Style can also determine shirt price, but that is due more to popular trends than visually appealing shirt designs. Parents should stay away from the more expensive trendy boys' shirts, since a popular trend today can be a distant memory by tomorrow.
Purpose
Where a boy wears a shirt also factors into what type of shirt to buy. School dress codes now have more to do with boys' shirt purchases than almost any other factor. Boys also need shirts for physical activities, social events, and informal gatherings at the homes of friends. This means that parents should look for boys' shirts that fulfill multiple purposes.
Time of Year
Weather plays a role in determining what type of boys' shirt to buy. Consumers who experience four distinct seasons purchase long-sleeve shirts for the winter months, and lighter fabric casual shirts for the summer months. While spring and autumn can mirror each other in terms of temperatures, spring tends to be wetter, and thus, requires the purchase of breathable shirts that repel moisture. Parents can get the best bargains on boys' shirts during off-season sales.
Size
Boys can grow in spurts, which makes buying any type of boys' clothing a difficult task. However, boys typically do not begin to grow in spurts until after the age of eight. Once a boy reaches eight years, parents should consider buying two sizes of the same shirt, one size to fit the boy today, and a second shirt that is a size larger for the growing boy of tomorrow. Because of growth spurts, parents should limit the number of expensive dress shirts that they buy for their boys.
Boys' Shirt Sizes
Before parents head out to buy boys' shirts, they should refer to the boy shirt size chart to acquire an understanding of what boy shirt size to buy. While parents can measure their boys at home, they should have a tailor or boys' clothing sales representative take the measurements. Here are the general guidelines for boy shirt sizes that range from boys two years of age all the way to age 14. Note: Measurements are in centimetres (cm).
| | | | | | | | | | | | | | |
| --- | --- | --- | --- | --- | --- | --- | --- | --- | --- | --- | --- | --- | --- |
| Years | 2 | 3 | 4 | 5 | 6 | 7 | 8 | 9 | 10 | 11 | 12 | 13 | 14 |
| Height | 92 | 98 | 104 | 110 | 116 | 122 | 128 | 134 | 140 | 146 | 152 | 158 | 164 |
| Chest | 52 | 53.5 | 55.5 | 58.5 | 60 | 62 | 64 | 66.5 | 69 | 73.5 | 78.5 | 83.5 | 86 |
| Waist | 49 | 51 | 52 | 54.5 | 55.5 | 56.5 | 58 | 60 | 62 | 64.5 | 67 | 69.5 | 74 |
Boys' Shirt Buying Tips
While there is not a set in stone process for buying boys' shirts, parents can follow a few tips that help them make smart buying decisions.
Inventory
Before the start of a new season, take an inventory of a boy's shirts. Donate any outgrown shirts to charity and then make a shopping list of the items needed to replace the outgrown or out of style shirts. Categorise the shopping list by shirt type and decide on quantities based on how often the family does laundry.
Input
Kids do not buy into parent purchasing choices unless they have some say in the matter. Parents can expect boys to develop solid clothing opinions by the time they reach eight years of age. Spend time with the boys and review websites and print catalogues to form ideas for the boys' shirts shopping list. Make sure to define budget limitations and style restrictions before deciding on boys' shirt options. Setting a budget provides boys with a lesson on fiscal restraint and it also prompts them to learn how to shop for clothes.
Shop Together
Boys should accompany parents during shirt shopping trips to gain experience shopping and to try on prospective shirts. If expediency requires a parent to shop alone, then make sure the stores chosen have flexible return policies. Shopping online is another way to involve boys in the shirt buying process, although parents cannot ensure that the boys' shirts that are chosen are going to fit.
Buy Smart
Many retailers offer frequent buyer programmes that offer discounts for shoppers who sign up for the programme. Make sure any boys' shirt that you consider has a wear-out warranty. Some retailers, mostly big box department stores, replace boys' shirts if they wear out within a certain time frame. Before making a final decision, check boys' shirt buttons to ensure that each one is secured to the shirt. Loose shirt buttons often indicate shoddy production.
Buying Boys' Shirts on eBay
Parents who know the size and style of the boys' shirt they want to buy, find eBay to be the most convenient shopping option. eBay provides buyers with a search engine that makes the boys' shirt buying process stress-free. Simply type a few keywords into the search engine, and then navigate through the search results to find sellers who meet your shopping needs. Specify what type of shirt you want to narrow the search results. For example, type 'boys' casual shirts&' or 'boys' school uniform shirts&' to shorten the search results list. Once you find a seller that piques your interest, click on the product page to review the enlarged product photograph, delivery terms, and return policies.
You should only consider buying from eBay's Top-Rated Sellers. These sellers have established reputations for selling high-quality products and running fair auctions. Moreover, review seller customer feedback that appears on seller product pages. Look for sellers who have garnered positive customer feedback for more than a year and preferably have sold boys' clothing.. Top-rated sellers also tend to have generous return policies, which is an important factor in buying boys' shirts.
Conclusion
Boys' shirts come in a number of sizes and designs that make the buying process seem complicated. Size is the key, as boys can grow a size virtually overnight. Because of boy growth spurts, parents should consider buying more than one size of a boys' shirt of similar style. They should also avoid buying too many pricey dress shirts. Parents should involve their boys in the shirt buying process to avoid choosing shirts that their boys refuse to wear. Involvement also allows parents to receive an accurate measurement of their boys' shirt size.
Parents need to be prepared before stepping into a boys' clothing store or entering an e-commerce site, such as eBay. They should learn about the types of boys' shirts, boys' shirt sizes, the primary factors outside of size that determine what shirt to buy, and a few tips that ensure the boys' shirt buying process does not lead to imprudent purchases. Above all, since buying boys' shirts can be an expensive endeavour, parents should take advantage of off-season sales and other discounts offered by both physical and online boys' clothing retailers.