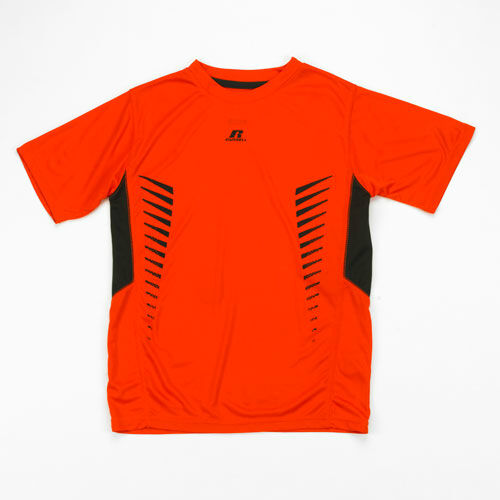 Boys' T-shirts may be worn as either underwear or outerwear. As underwear, they are typically white, whereas, T-shirts worn as outerwear are available in a wide array of colours. Many parents prefer coloured shirts as boys' T-shirts get a lot of wear. T-shirts can be close fitting or they can hang loosely.
Traditional T-shirts have short sleeves, a round neckline, and no collar. However, more modern T-shirts can be found with long sleeves, a variety of necklines, and a collar. T-shirts can have embellishments, like buttons, or feature designs, adding some flair to an otherwise plain garment. T-shirt fabrics range from cotton to jersey knit and polyester. To help the shopper to make the right decision when buying boys' T-shirts, this guide will discuss popular fabrics used for the T-shirts, give insight into T-shirt necklines, show how boys can express themselves through the T-shirt, and highlight popular brands of T-shirts. This guide will also discuss buying T-shirts in higher quantities, how to care for them, how to choose the right size, and how to search for and buy boys' T-shirts at online retailers such as eBay.
Fabrics for Boys' T-Shirts
Boys' T-shirts are made from a wide variety of materials, each one with its own properties. Popular fabrics include cotton, polyester, and polycotton blends.
Cotton
Cotton is known for its ability to allow the skin to breathe and for its absorbency. Cotton is durable and easy to care for, maintaining its structure even when washed at high temperatures. Cotton fabric varies in quality greatly. The quality depends on its thread count and its origins, for example, whether it is standard or organic. Cotton is generally more expensive than synthetic materials.
Polyester
Polyester is widely used in the manufacturing of boys' T-shirts because it is highly resistant to shrinkage and mildew, and dries quickly. Polyester is resistant to tears and so outlasts cotton T-shirts.
Polycotton
As the name suggests, polycotton blends consist of polyester and cotton. Polycotton is more comfortable than polyester and retains its shape and colour for longer than 100 per cent cotton fabrics. Polycotton is also less prone to pilling. Polycotton is machine washable and known for its ability to resist wrinkles and shrinkage. However, polycotton is not as breathable as other fabrics.
T-Shirt Necklines
Boy's T-shirts can have a variety of necklines. The most common are: crew neck, scoop neck, and V-neck. The crew neck is a round neckline that rests at the base of the boy's neck. T-shirts that have a U-shaped neckline are referred to as a scoop neck. The depth of this shape can vary from one manufacturer to another, and range from slight to plunging. Like scoop necks, the neckline of a V-neck can vary in depth.
A Garment of Self Expression
Although T-shirts are known for their simple style and solid colours, more modern versions feature a wide array of designs, patterns, and wording. Boys' T-shirts can be printed with images from Spiderman to Batman, along with other well-known cartoon characters. T-shirts may be inspired by sports teams or include pictures of animals. Stripes and other patterns are also common, as are T-shirts containing famous quotes or slogans.
Boys may even choose to design their own T-shirts. Two well known forms of customisation are screen printing and airbrushing. These techniques have increased in popularity and the sketches used are only limited by the imagination.
Popular Branding
Boys' T-shirts are manufactured by a number of clothing companies. In an attempt to distinguish their T-shirts from their competitors, many manufacturers feature a logo on the garment as a way to brand their product. These logos are widely recognised and range from the affordable Fruit of the Loom to high-end designer brands such as Ralph Lauren, Diesel, and Tommy Hilfiger. These T-shirts may differ in the quality of the fabric and where they were made, and the branding often results in higher cost for the item. Buyers must therefore consider how much of the cost is due to the logo.
A Form of Advertisement
Many manufacturers use their T-shirts as a marketing device. Popular boys' T-shirts many contain wording such as Quiksilver, Nike, or Gap across their fronts. Not only is this an effective form of advertisement for the manufacturer, but also benefits the wearer who gets to belong to a trendy, fashionable community.
Lesser known companies may also promote their business in the same way. T-shirts are inexpensive to produce, so companies often give them away in the hope that they will be worn proudly and promote the company.
Boy's T-Shirt Bundles
Boy's T-shirts are often sold in bulk because their versatility means that boys cannot have too many T-shirts. Popular retailers may sell groups of three to five T-shirts per transaction. The T-shirts may be identical in structure, but they will differ in colour and print. Shoppers then have the choice of buying single colour collections, or they can mix and match colours and prints. Some bulk buys may even allow for the mixing of sizes, so a package of T-shirts can be bought for boys of different ages at one affordable price.
How to Care for Boys' T-Shirts
Boys' T-shirts are highly prone to wear and tear because of the active lives of boys. So, manufacturers recognise the need to produce garments that are easy to care for and maintain. Coloured T-shirts should be washed in cold water with similar colour to avoid the dyes running and damaging other items. Plain white T-shirts can be machine washed at higher temperatures. In principle, bleach can be used on white T-shirts to remove stubborn stains and restore the fabric's whiteness, but before doing this, ensure that the boy wearing the T-shirt will not have a reaction to such strong measures and read the fabric label carefully. For less drastic stains, stain remover can target problem areas, such as the underarms that are prone to discolouration caused by sweat and, natural body oils. Always read the care label, and remember that washing in hot water can cause the T-shirt to shrink, especially if the garment is made of cotton. If a boy's T-shirt is safe to go in the dryer, then remove it promptly once it is dry to avoid wrinkles.
Sizing
When buying boys' T-shirts, it is important to be familiar with sizing. Boys' T-shirts are often sized according to the child's chest size and length as indicated in the chart below.
| Size | Chest Size (in cm. wide) | Body Length (in cm.) | Age Range |
| --- | --- | --- | --- |
| 2T | 30 | 36 | 1-2 |
| 3T | 32 | 38 | 2-3 |
| 4T | 34 | 41 | 3-4 |
| Youth Small | 64 | 52 | 6-8 |
| Youth Medium | 74 | 58 | 10-12 |
| Youth Large | 84 | 64 | 14-16 |
Sizing often varies among manufacturers, so it is a good idea to consult the relevant size chart before making a purchase.
Where to Buy Boys' T-Shirts
Buyers who want to ensure they are purchasing properly fitted boys' T-shirts should obtain a set of the boy's measurements before embarking on a shopping trip. Many bricks and mortar department stores sell boys' T-shirts, from simple, single colour styles, to more intricate designs. Alternatively, buyers can choose to buy boys' T-shirts online. eBay sells boys' T-shirts ranging in colour, form, and size. For buyers looking to pay a competitive price or who want a specific type of T-shirt, eBay offers a large selection of products.
Buying Boys' T-Shirts on eBay
Buying boys' T-shirts online offers buyers a wide variety of choice to meet any budget. Buyers can easily search for boys' T-shirts by typing in boys' T-shirts into the search on eBay's homepage and a wide selection of T-shirts available for sell will be displayed. Alternatively, buyers can use eBay's advanced search feature to further narrow results by category, price, or buying format. To refine the search and get more precise results, buyers can combine search filters with their search keywords.
Research the Seller
By analyzing detailed seller ratings and reading reviews from past customers, buyers can decide if they are comfortable purchasing from a particular seller. Positive feedback ratings indicate that the seller is recognized by the eBay community for dealing fairly. For a quick way to find the best sellers on eBay, look for those who have been awarded Top-rated status. Top rated sellers must consistently earn positive feedback and complete at least 100 trouble free transactions over a twelve-month period.
Conclusion
Boys' T-shirts are a main staple in any boy's wardrobe. T-shirts are versatile and can be worn as outerwear or underwear. Cotton T-shirts make for great athletic wear because of their breathability, while polyester T-shirts are durable and can withstand the trials of time. Because these garments are inexpensive, most parents do not mind the levels of the wear and tear that the T-shirts receive as a result of rough play on the school playground. These shirts are a great way to let boys express themselves and their interests. While T-shirts often display the hobbies and interests of the boy, others reflect popular icons or superheroes. For those with a creative sense of style, customised T-shirts give boys the opportunity to let their imagination run wild. Purchasing T-shirts in packs is a great way to stock up on wardrobe necessities while increasing the cost savings. To ensure that boys receive long lasting wear of their T-shirts, adhere to the care labels. With the wide array of boys' T-shirts available on eBay, buyers can easily find a T-shirt to fit any boy's style.