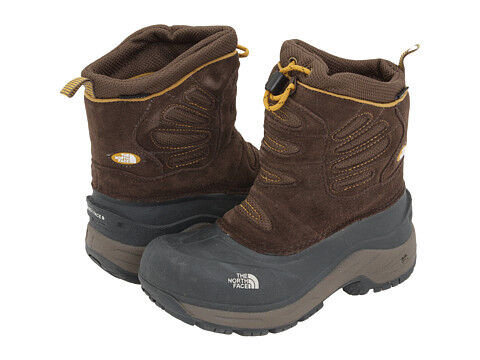 Boys can be difficult to shop for, not because they are finicky, but mostly because they are disinterested in the entire buying process. This is particularly true for buying boys' winter shoes, which requires a significant amount of time for planning and possibly even more time inside of a department or shoe store. Boys' winter shoes come in all shapes and sizes, which is something parents should understand before leaving the house on a shopping excursion. There are extended, sturdy winter boots and low-cut, flexible winter shoes that are made for cold, yet dry winter climates.
Parents can buy boys' winter shoes in large department stores, but they may find more expertise in stores that specialise in selling boys' shoes. The sales representatives in boys' shoe specialty stores possess the skills to make boys feel comfortable and have the requisite knowledge to recommend boys' winter shoes. Parents can also find boys' winter shoes online at the leading online auction site, eBay. Before purchasing boys' winter shoes, parents should learn what to look for in boys' winter shoes, the five steps for buying boys' winter shoes, and some tips that ensure parents buy the right boys' winter shoes.
What to Look for in Boys' Winter Shoes
Shopping for boys' winter shoes requires parents to evaluate four factors. How much weight they place on each factor before coming to a buying decision depends upon the type of winter climate they experience. For instance, parents who live in temperate climates may place more weight on flexibility than on temperature rating.
Flexibility
Boys typically take off their winter shoes if the shoes have accumulated snow. However, this is often not the case, as boys wear their shoes inside of schools, churches, and grocery stores. Therefore, boys' winter shoes must be flexible enough to make walking a comfortable activity. Stiff winter shoes not only make walking difficult, but they can lead to painful blisters and bruising around the ankle area. Parents who live in warmer winter climates should place winter shoe flexibility at the top of their buying criteria.
Waterproof Protection
Boys do not have to live in a snowy climate to get wet, cold feet. Plenty of climates remain rainy and cold throughout the winter. Boys' winter shoes should possess high waterproof protection against both rain and snow. Hypothermia can set in after just a short exposure to damp, cold feet and lower legs. Treated leather and fleece-lined winter shoe interiors are excellent ways to ensure waterproofed boys' winter shoes.
Temperature Rating
Most boys' winter shoes manufacturers provide temperature ratings for each style of winter shoe. Parents need to make sure any winter shoes they buy for their boys keep their feet warm during the harshest of weather conditions. Boys that live in consistently cold winter climates should wear winter shoes that possess temperature ratings below zero. Temperature ratings are also important for boys who enjoy playing outdoors for extended periods during the winter.
Shoe Height
Many consumers make the mistake of buying low-cut boys' winter shoes. Low-cut boys' winter shoes cost less than extended boys' winter shoes due to the use of fewer materials. Even if boys do not live in snowy climates, they should wear extended winter shoes to protect the ankle and lower leg areas against cold and moisture. Moreover, extended winter shoes prevent snow from falling inside of the shoe. Some extended boys' winter shoes fit over other types of shoes, meaning boys can remove extended winter shoes once they plan to remain inside.
The Steps for Buying Boys' Winter Shoes
Buying boys' winter shoes requires a well-thought out game plan. Parents want their boys to wear their winter shoes and not discard them in the corner of a school room because they are uncomfortable or fashion-unfriendly. Parents should follow five steps to ensure their boys wear the shoes that they buy for them.
Step One
Before the foot measurements, review a few boy periodicals and watch some boys' television programming to ascertain what winter shoe styles are popular amongst boys. Despite the protection from the cold, boys wear winter shoes more for appearance than for any other reason. They emulate what other boys wear, which typically is the hottest style of winter shoe.
Step Two
Scan newspaper ads for boys' winter shoes sales. The sales can be product-specific or store wide. Sunday papers offer a wider breadth of sale advertisements. Department and boys' clothing stores often hold winter clothing sales during the warmer months to entice consumers to buy boys' winter shoes. Make sure to follow the sales policy. Some sales require a coupon for purchase, while others simply mark down boys' winter shoes. Moreover, pay attention to coupon expiration dates.
Step Three
Many parents make the mistake of guessing their boy's foot size, mostly by going on the last pair of winter shoes purchased, and then adding a half or full shoe size. Boys can skip a shoe size or two in between winter shoe purchases due to sharp growth spurts. To ensure accuracy, have a shoe department or shoe store sales representative measure a boy's foot size. They can also recommend any special winter shoe requirements, such as extra width or additional sole padding.
Step Four
Boys can be impatient when it comes to shopping, especially when it comes to the time consuming task of buying boys' winter shoes. Nonetheless, boys should try to walk in several types of winter shoes to see which pair offers the most comfort and flexibility. They should walk up and down the shoe department or store aisles, while making turns and climbing steps. Moreover, they should wear both of the shoes that they are evaluating. Toes should not touch the top of the winter shoe and there should be at least an inch between the toes and front of the winter shoe to allow for foot growth. Boys' winter boots should provide strong support, without grabbing the ankle area.
Step Five
Parents who live in colder, wetter winter climates should ask the shoe department or store sales representative to add more insulation to a boy's winter shoes. The boy's winter shoes that both the parent and boy like may only lack enough insulation materials to provide warmth and repel moisture. Parents can ask for increased protection from the cold and snow, but they cannot change a boy's winter shoes comfort level. Comfort should come first, followed by changeable protection levels.
Boys' Winter Shoes Buying Tips
Consumers shopping for boys' winter shoes can use all of the help they can get. Try not to pay full price for boys' winter shoes, since boys quickly outgrow shoe sizes. However, avoid discount retailers, since they may sell inferior boys' winter shoes. Have the boy wear the socks he plans to wear while wearing the winter shoes. Wool socks tend to be thicker than athletic socks worn during the warmer months of the year. Do not mistake rain boots for winter boots. Rain boots protect against moisture, but they do not keep feet warm. Here is a summary of some other boys' winter shoes buying tips.
| Tip | Description |
| --- | --- |
| Timing | Parents should shop for boys' winter shoes later in the day, preferably in the evening; feet swell over the course of day, but boys' feet swell even more due to increased physical activity |
| Shopping Reluctance | The best way to combat the reluctance of boys to shop for winter shoes is to utilise the expertise provided by stores that sell shoes strictly for boys; the sales reps in these stores know how to deal with reluctant boys |
| Stay Away from Trendy | Peer pressure, combined with over-the-top sales pitches, lead many parents down the errant path of buying trendy boys' winter shoes; style should always be at the bottom of any boys' winter shoes buying criteria list |
| Do Not Buy Big | Another buying temptation is to purchase boys' winter shoes that are a size too big, so the boy can wear the shoe longer and the parents save money; winter shoes that are too big can cause blisters and increase the likelihood that a boy trips |
| No Breaking In | Breaking in shoes is not recommended for anyone, but especially for boys; winter shoes must be comfortable from the get go, or else boys do not wear them |
| Fasteners | Avoid slip-on winter shoes that can come of boys who are in the middle of a large snowdrift; buy boys' winter shoes that have waterproof shoelaces. |
| Materials | Breathable materials, such as leather and canvas, provide cooler and drier boys' winter shoe interiors |
| Traction | Heavy tread boys' winter boots provide the best traction on ice and packed snow surfaces |
Buying Boys' Winter Shoes on eBay
If you know exactly what size of boys' winter shoes you need and you know all of the features of a boys' pair of winter shoes that you want, then the most convenient shopping option for you is on eBay. Type a few keywords into eBay's search engine and then navigate to several product pages. Each seller product page presents an enlarge photograph of the boys' winter shoes, as well as delivery terms and return policies. Narrow your search by typing specific keywords into eBay's search engine. For instance, typing "boys' winter shoes" or "boys' waterproof winter shoes" shortens the time you spend shopping for boys' winter shoes.
Look for sellers who have earned eBay's Top-Rated Seller designation. Top-rated sellers typically offer high-quality products and run fair auctions. Moreover, top-rated sellers provide generous return policies, which is an important factor for buying boys' winter shoes. You can also review customer feedback on seller product pages. Consider sellers who have garnered positive feedback for at least one year and have some experience selling boys' footwear.
Conclusion
Outside of going to the dentist, boys loathe nothing more than shopping for clothes. They dislike buying winter shoes because of the time it takes to find the right pair that comfortably fits their feet. Parents can take a little of the aggravation out of the boys' winter shoes buying process by shopping at specialty stores that sell only boys' footwear. The sales representatives at boys' shoe specialty stores are able to encourage reluctant boys into becoming active participants in the buying process. They also possess more expertise than department store shoe sales representatives.
Nonetheless, parents can do their part by preparing before heading out the door to buy boys' winter shoes. They need to weigh the importance of boys' winter shoes flexibility, waterproof protection, temperature rating, and extended height. Parents should follow the five steps for buying boys' winter shoes that include taking an exact measurement of a boy's feet. Parents should stay away from fashion trendy boys' winter shoes and focus more on comfort and protection from the cold and snow. Boys' winter shoes are already costly enough without adding a premium for a fleeting fashion trend.