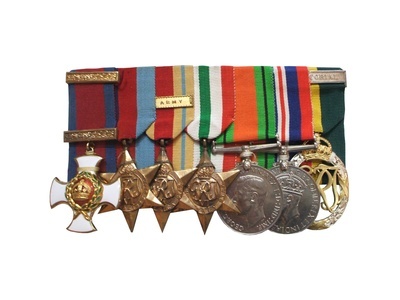 eBay is a great place to British militaria. From British service uniforms and clothing to standard issue badges, belt buckles and boots, eBay sells an extensive range of British militaria to suit any and every collector, historian or enthusiast. Collecting militaria is a hobby all over the world largely due to the fact that wars are fought everywhere and people like to own historical items and antiques.
Due to this global popularity, there is now an abundance of British militaria on the market. Internet shopping websites like eBay host a wealthy variety of British militaria from many eras and different combat periods.
The aim of this guide is to inform the reader all about British militaria and advise them how to purchase such products from auction-based website eBay.
What is Militaria
Militaria are artefacts or replicas of military, police or other services. Militaria items are also known as 'military antiques' or 'military antiquities' in some fields.
Militaria are collected for their historical significance as a hobby activity. Militaria is a broad term that describes many military artefacts including but not limited to:
Firearms, swords, knives
Uniforms, helmets, armour
Combat equipment
Field gear
Military decorations, awards, badges
Challenge coins, buttons
Military art, sculptures, prints
Photographs, cigarette cards
Antiquarian books, magazines, posters
Scale models, toy soldiers
British Militaria
Britain is one of the longest fighting nations in the world and as such it has a prolific history of conflict. British Militaria have been collected from many wars including the Boer War at the turn of the 20th century, the World Wars and the Gulf War in the 1980s.
eBay also stocks a collection of British militaria from the early modern era (1500-1800) and even ancient/ medieval times (pre 1500).
Why Buy British Militaria?
You don't have to be a collector, an enthusiast or a historian to buy British militaria and war relics. British Militaria items are great purchases for anyone who has an interest in wars, conflict and history. The majority of the appeal for buying militaria lies in its historical significance. People like to own things that were once used in or part of important historical events.
The most popular items of British militaria are helmets, armour and other army artefacts that were used during combat. Some collectors will only specifically collect militaria and war relics that have been used in battle as to them this bares more significance.
Many militaria collectors will only collect militaria from certain wars or from a specific nation. Other collectors will collect certain pieces of militaria from a variety of nations in an almost catalogue fashion.
Some people collect militaria as an investment and will only possess the items for a period of time before selling them on hoping to make a profit. One of the most popular items of militaria for investment purposes is the helmet of a German Fallschirmjager (Paratrooper).
In 1980 these helmets could be purchased for as little as a couple of hundred pounds whereas in recent times the same artefacts have reached over £8000 at auction.
By no means are there any guarantees that a profit will be made purchasing militaria for an investment however the fact that there is a global interest in periods of conflict means that there will be a healthy market interested in such war relics for many years to come.
British Militaria Buying Advice
There is some important information and general advice to share before buying any British militaria as the field is quite specialised. Firstly for anyone considering purchasing any badges, medals or decorative military achievements they must be familiar with and understand the terms in the British honours system.
The system consists of three different types of award: honours, decorations and medals.
Honours – this award type is used to recognise merit in terms of achievement and service
Decorations – these awards generally recognise specific deeds (often of an individual)
Medals - this award type is used to distinguish bravery, good conduct, long and/ or valuable service
Another popular area of British militaria is collecting buttons. In the British military, each unit has its own unique regimental button (some even have a second design for use on cap buttons). There is a large range of British militaria buttons made from various materials including plastic and compressed leather. Generally there are only 3 sizing categories for militaria buttons, each has its own use:
Small (14mm in diameter) – used for the cap and mess dress waistcoats
Medium (20mm in diameter) – used on nearly all parade uniforms
Large (25mm in diameter) – used for the 'great-coat' and the front-fastening of guards tunics and officers service jackets
British military buttons vary greatly in design, shape and style so it is strongly recommended that the buyer conducts some research prior to purchasing. There are many collectors and reference books concerning British militaria which will provide the buyer a lot more information about the products especially dating and uses.
Finally, for anyone who is about to purchase their first piece of British militaria: don't be put off because of some items appearances. Some military relics (especially those actually used during combat) will naturally bear a rustic-looking appearance. This can be anything from mud and dirt to scratches and bullet holes and is what certain collectors love as it's authentic.
If you do not wish to purchase British militaria that have been used during conflict, there are still plenty of war relics that were never issued during times of combat.
How to Buy British Militaria from eBay
eBay is a great place to purchase British militaria. Whether the buyer is looking to buy a traditional British army uniform from a particular war, an ancient British military knife or a standard issue gas mask from the World Wars, eBay sells a large range of British militaria for every collector, historian or enthusiast.
eBay is one of the most established ecommerce websites on the internet and as such it has the most competitive pricing, great customer service and an overall great user experience. As part of the great user experience, eBay offers all of its customers a choice regarding purchasing items from the site. Customers can either: purchase the item immediately (by clicking Buy Now) or they can bid for their desired item in an auction format (by clicking Bid Now).
Finding British militaria on eBay is easy and can be carried out in two ways; either by searching or browsing through eBay's categories.
To find the desired item using the search function: simply type in the name, service or origin of the item, into the toolbar and press enter. A page of search results will then appear to browse through. Once the relevant search result has been found, click onto it to be taken to that products listings page.
To find the sought-after British militaria product using eBay's categories: simply visit the homepage and click on All Categories. Then click onto Collectables and then onto the subcategory Militaria. Again, the buyer can browse through the pages of search results until they find their desired item.
Once on the products individual listing page you will notice a wealth of information about the product from a detailed specification to photographs and comments about the items condition.
eBay also provides information about the items seller including their: eBay rating, selling history and their location. The location of the seller aids the buyer in their decision regarding shipping: to have the item delivered or to visit the seller, if local, and collect it themselves.
· Should the buyer find that they require further information, they can contact the seller directly themselves. Buyers may ask sellers any questions or queries relating to the product on sale to help better inform them about it.
Once the buyer has decided upon which British militaria item/s they wish to buy, they can begin purchasing. On eBay this can be performed in two ways: buying the item immediately (Buy Now) or bidding for the item in an auction (Bid Now) attempting to get the best price possible.
All transactions made on eBay are safe and secure courtesy of PayPal. By employing this third party payment scheme eBay customers can pay their items seller without ever sharing any important banking information.
eBay has a comprehensive help section for anyone undergoing difficulty using the website. For specific queries, you can contact eBay directly and they will be more than happy to help.
Conclusion
There are many factors to consider when buying British militaria and war relics. However with the important information and considerations over purchasing the items outlined in this guide, buying British militaria on eBay is easy.
The right piece of British militaria is not just another item for your collection: it is a piece of history that can be cherished for many years to come. Whatever your age, there is definitely some militaria that would suit your taste and style.
This guide has provided some invaluable hints, tips, information and advice on how to purchase British militaria on eBay and what to look for when buying these products.