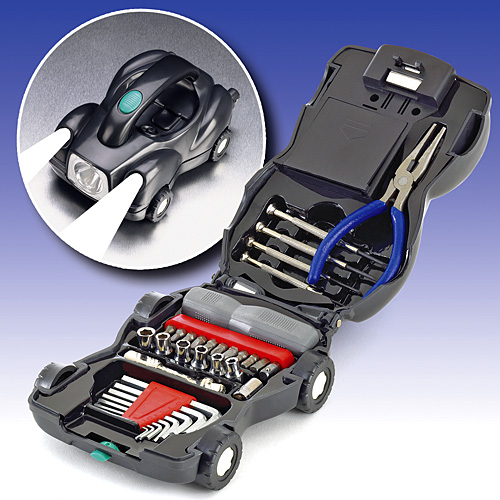 A car body provides drivers and passengers, as well as vehicle components, with protection from the elements and road debris. It also provides some protection in the event of an accident. Sometimes, the only barrier between vehicle damage and personal injury is the body of the car. This makes the maintenance and repair of a car body extremely important.
Before having a car body repaired, vehicle owners first need to determine the exact type of repair required. They must also decide on whether they want to pay someone to do the work or take on the project themselves. As long as they have the proper tools and other equipment necessary as well as the know-how to do so, vehicle owners can properly repair a damaged car body. Shoppers can find the proper car body repair kit through various automotive supply shops or online. Sites like eBay offer a wide selection of car body repair kits for purchase.
Types of Car Body Repair Kits
When repairing a car body themselves, vehicle owners first need to determine which type of car body repair kit they need to buy. The following table contains information on various car body repair kits available, from dent pullers to panel beaters and rust repair kits.
| Repair Kit Types | Description |
| --- | --- |
| Panel Beating Tool Kit | Uses hammers along with dollies to repair car body panels; other equipment includes body files and various metal spoons |
| Body Panel Dent Puller Repair Kit | Uses various suction devices to pull dents out of a vehicle's body; slide hammers, hooks, and pulling screws also find common use |
| Car Body Dent or Scratch Repair Filler Kit | Fills the dent or scratch with body filler as opposed to removal; if done properly, easily accomplished at home with the right tools |
| Plastic Car Bumper Trim or Body Repair Kit | Allows for the repair of a cracked or broken bumper, trim, or body; involves the mixing of a two-part polyurethane-based compound |
| Hydraulic Car Body Repair Kit | Gives users the added power of a hydraulic pump; come in various ton capacities |
| Sanding and Prepping Kit | Features buffers and various pads that allow for sanding and general prep work; also useful for polishing fresh paint once it has dried |
| Slide Hammer Set | Allows users to pull out dents; also comes with screws and hooks to attach to the damaged area |
| Rust Repair Kit | Contains grinders, sandpaper, and tinsnips to remove rusted metal; contains body filler to apply to the repaired area upon removing rust |
| Fibreglass Car Body Repair Kit | Contains various materials for the repair of damage to a fibreglass body; fibreglass is one of the easiest to repair body materials |
Each kit caters to a certain type of repair, so car owners should know what type of repair they need to buy a kit for. If uncertain about which kit to choose, owners can consult a local mechanic or even the manufacturer's website.
Common Tools for Car Body Repair
If vehicle owners plan on doing body work themselves, they should keep some essential tools in their workshop or garage in addition to any car body repair kits that they own. Some of these items come in various repair kits, so shoppers should not need to purchase these items individually. The following sections describe some of the essential items vehicle owners need for car body repair.
Various Hammers
Various hammers for banging on a damaged car body can also come in handy. Car body repairers use these hammers in conjunction with dollies to pound dents out of the body of the vehicle. Even with a panel beating tool kit, vehicle owners should consider getting any hammers that the kit does not have. Some of the various hammer types include:
Dollies
Car body repairers use dollies, in conjunction with the various hammers available, to remove dents from car body surfaces. Owners place the dollies on the side of the damaged area opposite of where the hammer strikes. Striking the metal against the dolly raises the metal by stretching it. Shoppers can purchase a variety of dollies and should buy them in different forms to accommodate different types of dents.
Slide Hammer
A slide hammer allows car body repairers to apply more force when pulling out smaller dents and scratches on the car's body. When buying a slide hammer, shoppers should also make sure that they have the hooks and screws they need to properly attach the slide hammer to the damaged area.
Buffer
Even if car body repairers forego purchasing a sanding and prepping kit, they still should buy a buffer of some sort. This allows them to properly prepare a damaged area for repair and to sand body filler down once applied to an area, especially before painting.
Dent Puller
Dent pullers allow users to pull a dent out easily through the use of a suction device. Most often a dent puller can remove the damage but the crease remains, which repairers must then refinish and apply paint to.
Body Filler
Body filler, such as Bondo, comes into play near the end of the repair cycle to fill in a damaged area that remains after repair. Vehicle owners should apply body filler and then sand it down for a smooth finish, applying paint after preparing the area.
How to Repair a Dent in a Car Body
One common car body repair involves the removal of dents. While larger dents require a more comprehensive approach, vehicle owners can easily repair minor dents and scratches by using body filler. In order to repair a dent, owners need the following items:
Sandpaper: 150-grit, 220-grit, and 400-grit wet/dry
Body Filler and Hardener
Spot Putty
Rigid and Flexible Spreader
Once owners have acquired all of the necessary items, they are ready to start their own dent repairs. The chart below provides vehicle owners with the steps to follow to properly repair a dent in a car body using body filler.
| Steps | Description |
| --- | --- |
| | Sand off any paint from the damaged area using 150-grit sandpaper |
| Step 2 | Mix the body filler with the hardener; use quickly as the compound hardens fast |
| Step 3 | Apply the body filler to the damaged area using the flexible spreader to 7 cm outside of the actual damaged area |
| Step 4 | Once hardened, sand with 150-grit sandpaper wrapped around a sanding block until close to smooth |
| Step 5 | Switch to 220-grit sandpaper and continue sanding until even with the metal around the area |
| Step 6 | Using a flexible spreader, spread spot putty across the repair surface |
| Step 7 | Once dry, sand with 400-grit sandpaper until totally smooth and even with the metal |
| Step 8 | Mask off the damaged area to prepare for painting using masking tape and paper |
| Step 9 | Apply the automotive primer in light, even coats; apply more than one coat if necessary. |
| Step 10 | Allow primer to dry and remove the masking tape and paper |
| Step 11 | Using 440-grit sandpaper and a spray bottle of water, sand the area while wet in a straight back and forth motion |
| Step 12 | Once the old paint starts to show through, vehicle owners can stop sanding |
Vehicle owners should take care not to sand away too much primer. If this happens, owners must re-prime and re-sand the area.
How to Buy Car Body Repair Kits on eBay
Vehicle owners who want to take advantage of buying products quickly on the web should visit the eBay marketplace for various product options. To conduct an easy search of the site, just enter keywords into the search box on any eBay page. Use terms that describe car body repair kits and associated materials. Keyword examples for this type of product include "car body panel repair tool kit" or "car body filler", for example, to begin searching for high-quality and reasonably priced items.
To narrow down the list of results from your search, just click on the categories options to display only the listings that you want to focus on. Also, eBay's search tips page offers great advice on searching for car body repair kits by searching with keywords. Moreover, eBay shops provide even more product options, including various automotive products like repair kits. Before purchasing any products, however, remember to read through each product listing in detail, and check the seller's feedback rating.
Conclusion
Vehicle owners should keep the body of their vehicle in good shape to assure that the vehicle driver, passengers, and mechanical components remain protected. Vehicle owners can pay an auto body repair shop or do the repair work themselves. When doing the repair, vehicle owners should make sure they know what kind of tools they need. They can either buy the tools as part of a kit or individually.
When repairing a damaged car body, vehicle owners should make sure to take any necessary safety precautions when sanding and painting. This includes wearing the appropriate breathing protection while sanding and painting, as well as wearing gloves while using the hammers and files when repairing the damaged area. Knowing the tools needed and how to use them properly should allow vehicle owners to perform the repairs needed successfully. Shoppers can find the tools they need to repair a car body at a local auto part shop or online on eBay.