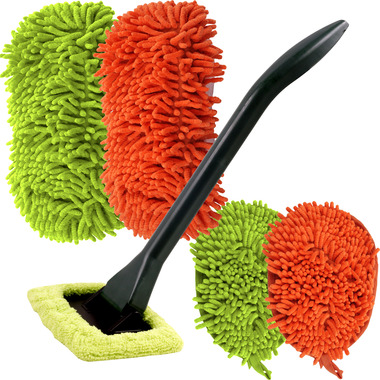 The proper use of car cleaning accessories helps keep a vehicle looking factory-new for several years. Properly caring for and cleaning a vehicle can also help its owner to retain more of its value through the life of the vehicle. The most commonly used types of car cleaning accessories include waxes, polishes, cleaning cloths, and shampoos, which are specially formulated for the types of metal and plastic used in car interiors and exteriors. However, many car owners shy from purchasing these products at retail locations because of the expense associated with them.
Buying car cleaning accessories on eBay can save a great deal of money and time compared to retail shopping. Not only are many car cleaning accessories available cheaply through eBay, but many eBay sellers provide several cleaning accessories in one listing, allowing shoppers to purchase all the items they need with just a few clicks. Before shopping, buyers should familiarise themselves with the different categories and types of car cleaning accessories.
Exterior Car Cleaning Accessories
Exterior car cleaning practises, reagents, and tools all vary greatly from those traditionally used on a car's interior. In general, exterior car cleaning accessories are related to tasks such as shampooing and waxing. It is relatively easy to find many of these items on eBay offered together in a single listing.
Car Shampoos
Car shampoos and detergents are used to wash a car, removing any dirt, mud, dust, pollen, or other particulates from the surface of the car. Car shampoos vary in composition from the very mild to the slightly caustic, with more caustic versions acting to help owners remove caked or baked-on messes. Car shampoos are never meant to be left on the car for longer than a few minutes, and should quickly be scrubbed and rinsed off. For best results, shoppers should search for a car shampoo which dries without streaking.
Car Shampooing Cloths and Sponges
Sponges are generally used while shampooing a car. In most cases, owners are recommended to use a sponge with one soft side and one textured side for scrubbing. Large, thick sponges help make the shampooing process much quicker than smaller varieties. Large weave, low-grade microfibre cloths are typically used after the car is rinsed, to help it dry to a streak-free shine.
Squeegees and Wipers
Squeegees and wipers are sometimes used in lieu, or in tandem, with microfibre cloths to help with the drying process. However, many are also made with a wiper blade on one end and a sponge on the other, offering the user increased reach and leverage for shampooing a car's top or hood. These are relatively inexpensive for the benefit they provide.
Car Waxes
Car wax is applied after shampooing to protect a car's paint from fading, chipping, flaking, or discolouring. Car wax is typically applied in layers, and valeting professionals often recommend using those waxes which can achieve the thinnest coats. Car wax is meant to be applied by hand and the type meant to be applied via buffers often has different formulas, so shoppers should always be sure to purchase the variety intended for the application.
Car Waxing Sponges and Buffers
Car waxing sponges and buffers are those accessories used to apply the wax onto freshly shampooed cars. Those waxing by hand generally use sponges, while buffers are small, handheld, electronic waxers which use cloth pads to spread the wax quickly and evenly. Cordless buffers are highly recommended, as they allow users to avoid the risk of letting a cord smear a newly waxed area.
Car Polishes
Car polish, unlike wax, is meant to gently eradicate small scratches and scrapes in a car's paint. Most polishes do this by using two different particulate elements. One such element acts to very gently abrade the car paint around the scratches, while the other element fills the grooves of the scratches. This combination leaves the scratched area level with the surrounding paint, disguising it against all but very close inspection. Many polishes now contain wax, so that the two processes can be combined to save time, and like wax, can be applied either by hand or with a machine buffer.
Car Detailing Brushes
There are various different brushes and scrubs produced by car cleaning accessory manufacturers which are meant to be used on the various difficult-to-reach areas of a vehicle, such as the wheel wells. These brushes are often available in sets, as well as individually, and though the same tasks can be completed by sponges or cloths, the use of these brushes tends to save time.
Interior Car Cleaning Accessories
Interior car cleaning accessories are simply those cleaning accessories meant to be used on the interior of the vehicle. While some individuals simply use the same cleaning products which they use inside their home, many of these products can discolour or strip the various interior surfaces of a vehicle. Instead, shoppers should purchase reagents specifically manufactured for use in automobiles. For those who prefer particular brands, the eBay software allows shoppers to easily find products manufactured by specific brands.
Vinyl and Plastic Upholstery Cleaners
Specially formulated cleansers are manufactured for use on cars with vinyl or plastic upholstery. These cleaners not only serve to remove stains, but act to seal and renew the upholstery, protecting it from bleaching by the sun and from wearing too thin. These cleaners should not be used on leather or fabric upholstery.
Leather Upholstery Cleaners
Leather is a particularly sensitive material, and should be regularly cleaned using a leather-formula cleaner. This serves to protect the leather against spills, sunlight, and other damage, while ensuring that it keeps its unique shine. Using other cleaners, or even just water, may quickly dry out, discolour, or otherwise damage the leather. Many forms of vinyl now easily mimic the look and texture of leather, however, car owners should double-check that their upholstery is in fact true leather before employing such a cleaner. It is relatively easy for shoppers to use eBay to find both leather upholstery cleaning formulas and packaged wipes or cloths pre-treated with these formulas.
Fabric Upholstery Cleaners
Most fabric upholstery cleaners fall into several categories, such as shampoos or stain removers. Many individuals also use vacuums to remove small debris from their upholstery. However, most upholstery wears well if it is simply spot cleaned promptly after any spills or accidents.
Glass Cleaners
Windshield glass cleaners are often also used on glass above the dash and the side windows, and they typically feature a formula similar to household glass cleaners. Most automotive glass cleaners are manufactured to quickly dry to a streak-free shine. Users should take care to clean glass only as a last step, to avoid smearing dust along the glass after cleaning.
Trim Sealants
Trim sealant is a liquid for use on burnished wood and plastic, which serves to protect it against discolouration from the sun. Trim sealant is also used to give automotive trim a glossy, revitalised look.
Interior Car Cleaning Sponges, Cloths, and Brushes
There are many different types of car cleaning sponges, cloths, and brushes. While most individuals are likely to get by with only one or two, professional valeting services commonly use far more. For a quick overview of the different types, consider the chart below.
| Type | Description |
| --- | --- |
| Fine grade microfibre cloth | A particularly tight-woven microfibre cloth used to gather dust and polish the dash |
| Standard microfibre cloth | Used to scrub on harder surfaces with cleaner, and to gather dust before the application of a finer grade cloth |
| Dashboard brush | Long-bristled brush used to remove dust and particulates from between dash buttons and vent faces |
| Sealant sponge | Small sponge used to gently spread trim sealant over the dash |
Microfibre cloths are an economical and environmentally friendly alternative to paper towels, which must be disposed after use. Many eBay sellers offer inexpensive multi-packs of these cloths categorised by grade.
Buying Car Cleaning Accessories on eBay
Buying car cleaning accessories on eBay is hassle-free and simple, even for those who have done relatively little online ordering before. To get started, go to either the eBay home page or any of eBay's internal pages. Once there, look for the search bar, and click it. Then begin typing those words or the phrase which collectively describe the car cleaning accessories you wish to purchase. A couple good examples of this include "Meguiar's car wax", and "car interior leather cleaner". Once you have finished typing, press "enter" to view the list of items which match the terms included in your search description. You can then choose to organise these items based on qualities such as price, brand, and location.
Contacting a Seller
For those who find that they need to contact a seller before making a purchase, simply browse through the item listing. There, you should find the "Ask a question" link. Clicking it guides you through the process of communicating directly with an item's seller.
Conclusion
Buying car cleaning accessories can be surprisingly difficult, particularly when buyers consider the vast array of products available on the market. However, becoming more familiar with the different types of car cleaning accessories makes shopping for them a snap. Most types of car cleaning accessories are organised into categories depending on whether they are intended for external or internal use. External car cleaning accessories, for example, include cloths, sponges, shampoos, waxes, and polishes. Internal car cleaning accessories are generally sprays or pre-treated cloths meant to be used on the various specific surfaces on the interior of the vehicle.
But these products can all be shockingly expensive when purchased from a traditional retailer. Instead, shoppers are likely to save considerably if they shop online at websites such as eBay, while still finding the same brand-name products. Some shoppers may even find that they can purchase bundled groups of products all at once for an even bigger savings.