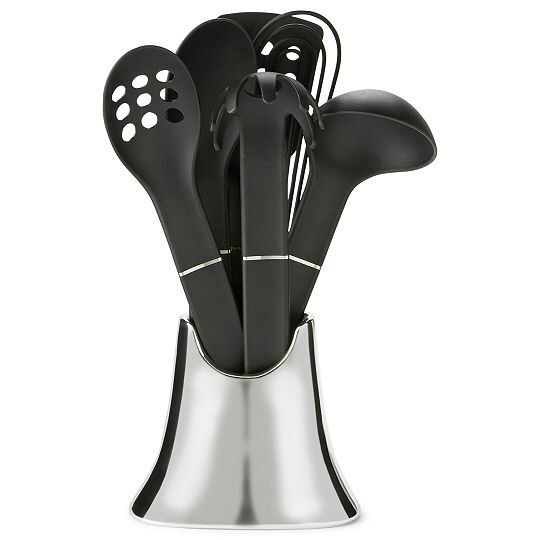 The definition of cooking utensils is: kitchen tools that are used during the preparation and cooking of food. They are not used for the actual cooking or heating of food but are often used during that process, for stirring, etc. They are mainly used during the preparation phase when creating a dish. These simple but cleverly designed devices allow us to cut, shred, grate, and perform numerous other actions quickly and efficiently when preparing the meat, vegetables, flavourings and fruit ingredients that go into making a complete meal. There are literally thousands upon thousands of different brands and types of cooking utensil available in the high street kitchenware shops and department stores; the choice available can be somewhat overwhelming. Thankfully this huge product range provides great alternatives when it comes to prices, materials and designs. Most of the cooking utensils that are manufactured these days are of high quality and are made from very durable materials, ensuring that if well looked after they will last for many years, even in the busiest of kitchens.
About Cooking Utensils
Cooking utensils tend to be taken for granted by many people most of the time. But imagine what would happen if these small, hand-held tools suddenly disappeared, or indeed had never been invented. Try stirring a pan of hot of food without a stirring spoon or spatula, slicing a crusty loaf without a breadknife or making a pie without a pastry roller. Human beings have been fashioning cooking utensils since the time they dwelt in caves. The earliest utensils, archaeological evidence suggests, were likely to have been made out of wood, bone, antler and stone, but since the iron age metals have been used, including bronze, and rather grand instruments were made of silver (usually, in bygone days, manufactured exclusively for the very wealthy). Today, these utensils are legion, from whisks to tongs, spatulas to ladles, pizza cutters to pastry brushes – and most of them are readily available from shops or online at quite low prices.
Types of Cooking Utensil
It is impossible to list all the cooking utensils here as the list would be far too long. Providing details of all the different types that can be seen in the shops is also impractical. In view of that fact the following information divides the utensils into groups based on materials used in their manufacture.
Cooking Utensils made of Silicone
Increasingly popular in modern kitchens, silicone cooking utensils are often very colourful, durable and hygienic, and they can be fashioned into a surprising variety of different tools, from spatulas to egg whisks, oven gloves to egg poachers, heat-resistant non-slip pot mats to fish slicers and baking spoons. And that's by no means an exhaustive list. They can be cleaned by hand but can usually safely withstand steam temperatures in dishwashers, too. The vivid colours they are frequently produced in can add a splash of vibrancy to a neutral or dull kitchen if, say, a row of serving utensils is hung from a wall-mounted rack.
Cooking Utensils made of Stainless Steel
Stainless steel is an extremely popular and widely used material for making cooking utensils. Hygienic, hard-wearing and strong, it can be fashioned into extraordinarily durable (and easily cleaned) utensils, from potato ricers to balloon whisks, slotted spoons to ladles, measuring spoons to mixing bowls, and many others besides. It is also rust proof, although opinion is divided over whether to use a dishwasher to clean these utensils; some experts believe that dishwasher detergents attack the surface, although the commonest problem is spotting. It is probably best to hand wash them, however, if a dishwasher is used, remove them before the drying cycle and dry by hand so that no marks are left on the surface.
Cooking Utensils made of Plastic
Plastic cooking utensils are generally considerably less expensive than any of the other materials used in utensil manufacture, and they are exceptionally lightweight and easy to clean. There are a dizzying variety of plastic utensils to choose from and they are ideal for individuals on a limited budget. Find anything from potato ricers to boiled egg slicers, ladles to turkey basters, sugar and flour sifters to dishwasher-friendly kitchen funnels and much else besides. Perhaps the chief drawback is that they tend to have a more limited working life than utensils made out of the more hardwearing materials.
Wooden Cooking Utensils
From the ubiquitous wooden stirring spoon to the vital baker's rolling pin, spatulas to honey drizzlers, mortar-and-pestle sets to meat mallets, pastry brushes and whisks, wood has been a staple material in the manufacture of cooking utensils from time immemorial. But beware: wooden utensils do not take kindly to dishwashers and often crack and split under the heat. It is far better to hand wash them using mild detergents and then pat them dry.
The Rolling Pin
The rolling pin is an essential tool in any kitchen where the making of pastry is regularly undertaken. This simple implement allows the rolling out of the pastry to an exact thickness ideal for the intended use. Traditionally these implements were crafted from a single piece of wood with knobs being carved at each end to serve as handles. More exotic designs often feature inlays of cherry wood or mahogany. When ball bearings were introduced the design was modified so that the pin rolled but the handles stayed in one position. This made the rolling pin much easier to use. There are also examples of rolling pins made from marble and some with carved reliefs to impress a design onto the dough. Less commonly seen than the foregoing, other materials are also sometimes used in the manufacture of cooking utensils, such as bamboo, melamine and aluminium. They are also useful products but these materials might not suit all tastes.
Find Cooking utensils on eBay
Researching and finding cooking utensils is not a difficult task, thanks to eBay's powerful search tool. On the homepage, just click All Categories (next to the search box) and scan through the dropdown menu until Home Furniture & DIY appears. Click Search and select Cookware, Dining & Bar from the Categories list on the left of the new page. On the following page, click Food Preparation & Tools and scroll down the left-hand list again to select Cooking Utensils. eBay's complete range will then appear. The product characteristics list will now be present on each of the ensuing pages at the left hand side. Simply click on the main headings (e.g. Type, Material, Price Range, Brand, Features, etc.). Starting out from the general category of Cooking Utensils throws up thousands of products over numerous pages. But it is easy to narrow the search down by using the product characteristics list that appears vertically on the left hand side of every product page. eBay novices needn't be worried that their lack of experience at auction might lead them to make unwise and excessive bids for an item as eBay has a reliable solution. Just set an upper limit to the bid, i.e. the most to be spent on this auction. With this in place, eBay's system takes over. eBay will top up the bid to stay in the lead, thus outbidding any competitors . eBay will automatically cease this process when the auction closes. Moreover, if, a rival bid is higher than the maximum set allowance, eBay will automatically stop the bidding process.
Conclusion
The range of cooking utensils is obviously enormous so to save time it is a good idea to have a look around the shops to decide exactly what item to search for on eBay. Thanks to eBay's powerful search tools it rarely takes very long to find products and focus down on the particular cooking utensil(s) required. In addition, by the use of eBay's automated bidding system, nervous bidders need never worry that they will pay over the odds for any item. The Buy it Now feature on eBay is also very popular as it allows an immediate purchase to be made when a desired item is found. This is particularly useful when an item is required urgently.