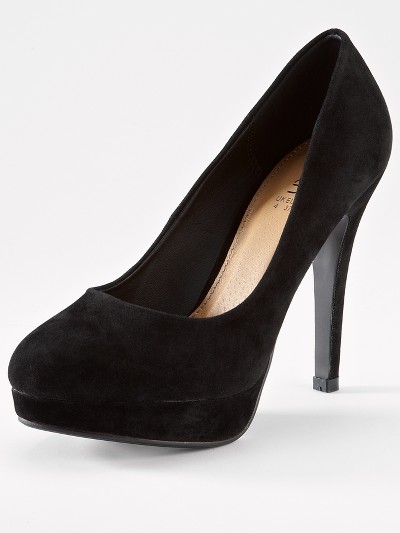 Court shoes have evolved in the recent years from a timeless classic with slender heel to a large variety of contemporary interpretations that led to the existence of multiple styles, suitable for both formal and informal occasions. Traditionally, court shoes have low-cut tops and they lack any laces or fastening devices. Generally, court shoes have heels, but their height may vary greatly from a style to another. Court shoes are available in a variety of materials, with leather being one of the most popular choices for casual wear and satin for special occasions. Court shoes are versatile and they can be paired with various outfits, from dresses to a simple jeans and T-shirt combination. Buyers can find a large number of court shoe styles both online and in high-street stores. Being well-informed about court shoes styles and functions is important for making the right decision when purchasing a pair.
History of Court Shoes
The history of court shoes starts in the fifteenth century France, when the trend of wearing heeled shoes emerged among the nobility. At the time, court shoes were worn by men and women alike and wealthy individuals were referred to as 'well-heeled'. Heeled shoes were also used for riding and they remained in fashion until the end of the French Revolution. They were reinvented in Britain by the early twentieth century and became synonymous with style and glamour. Court shoes eventually become very popular in America, where they are known as 'pumps'.
Court Shoes Styles
The main features of classic court shoes include low-heels, deep-cut-toes, and slip-on styles. However, nowadays, buyers have a much wider choice of styles, materials, and colours to choose from. Unpretentious, yet smart, court shoes are the perfect addition to a formal look, whether they are worn with an elegant dress for a special occasion or with a suit for work. When it comes to colours, black court shoes are perhaps the most popular choice, as this versatile colour complements any outfit, making it ideal for any occasion.
Kitten Court Shoes
These court shoes feature a slender, short heel of up to 5 cm, with a slight curve bringing the heel forward from the edge of the shoe. All kitten shoes have pointed toes and they allow for better mobility than high heels. Kitten court shoes are the lower-height version of stilettos and they were very popular in the 1950s, when the style was promoted by Audrey Hepburn. They have become trendy again in the 2000s and they go well with dresses, skirts, suits, and trousers.
High-Heeled Court Shoes
Most people think of high heels when mentioning court shoes, given that these are some of the most popular models. High-heeled court shoes can be as high as 12 cm and they are a true fashion classic for formal attires. Many women consider that wearing high heels on a daily basis may be painful for the feet, but this can in fact be avoided by choosing well-constructed court shoes that feature shock absorbing materials in the ball of the foot. Paying attention to the arch of the foot is also important, so buyers should choose court shoes that contour the arch, distributing the weight over the entire foot.
Platform Court Shoes
Platform court shoes are the ideal choice for women who want height and stability at the same time. For amplified comfort, buyers should opt for platform courts with chunky heels. For occasions requiring more elegant attire, classic thin heels may be a better option. When it comes to colours and patterns, some of the most popular choices include nude, beige, animal print, and hot citrus shades.
Stiletto Court Shoes
Stilettos are synonymous with style and they are preferred by women of all ages because they go with a large range of outfits and can help them feel sexy and confident. Stiletto court shoes can be paired with formal trousers or skirts for work, but they may also complement a pair of bootcut, skinny, or straight-leg jeans. When it comes to dresses or skirts, the ideal length for stiletto courts is past the knee or lower. For those who are not used to walk on high heels, some practice may be necessary before actually wearing stiletto court shoes outside the house. Choosing stilettos with thick soles will make the shoes more comfortable, due to a better absorbance of shocks.
Flat Court Shoes
Women who do not wish to opt for high heels may choose flat court shoes for both business and casual wear. Flat courts are similar to ballerina flats, but in many cases they have a low heel of up to 3 cm. They can be paired with dresses, jeans, and skirts and they provide an increased level of comfort and stability due to the absence of the heel.
Block-Heels Court Shoes
Block heels in vibrant colours may give a wardrobe the refreshment it sometimes needs. Block-heels court shoes are available in a wide range of colours, both vibrant and classic, so women can choose their ideal pair from a large palette. These shoes go well with skirts, dresses, and cropped trousers. The only items to be avoided when wearing court shoes with block heels are maxi dresses or skirts.
Peep-Toe Court Shoes
Peep-toe court shoes are a hybrid between an open-toe shoe and a closed-toe shoe. They are a good option for warm weather and they come in numerous styles, including stilettos, kitten heels, and platforms. Peep-toe court shoes are usually perfect for creating a sophisticated look, but they work well with casual outfits as well. These shoes are designed to be worn without socks or tights and many women choose to coordinate the colour of their nail varnish with their peep toe shoes.
How to Choose the Right Size Court Shoe
In order to choose the right size for a new pair of court shoes, buyers should measure the size of their feet. Even though everybody thinks they know their shoe size, a high-heeled shoe that is just a half size too small or too large may cause a lot of discomfort and pain when walking. Many women prefer to have their feet professionally measured for different shoe styles, but this can be easily done at home as well. Wearing high-heeled shoes that do not fit properly may not only hurt the feet, but the legs and the spine as well. Wearing heels on a regular basis can be painful, but this can be avoided by adding gel inserts or insoles to the court shoes. Comfort should be put first, so wearing several pairs of shoes throughout the week is recommended.
Shoe Size Chart
The table below is a helpful guide for choosing sizes properly when shopping for court shoes.
| UK Size | US Size | European Size |
| --- | --- | --- |
| 2 | 4.5 | 34 |
| 2.5 | 5 | 35 |
| 3 | 5.5 | 35.5 |
| 3.5 | 6 | 36 |
| 4 | 6.5 | 37 |
| 4.5 | 7 | 37.5 |
| 5 | 7.5 | 38 |
| 5.5 | 8 | 39 |
| 6 | 8.5 | 39.5 |
| 6.5 | 9 | 40 |
| 7 | 9.5 | 40.5 |
| 7.5 | 10 | 41 |
| 8 | 10.5 | 42 |
The buyer should keep in mind that the sizes may slightly differ among shoe brands but also according to the style and material of the shoe. It is generally recommended to try on any pair of shoes before buying it, if possible.
How to Find Court Shoes on eBay
The range of court shoes available is amazing and sometimes choosing the ideal pair may be a difficult venture. If you are not sure what pair of court shoes would suit you perfectly, the best way to find it is by looking at hundreds of pairs until you spot the right one. eBay is an excellent place to this, as here you can find thousands of court shoes in all the styles, colours, and materials you can think of. Shopping for court shoes on eBay is quite simple, as all you need to do is type 'court shoes' in the search bar on the hom






















































e page and you will get thousands of relevant results in a few seconds.
Alternatively, if you are looking for a particular style of court shoes, you can browse the categories in the fashion section until you find the category you are interested in. You can simplify the search for the perfect court shoes by refining the results by size, colour, material, and condition. Once you have selected the court shoes that you like, the next step is proceeding to the payment.
Conclusion
Court shoes are a wardrobe essential for every woman, as they are the ideal footwear for formal occasions but can be matched with casual outfits as well. Moreover, slipping into a pair of high-heeled courts can instantly make a woman feel more attractive. The popularity of court shoes is mainly due to their versatility, as one can, for example, choose court shoes in nude colours or beige for a formal party and bold patterns for a more casual look. Besides, court shoes with smaller heels can be an elegant, yet comfortable accessory that can be matched with a variety of casual attire. eBay offers a wide range of court shoes in an impressive array of prints, styles, and colours. Whether a buyer is looking for a colourful shoe with a block heel for a casual weekend, or for a pair of classic black court shoes to pair with a business suit, they are likely to find them on eBay.