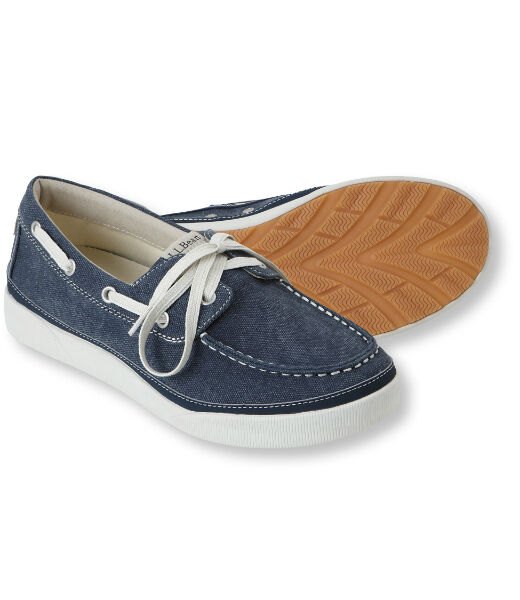 For any woman fortunate enough to be invited to spend a day on a yacht or a take a sailing trip around the English Channel ought to know the must-have item on board: deck shoes. After all, she can only have the time of her life if there is no fear of slipping on the deck or walking around in shoes sodden with salt water.
Deck shoes, also known as boat shoes, are flat, casual shoes traditionally made from leather or canvas. They are designed for wear in, or anywhere near, water; for example, strolling along piers and docks or enjoying a weekend getaways on boats. They have long been the shoes of choice for sailors because of the incomparable comfort and safety they provide. Deck shoes are not to be confused with loafers: chiefly for use in marine environments, deck shoes are durable and sporty and can withstand frequent wear and tear. That said, this style of shoe has morphed from functional footwear to fashion statement. Popular because of their convenience and comfort as well as their traction, deck shoes appear at pool parties, barbecues, and mall visits, usually as part of a preppy chic wardrobe.
Deck shoes can be purchased at shoe stores, department stores, and on the online auction website eBay. Prior to making a purchase, consumers should learn how to select deck shoes, understand the safety factors of wearing deck shoes, and know how to select the right size and fit.
Why Wear Deck Shoes?
Deck shoes, with their enduring style, have found another home on feet far away from bodies of water. For parties, picnics, campus grounds on a weekend, or any occasion where casual wear is allowed, a woman can concentrate on the shoe style and colour to coordinate with her wardrobe without worrying about traction, insoles, or mildew. For these occasions on which style is more important than function, deck shoes made of synthetic material such as faux suede and nylon are as suitable as those made of hand-sewn leather. These stylish choices can be worn with jeans, cotton dresses, or shorts and skirts to show off the legs in the summer. For those who enjoy sporting the nonchalant look that exposed ankles project, deck shoes with casual trousers turned up at the hem and a no-socks code fit the mood. On the other hand, when deck shoes are used as functional boat shoes, then some important factors, such as safety, comfort, and fit, must be considered before one races off to the River Thames.
Safety
The wrong shoe choice can take the sails out of any boat trip; in some cases, a slippery or unsteady shoe can result in life and death situations. There is no place on a deck for fancy pumps, which leave unsightly marks, absorb water, and court danger with each teetering step. Safety is paramount, and should be the first thought in mind when selecting shoes for water activities. For deck shoes to offer the highest assurance of safety, they must have excellent traction, be waterproof, and stay on the feet through sun and storm.
Traction
There are places on any boat where the security of hand grips and guard rails is either missing or is too far away to make any difference. At such times, only thing standing between a person and an accident is the rubber soles of her shoes. Thanks to the ingenuity of a man named Paul Sperry, any rubber soles made for deck shoes after 1935 have a siping pattern. Siping, or the process in which thin slits are cut across a rubber surface, provides traction and grips the slippery surface of the deck in wet conditions. These life-saving soles have done away with the dangerous habit of walking barefoot on decks that resulted form the lack of traction and manoeuvrability provided by older forms of shoes. Another positive quality is that these shoe soles do not leave scratches and marks on decks.
Waterproof
Even in the most perfect weather, shoes do get wet on a boat; with the famous British grey skies and rain, wet shoes are a given. Most deck shoes have vamps, which are the top parts of shoes made of either leather or canvas, specially oiled to make them waterproof to withstand the frequent wet conditions on deck. While vamps help to keep the outer part of the shoe dry and damage-free, the inside of the shoe is kept dry through the use of quick-drying material such as canvas to prevent mildew from forming in the shoes.
Comfort
It is said that real sailors dunk a new pair of leather deck shoes into a bucket of salty water and then allow them to dry on their feet in order to break them in and, over time, mould the shoes to the feet. Fortunately, most shoppers do not have to go that far to find comfort in new shoes.
Fit
For deck shoes to fit correctly, they must be snug when worn without socks: not too tight and not too loose. Many shoes come with cushioned insoles for a soft and comfortable footing, as well as with padding on the tongue to prevent the shoes from pinching when standing or walking. Light and flexible shoe material lightens the workload when climbing or hoisting sails. Whether slip-ons or lace-ups, deck shoes need to stay attached to the feet and never slip off unexpectedly. Slip-ons are an easy to pull on, whereas lace-ups take a bit more time to don but ensure a secure fit, which is necessary for boating activities. The laces length is short to reduce trips and accidents that are common with some sports shoes. It is very important that women know how to tie shoelaces correctly using a square knot, which holds tight and rarely comes undone. Another trick is to secure the laces is to wet them before tying, so that the knot tightens when dry. Deck shoes are also available with hard-wearing raw leather laces wound around them that provide a solid hold. Depending upon one's needs and activities, a balance between speed and a secure fit can be found in many deck shoes.
Ventilation
The material used for the shoes must allow air to circulate, as many people's feet begin to perspire and produce an odour after wearing deck shoes all day. For those under the no-socks rule, new brands of deck shoes offer smell-prevention technology to help curb odour. For example, vents are placed on the side of the shoes to add ventilation. Additionally, some deck shoes have removable linings or insoles to help them dry faster and quickly eliminate unpleasant odours.
Durability
Better quality shoes last longer, and with the constant wear and tear that deck shoes are put through in marine environments, this durability is an important consideration. Quality shoes can last up to 15 years of daily wear. Leather shoes mould themselves to anyone's feet over time, offering consistent comfort. Canvas dries faster than does leather, and is extremely durable. Buyers should pay close attention to the stitching on the shoes, as a shoe is only as durable as the stitching that holds it together.
Buying Deck Shoes on eBay
Even for items such as deck shoes that are considered 'specialty market', eBay still has the most extensive selection for women, along with competitive prices and the convenience of shopping online. On any eBay page, search for 'ladies deck shoes' to turn up thousands of seaworthy shoes in a variety of colours and styles. You can further narrow down the search by colour, fastening, and even occasion, that is, whether you want to use the shoes for practical or casual wear. The buying formats available can include an option to buy the shoes immediately or to bid on an auction. If you are not in a hurry, then bidding on auctions means you can bid with a price in which you are comfortable.
Remember to check the seller's credibility by going through the feedback received from previous buyers. There are also local sellers available on eBay, which means that you have the added benefit of trying on the shoes to make sure that they fit well, both with the laces tied securely and without socks. Always ask sellers about their exchange policy.
Conclusion
Whatever the variety or size of boat, functional deck shoes should be more than just pretty colours on a woman's feet. Safety and comfort are primary concerns to ensure an enjoyable experience, be it at the beach or on a yacht. Since deck shoes are specially made, it is important for shoppers to understand how each shoe feature is essential for safety and comfort anywhere near water. When a buyer knows what to buy and why, even down to the type of fastening or vents she needs on her shoes, she becomes more confident and bargains for good value for her money. The appearance of the ultra-comfortable deck shoe in fashion circles means allows buyers to take inspiration from these functional shoes and create a snazzy outfit from the eclectic selection offered on eBay. Whether used to project an earthy flair or to protect feet from the elements, these flat casual shoes allow fun, fashion, and safety.