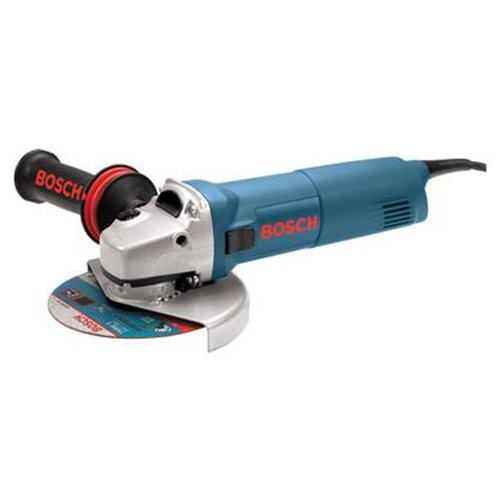 Few power tools are as versatile as the electric grinder. A good grinder can be used to sharpen blades for other power tools, to remove a buildup of rust or other corrosion, or to polish or buff a surface. Some electric grinders are designed to smooth concrete, while others are designed to sand or to remove tiny imperfections in wood in the most delicate way possible. Electric grinders are also widely available, found both in hardware stores, and online via websites such as eBay. For anyone who wants to make use of an electric grinder, the buying process is much easier if the buyer is aware of a few things.
First and foremost, it is important to know the differences between the different kinds of grinders. Along with that, it is helpful to know about the different grinding surfaces that can be used with an individual grinder. Finally, before buying, there are other considerations that must be made, such as where the grinder may be used, and during what conditions. Understanding everything that is involved in buying a grinder can make the purchase much more satisfying.
Types of Electric Grinders
Electric grinders are so versatile that they come in a number of different sizes and shapes in order to fit unique tasks. Some grinders are meant to be portable, and can be used to small tasks, or those tasks involving items too large for a stationary grinder. Nearly all grinders feature the ability to remove and replace wheels in order to perform a number of different tasks.
Bench Grinders
Bench grinders are meant to be attached to a bench, where they can be used for difficult grinding tasks. Unlike most other grinders, bench grinders feature two wheels. One of these grinding wheels is traditionally used for coarse grinding, while the other is used for fine grinding. This saves the user from having to change wheels frequently. Generally, bench grinders have variable speeds. Lower speeds are recommended for sharpening, while higher speeds are best for polishing or buffing. Bench grinders come in multiple sizes, and can accommodate wheels of varying sizes and widths as well.
Angle Grinders
Angle grinders are smaller than bench grinders and are meant to be portable, versatile, hand held devices. Angle grinders can of course be used for grinding, but different wheels and discs can be used to transform the angle grinder into a device used for sanding, polishing, sharpening, and even cutting. In spite of their small size, angle grinders are quite powerful and a cutting attachment, for example can be used for cutting through stone, metal, or concrete. Some cutting blades are tipped with diamonds to make cutting easier.
Die Grinders
Die grinders are meant to be used inside of a round object like a pipe or tube, in order to remove any burrs or shavings caused by cutting the pipe or tube. For this reason, die grinders are often small, but powerful. There are exceptions, however, and some buyers may want a bench mounted die grinder for larger jobs. Die grinders are known for running at extremely high speeds, which means that they must be used with some caution in order to prevent accidental damage to the object being ground.
Belt Grinders
Belt grinders and belt sanders are extremely similar, and in some cases are in fact the same thing. The only real difference between the two is that belt sanders are meant to be used with wood, while a belt grinder is designed to be used with metal and harder surfaces. Belt grinders come in a number of different sizes and shapes. Some of them are quite small and can be used for delicate work. Others are large and heavy. When buying a belt grinder, it is helpful to look at the width of any belt that it might use, and whether or not the range of widths is appropriate to a specific task.
Discs, Belts, and Other Grinding Surfaces
Most grinders should use either a belt or a disc in order to smooth or grind a surface. These belts and discs can be removed and replaced easily, as they become worn with use. However, there are also many different kinds of discs and belts made from different materials and designed for different tasks.
| Type of Disc or Belt | Use |
| --- | --- |
| Silicone Carbide | Tool sharpening; metal polishing and cleaning; rounding metal pipe edges |
| Fibre | Keeping metal free of burrs and rust |
| Buffing (Wax is required before use) | Buffing and polishing |
| Sanding | Sanding and sharpening; getting a surface ready to be painted |
| Wire/Brush | Removing rust, paint, and other contaminants from metal, including burrs |
| Flapper | Sharpening large tools like axes and shovels |
| Aluminium Oxide | Grinding wood and other materials that might crumble |
| Dry-Cut Diamond | Grinding or cutting tile, stone, and concrete |
| Cutoff | Grinding or cutting bars, rods, and bolts |
| Tuck Pointing | Eliminating mortar |
| Grinding | Creating a finer edge on tools and materials; restoring edges |
It should be noted that some wheels, like aluminium oxide, need to be replaced more quickly than other belts because they are made with a less durable substances. Using a wheel for a substance that it is not intended for use can eventually damage the grinder, and potentially even become a safety concern.
Factors to Consider When Buying an Electric Grinder
Electric grinders vary widely in terms of design and function. Still, there are some universal factors that should be considered before making a purchase in order to ensure that the right grinder is used for any purpose. It is also helpful to understand some of the features that are provided in some models of grinders.
Load Speeds and Soft Starts
Grinders are made by many different manufacturers and have many different specifications. Before making a purchase, it is helpful to examine a grinder for load speeds and soft starting. Before cutting, grinding, or anything else with an angle grinder, it is important to make sure that it is running at full speed. In some cases, grinders are sold with 'no load speed'. This signifies that the grinder can reach top speed fast enough that no waiting is required. Soft start refers to how the grinder handles when it is first turned on. In some cases, grinders can shake and jump until they reach top speed. A grinder with a soft start eliminates this problem.
Safety Concerns
Grinders, like all power tools, should not be used casually. Only those properly trained, and with the proper safety equipment, should use even a smaller sized grinder. Furthermore, grinders can create a lot of heat, and the faster the wheels rotate, the more heat is created. In order to avoid fires, it is helpful to keep any flammable items or chemicals well away from the grinder and any item being ground. Likewise, exposed skin can be ripped or torn by a grinder, so gloves should be worn at all times. Many grinders feature large buttons that are meant to be accessed by those wearing gloves. As small particles of wood, tile, or metal can cause eye damage, goggles are also recommended for those using an electric grinder.
Buying an Electric Grinder on eBay
Many different varieties of electric grinders are available for purchase on eBay. These grinders are both new and used, and vary in price. Moreover, new items are added all the time, so anyone interested in buying an electric grinder should look often until they know exactly what kind they are looking for. Electric grinders can be found by entering a search term, like 'electric grinder' into the search bar found on every eBay web page. This search term can be modified or altered to include reference to specific types of grinders or accessories, like a specific type of wheel.
Be Thorough
One of the great benefits to buying on eBay is that sellers can respond to questions before a buyer commits to purchase. Asking questions is helpful if the product description does not contain enough details about product features and history. It is also helpful to explore seller profiles and feedback in order to gain a complete picture of each transaction. By following this process you can ensure yourself that you are safe and satisfied with a purchase.
Conclusion
For many people, a workshop or garage is not complete without an electric grinder. In many cases, a grinder is essential to creating an item, or repairing something in the home. In others, a grinder is ideal for finishing a project, making certain that there are no splinters or burrs that may cause injury. There are many different types of grinders available. Some of them are quite large and are used for large projects. Some grinders, like the angle grinder, are small, but powerful enough that they can be equipped with a cutting blade.
All grinders are highly versatile, and can be used for a number of different purposes. Grinders are generally equipped to be used with different wheels. Each wheel is designed for different types of grinding, so it is helpful to know what each is used for before making a purchase. Like all power tools, there are safety considerations and other features that should be examined before buying in order to have a safe and satisfying experience with a grinder. Keeping all of these factors in mind can make it easy to find the right tool for any job.