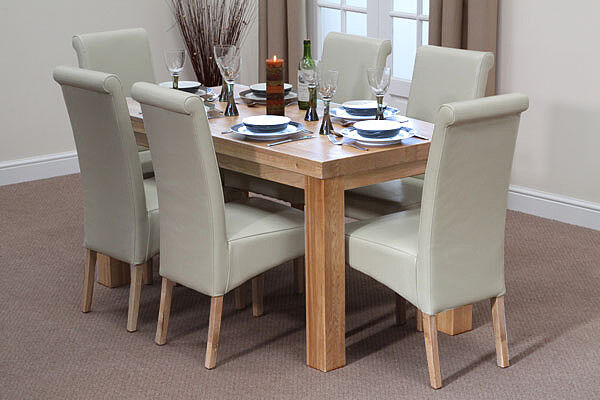 Faux leather is an alternative, conveniently short name for synthetic leather. It is a popular material that can be found in a number of applications where leather has traditionally been used, principally clothes-making and upholstery. Although initially, the appeal of synthetic leather was its low cost and ease of maintenance, in the present day there are customers whose ethical orientation makes them prefer faux leather over the real variety. Sometimes, brand names use faux leather, with two of the best known being Corfam and Naugahyde.
Although the term "dining room chair&" seems quite specific about the purpose intended for this type of furniture, it is a chair that is widely used in a variety of situations where easily portable seating is required. Faux leather chairs,
however, are not so common and tend to be designed for more formal uses. This guide looks at some of the styles available in the marketplace and gives advice about transportation and maintenance. Although faux leather requires less tender loving care than genuine leather, it still needs looking after.
Dining Room Chair Designs
The simplest design for a dining room chair has a seat supported by four feet with a raised backing that supports the lower and middle back of an average adult. In domestic furnishings, they are typically made from wood. In industrial and commercial settings, steel tubing often replaces the wooden legs and backing frame, with plastic taking the place of the seat and back support. Sometimes the plastic is cast from a single seat-and-back moulding. Dining room chairs do not normally have armrests.
Wooden chairs may have shaped seats for extra comfort, and they may alternatively be upholstered with cushioning material. The back support may also be upholstered. This is where faux leather might be used. Often, however, leather-finished dining chairs are more luxurious in their design and can sometimes resemble lounge chairs except for their height and lack of arms, with thick cushioning on the seat and back.
Dining Rooms
The normal place for a dining room is conveniently adjacent to the kitchen because kitchen surfaces are not generally designed to be eaten from. However, while the dining room is the usual place for dining chairs and tables to be found, not every house or flat has a separate dining area. A consideration when thinking about dining furniture is not only the space available but also the best use of it. For single people and couples, shared dining space might not be as important as a flexible working space. Nevertheless, the means to furnish a dining table when guests call can still be valuable. In such flexible circumstances, the comfort of a faux leather chair might prove to be the ideal solution.
In larger houses, especially those with a focus on traditional shared family meals, the emphasis when shopping for dining chairs is more likely to be on the desirability of a matching set. In these situations, faux leather dining chairs can double as elegant assets and practical, easily cleaned furniture.
Other Places for Dining Room Chairs
There are other places about the house where a faux leather dining room chair can be placed as a single item without the need to worry about a matching set. They can be a comfortable option at the desk in a work space. They come in handy in the bedroom as a temporary place to drape clothes. Outside the home, in business and commercial settings, they might be a style of chair that suits a boardroom table or a presentation and meeting room.
Varieties of Faux Leather
The first fabrics designed to resemble leather were made by coating a woven foundation, such as calico, with a paste based on linseed oil. Linseed oil has the capacity to form polymer chains, a property that enables it to be formed into pliable, plastic-like material. The other elements in the paste are likely to be a pigment and a drying agent. The coating was applied repeatedly and compressed between rollers before being given a varnish or Morocco finish.
When mineral oil-based synthetic fabrics emerged in the 1950s and 1960s, one of the first faux leathers was made by DuPont under the brand name Corfam. This material was made in a similar way to the linseed oil process but used a polyester fabric and a polyurethane coating. It was resilient, easy to clean, and could sustain a high gloss finish. It was limited in one important respect when compared to leather: it was not very "breathable" when in contact with human perspiration. For furnishing applications, this was something of a disadvantage, especially in warmer climates.
Another familiar name in the market is "leatherette &" although it does not appear to be a brand name as such. Leatherette shares Corfam's limited breathability, but it is more pliable and therefore more comfortable to sit on. One of the best known brand names in artificial leather and related materials is "Naugahyde". Now made by the Michelin corporation, the fabric-backed PVC product was first manufactured in Naugatuck, Connecticut, from which it got its name. Subsequently, the marketing division played with the "hyde" part of the name, inventing a fictional Nauga: a lovable creature that voluntarily shed its skin, which was harvested and transformed into the commercial product. Modern Naugahyde comes in many product lines, colours, textures and finishes, with "English Pub" style old leather just one among many.
Faux Leather Care
Taking care of faux leather upholstery is simplicity itself. Normally, nothing more is required than wiping it down with a soft, damp cloth. Since exposure to heat can damage the material, this is best done with cool or tepid water and a little detergent or disinfectant but not bleach.
It is a characteristic of faux leather to be resistant to ripping and tearing, but in the event that a repair is necessary, a first resort is to cover the tear with gaffer tape. However, though there are many colours of tape available, it is unlikely that such a repair will seem satisfactory in the long term. There is plenty of good advice about upholstery techniques available on the Internet. Use one of the major search engines with a term, such as "chair upholstery" to get started. Once equipped with the necessary know-how, it should be a straightforward matter to track down the materials needed to complete the repair.
Places to Buy Faux Leather Dining Room Chairs
When planning to buy faux leather dining room chairs, it is a good idea to pay a visit to some local retailers to get an idea for the shape, size, and feel of the items being considered. It is easy to research the market with a web browser, both for types and styles of chair, and for sales outlets in the area. Generally speaking, local purchases have the advantage of convenience and access to after-sales service.
Like most furniture items, chairs are relatively bulky items, and faux leather styles, in particular, are unlikely to be collapsable or stackable. Hence the local retailer's delivery fleet is likely to be better suited to the task of transporting the chairs than the customer's car. When planning a remote purchase, it is advisable to include carriage costs in the overall calculation. An online retailer might offer a better unit price but a less competitive delivery option.
If the plan is to purchase used or refurbished items, most major urban areas have a number of charity shops and similar recycling enterprises. Some excellent bargains can be found in such places. Another source of bargain furniture can be auctions and liquidation sales. Normally, these are advertised in the local media, and a catalogue will be available so that a specific objective, such as faux leather dining chairs, can be anticipated and targeted.
Buying Faux Leather Dining Room Chairs on eBay
Another option is to search eBay's listings for suitable items. Although it is quite a long search term, typing "faux leather dining chair&" into the search window on the eBay home page can often generate a useful set of results. It might be better though to start with fewer terms and get a broader range of results. The term "dining" tends to focus results in the domestic arena, and that will exclude any listings that have specified a business or commercial leaning. From the initial set of results, you can either browse serially or use filtering options to narrow the search. With bulky items, such as furniture, one particularly useful filter is the location and distance option, which lets you target items within a certain radius of your own postcode.
Remember that eBay account holders have access to a range of tools to help track and research items. Placing an item on watch is often a good way of following the market and evaluating the likely cost of a future purchase.
When it comes to repair and maintenance, searching for "faux leather upholstery&" should yield a variety of potentially useful leads. Not only can you expect to find vendors offering the faux leather material itself, but there should be a variety of tools, foundations, and other items that all contribute to the finished repair or replacement.
Conclusion
Faux leather is a popular style of dining room chair, capable of lending elegance to a dining room, and equally capable of being a practical addition to the bedroom and study. For more compact living spaces, this versatility is even more of an asset, thanks to the material's resilience and ease of maintenance.
When considering the purchase of a set of faux leather dining room chairs, there are a number of factors to take into account. One is the context the chairs in terms of placement, and accordingly, the choice will focus on more traditional or more modern designs. Another factor is the evaluation of price, style, and convenience. Sometimes these matters are in conflict, but with judicious preparation and research, there is no reason why they have to be.
Whether the search is for single chairs, dining room sets, or even the components necessary to make a repair, eBay's listings offer a wide range of new and refurbished items, supported by numerous research, tracking and buying options. It might be possible to complete a purchase without having to leave the house.