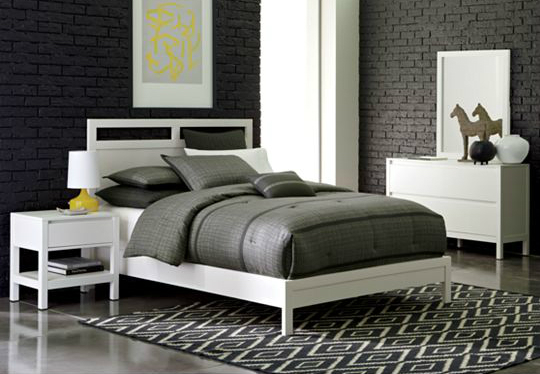 Bedroom furniture can enhance the visual appeal of a room, as well as the comfort and relaxation it provides its users. There are several types of bedroom furniture available, including bed frames, bedside tables, chests of drawers, wardrobes, trunks, and dressing tables. Each of these are produced in a variety of colours, styles, and price ranges, and buyers have many opportunities to build a unique bedroom combination. Consider each piece separately to find items that will fit in the desired space, and take measurements before committing to a purchase. Sets of bedroom furniture are also available, and are an easy way to build a coordinated look in a room. In many cases, items are also less expensive when purchased in a set.
Bedroom furniture can be obtained from department stores and furniture retailers. Buyers can also find a wide selection of items online, from commercial retailers' websites to marketplaces like eBay. Next offers a wide range of bedroom furniture on its eBay page. Shop from the full selection of sellers to find attractive bedroom furniture that can provide increased comfort in any home.
Choosing Bedroom Furniture
The first step in purchasing bedroom furniture is deciding on the type of items needed. Consider the space available, the amount of clothing and other items that need to be stored, and individual tastes while shopping. Also, remember that many retailers offer their furniture as separate items or in sets.
Bed Frames
The centrepiece of a bedroom is the bed frame. These items are produced in a broad variety of designs, which can affect their visual appearance and use. They may include a headboard and footboard, though these items can be added to a frame later, as well. The following table lists some of the most popular types of bed frames, and provides a brief description of each.
| Bed Frame Style | Description |
| --- | --- |
| Classic | Classic beds are simple and straightforward. They typically have a small headboard, and stand on four legs. There is enough clearance beneath them for a decent amount of storage. |
| Sleigh | Sleigh beds are reminiscent of antique wooden snow sleighs. They have a headboard and footboard designed with a slight wave. |
| Storage | Storage beds have drawers and other storage compartments located in the frame. These beds are ideal for small bedrooms, and can double as a chest of drawers. |
| Platform | Platform beds are built on a rectangular frame. Some are designed with a headboard and footboard, and the frame may have a recessed base that allows users to store their shoes at the edge of the bed. |
| Adjustable | Adjustable beds can be shaped into unique forms that allow the user to sit upright or recline in bed. This makes them useful for reading, watching television, or simply relaxing. |
| Canopy | Canopy beds are a traditional design. Posts extend from each corner of the bed, and support a frame or platform that can have fabric hung from it. |
| Four-Poster | Like canopy beds, four-poster beds have a post rising from each corner. However, these posts do not support a frame, and are instead carved into decorative shapes. |
Several other types of bed frames are available, in addition to those listed in the chart. Many of these are a hybrid of two or more traditional styles. Shop around to find the most appealing items available.
Bed Frame Sizes
Like mattresses, bed frames are designed in specific sizes. Choose from small single, single, small double, double, king size, and super king frames, and be sure to choose a mattress that fits.
Bedside Tables
Bedside tables are one of the most useful pieces of bedroom furniture, and are also one of the least expensive. A good bedside table is designed to rest at the same height as a mattress, and can hold the owner's alarm clock, books, and a drink. Nightstands can be a simple platform for holding items, or they can be designed with drawers and cabinets for storage. Decide between nightstands made of wood, metal or chipboard. Many chipboard nightstands are covered with plastic to create a sleek and modern appearance.
Chests of Drawers
Chests of drawers are a standard option for storing clothing. They may be comprised entirely of drawers, or they may include cabinets. They can be tall and narrow, or low and wide. Low items take up more floor space, though their surface can be used as a tabletop for holding possessions or decorations like plants and photographs. Some chests of drawers are designed with a mirror on top, like a dressing table, and table mirrors can also be purchased separately. Look for the dimensions of a chest's drawers to find units that can hold a sufficient amount of clothing.
Wardrobes
Wardrobes and armoires have a large compartment with a horizontal rod for hanging clothing, similar to a closet. In most cases, this compartment is behind a pair of cabinet doors, which can be carved or decorated for increased visual appeal. Wardrobes often include a drawer or two at their base for additional storage. These items are ideal for bedrooms that do not have sufficient closet space, or for users who'd prefer not to fold their clothing.
Trunks
Trunks and chests are essentially large boxes with a hinged lid. The lid can be flat, which allows other objects to be set on top of them, or rounded like a treasure chest. Many trunks are designed with a rustic appearance, and may include straps and decorative clasps.
Dressing Tables
Dressing tables are useful for homes with a small bathroom, or for users that share their bathroom with family members or roommates. Dressing tables can have a drawer or two for storage of makeup, combs, or other items. Look for units that include a chair or stool, as well, and hinged mirrors that can be adjusted to the height of the user.
Bedroom Sets
Bedroom furniture sets are an inexpensive way to obtain multiple pieces of furniture at once. All pieces in a set are designed in the same style and colour, making them an easy way to build an attractive and coordinated bedroom. The number of pieces in a set varies, as does the specific pieces of furniture included. Standard, three-piece sets comprise a bed frame, chest of drawers, and bedside table. In many cases, larger sets can be built from any pieces of furniture the buyer chooses, including duplicates of a single piece of furniture.
Measurements
To ensure furniture will fit properly in the desired space, take the time to measure a room. Use a measuring tape or metre stick to determine how much space is available, and compare it with the dimensions of a desired product. If a set of furniture is being purchased, it may be useful to buy a roll of string and outline the dimensions of the desired set in a room. Be sure there is enough room to walk past the furniture, and take into account the space needed to open and close drawers and cabinets.
How to Buy Bedroom Furniture on eBay
All types of bedroom furniture can be purchased on eBay. An easy way to find these items is to enter keywords into the search field on the homepage. For example, to see listings for chests of drawers, simply type "chest of drawers" into the field. You may refine listings further by introducing new keywords, such as the names of materials. It is also possible to shop using eBay's category options. These appear on every search results page, and indicate the number of relevant items in each category. For example, from the "chest of drawers" results page, you may see options that allow you to narrow searches by room, materials, or colour. Use these options to find the most appropriate and attractive items.
Click on the name of a piece of bedroom furniture to see its full listing. There, you can see applicable shipping charges, shipping methods, and the types of payment accepted by the seller. Read item descriptions provided by the seller, and examine available photos to be clear on the specific item being sold. Contact the seller with any questions you might have.
Review sellers' histories to find reliable eBay users. In the item listing, locate and click on the name of the seller to see a full profile. These pages include information about sellers' eBay histories, including ratings and comments left by previous buyers. Leave your own feedback for a seller once you have received your order to keep the eBay community informed.
Conclusion
The comfort level and visual appeal of a room can be greatly enhanced by quality bedroom furniture. A large selection of items are available to choose from, and they can be purchased individually or as part of a set. Bed frames are the centrepiece of a room, and are designed in a broad variety of styles. Consider storage beds that can double as a chest of drawers, adjustable beds for reading or watching television, or canopy beds for a classic look. Bedside tables are convenient and inexpensive. Look for ones that are level with the mattress in a room for optimal use. Chests of drawers and wardrobes are designed to hold a large amount of clothing, and can even serve as a replacement for a small closet. Consider sets of bedroom furniture to save money and find matching pieces.
Bedroom furniture can be purchased from department stores, furniture stores, and online retailers. Marketplaces like eBay have listings from both private and commercial sellers, and offer a high number of items. Shop around to find the best products, and select furniture that will enhance enjoyment of a bedroom, day or night.