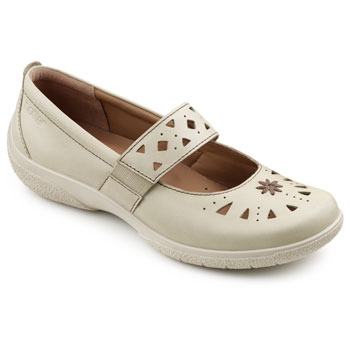 An extensive study in the UK reported that two out of five parents admitted to buying shoes that were too big for their child to save money, with the expectation that the child would grow into them. One in ten parents admitted to allowing their child to wear shoes that were far too small. The same study found that one in five children suffer from foot related health problems. The importance of correctly fitting, supportive, breathable shoes for children's growing feet, should not be ignored.
Young girls develop quickly, so parents should buy new shoes as soon as the old ones become too tight so as not to create problems that will persist into later life. This guide gives buyers the information that they need to choose girls' shoes that offer comfort and support, and promote foot and spinal health. It also advises buyers on how to buy the correct size, and explains the eBay buying process, allowing buyers to purchase girls' shoes on eBay with ease.
Material and Construction for Girls' Shoes
The main aim of a shoe is to protect the foot from injury and to provide proper support. Shoes should allow the feet to breathe, while remaining dry and warm. The inner part of the shoe should pull perspiration away from the skin and absorb moisture. The outer part should prevent the feet from getting wet. The sole of the shoe should be tough, but flexible. This helps children to walk with the correct posture and provides better grip to prevent slipping and falling.
Leather and canvas are the best choice of construction materials for girls shoes, as they allow the feet to breathe. Leather and canvas both have some natural give, and mould themselves to the shape of the feet. Breathable shoes prevent excessive perspiration, and reduce the length of time that the feet spend in damp, warm, bacteria laden conditions. This reduces the likelihood of athletes foot, and other fungal and bacterial infections.
Leather
Very soft leather helps to prevent blisters forming on the feet. Leather promotes air flow, preventing fungal and bacterial problems. Leather is also waterproof if provided with the correct coatings and is a good insulator. These factors mean that leather is perfect for winter footwear. Girls' leather shoes include patent leather shoes, leather school shoes, and popular brands, including Hush Puppies, and Dr. Martens.
Canvas
Canvas may not be waterproof, but it is an excellent choice for summer shoes, and even indoor sporting activities. Summer and sporting canvas shoes for girls include deck shoes, converse trainers, both low tops and high tops, and pumps. Most canvas shoes can be laundered easily at home in a standard washing machine, at low temperatures, further reducing the amount of bacteria which builds up.
Synthetic
Synthetic materials do not allow the feet to breathe in the same way as leather and canvas. This means that perspiration remains close to the skin and the feet stay warm and damp for long periods, which is the perfect condition for bacteria and fungus to grow and multiply. Trainers are usually made from synthetic materials, and therefore they should not be worn all the time.
Shoe Fastenings
Velcro, laces, and buckles are the three main types of shoe fastenings for girls' shoes. Slip-on shoes, especially for younger girls, are not the best choice, because they can slip off just as easily and cause an injury. Very young girls find velcro the easiest type of shoe fastening to use, especially if they have to remove the shoes at school, for a games lesson, for example. Shoes with laces, velcro, or buckles allow small adjustments to be made so that the shoe fits better. These fastenings also securely hold the shoe in place, without being too tight.
Importance of Choosing the Correct Size Shoe for Girls
Having shoes of the correct size is an absolute necessity to ensure healthy development. Children's bones are soft for a very long time as they grow and develop. Shoes that are not the right size can cause deformities in the feet, legs, and spine. Bunions are one very common symptom of ill-fitting shoes, but as children develop into adulthood, significant back problems can occur. If shoes are uncomfortable, girls will most likely not enjoy physical exercise and activity.
When choosing girls' shoes, it is important to make sure they are the correct size. The chart below shows shoe sizes in centimetres, UK, and European sizes. Both feet should be measured and if they are different sizes, which is common among young children, choose the larger foot. Feet should be measured while standing up to get an accurate size, and in the evening when the feet swell to their largest.
| Shoe Measurement in cm | UK Shoe Size | European Size | Approximate Age in Years |
| --- | --- | --- | --- |
| 14.4 | 6 | 23 | 2 |
| 15 | 7 | 24 | 2 |
| 15.6 | 7.5 or 8 | 25 | 3 |
| 16.3 | 8 or 8.5 | 26 | 3 |
| 17 | 9 | 27 | 4 |
| 17.7 | 10 | 28 | 6 |
| 18.4 | 11 | 29 | 7 |
| 19 | 12 | 30 | 7 |
| 19.7 | 12.5 | 31 | 8 |
| 20.4 | 13 | 32 | 8 |
| 21 | 1 | 33 | 9 |
| 21.7 | 2 | 34 | 10 |
| 22.3 | 2.5 | 35 | 11 |
| 23 | 3 | 36 | 12 |
| 23.6 | 4 | 37 | 13 |
| 24.3 | 5 | 38 | 14 |
| 25 | 6 | 39 | 15 |
| 25.7 | 7 | 40 | 16+ |
Using the chart above allows parents or guardians to establish the size of the shoes that they need to buy. The approximate age is given for each shoe size, but it should be noted that not all girls will fall within the average range. So, measuring is strongly advised.
How to Fit a New Shoe
Even if the feet have been correctly measured, buyers should check the fit and comfort levels to ensure that new shoes are suitable. The front of a shoe for girls should not be too pointed, as this squashes the toes together, which can lead to growth deformities. Nor should there be any other restriction around the toes. The shoe should fit snugly against the heel, and the foot should not be able to slip forwards freely leaving a gaping hole between the foot and the shoe. New shoes should be no more than five millimetres longer than the big toe. This small amount of extra space allows for foot movement, and a small amount of growth before the shoes need to be replaced with a larger size. The sides and back of the shoe should be firm and strong to help to support the foot when running, jumping, and walking. The inner sole should support the arch of the foot to prevent fallen arches and developmental issues.
High Heels
Young girls often want to be like mummy, or a princess, and wear high heels. The bones in the foot and ankle do not stop developing until girls are around 12 years old. The bones can become deformed over time if children wear heels. Another risk of wearing high heels, before the bones are fully developed, is shortening in the tendons in the heel of the foot, which can cause mobility and range of motion problems. Heels over two centimetres high greatly increase the risk of health problems, and also increase the risk of injury.
Purchasing Girls' Shoes on eBay
eBay is a great place to purchase nearly new shoes for girls as they grow so quickly when they are young. Many shoes hardly get to be worn before they are too tight, and this allows buyers to find a real bargain on secondhand shoes.
Buyers can search for girls shoes from the eBay homepage. They can then narrow their results by choosing the correct category. If buyers wish to, they can then choose the size of shoe that they wish to buy, or the style of shoe, such as sandal, casual shoe, or trainer. By using the filters available, buyers may save time by focusing in on certain details, such as the brand of girls' shoes or the location of the seller.
Item Description
Buyers should read the item description carefully and look at the photo before buying girls' shoes. If the shoes are used, look at the photo for signs of wear and tear. Signs of wear on the sole of the shoe will indicate to the buyer that the shoes have been worn over a long period of time. Shoes tend to mould to the shape of the foot eventually, and this may be uncomfortable for others to wear. If the buyer is in any doubt about the quality of the shoes, they may ask the seller, who will be happy to answer any questions.
Feedback
The feedback compiled on eBay is an excellent way of allowing buyers to see which sellers offer a high level of service. Sellers who consistently receive a high level of positive feedback become a Top-rated seller. Feedback is left for a seller once a transaction has been completed. A number of negative feedback comments left for a seller can be a warning to potential buyers that the service provided may be poor. In this case, the buyer should consider buying a product from another seller.
Returns and Refunds
Refunds and returns policies give peace of mind to a buyer, so that they can shop with confidence and return the item and receive a refund if the shoes do not fit. To find out whether a seller offers returns and refunds, read the details on the listing page or use the 'Ask a question' link to contact the seller directly. Sellers should be more than happy to offer a refund on girls' shoes. However, the seller will expect the shoes to be returned in the same condition as when they were sent. When trying on shoes, make sure that the girls is indoors and on a clean floor to prevent the bottom of the shoes becoming scuffed or dirty. It should be noted that the seller may not refund the original delivery fee and may not pay for the return postage.
Conclusion
Girls' shoes can include trainers, plimsoles, and patent leather shoes. Buyers can find shoes on eBay to suit any girl from infants to teens. The choice is vast, but eBay has a range of filters to help buyers to narrow down the search to a manageable level. Buyers can find some good quality shoes, new and used, at great prices. Although eBay offers significant savings on many girls' shoes, cost should not be the only factor when buying them. Choosing the correct size is more important for the future of the girls' health and well-being. Other factors to consider when choosing girls' shoes are level of support, fastening type and material. This guide gives buyers advice on the best materials for girls' shoes, along with an easy to use size chart, and tips on making sure that the shoes fit well. Information on buying successfully on eBay is provided, to make the purchasing process both simple and enjoyable, so that every girl can have the right pair of shoes.