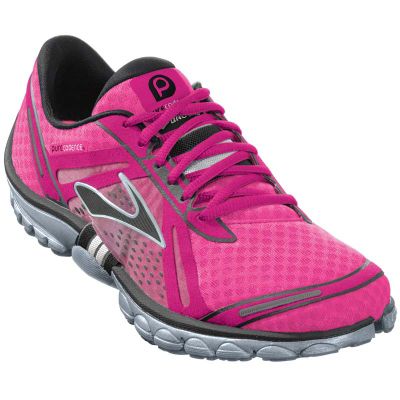 Buying the right type of sports trainers for girls is hugely important. Often the significance is overlooked in favour of saving money and complying with the latest fashion trends. Girls' sports trainers can be pretty and trendy, but in truth, their aesthetic appeal should be the least important consideration. There are different types of sports trainers, which are suited to different types of sports. To choose the best sports trainers for girls, it is useful to understand each type, the sports that they are designed for, and how to choose the correct size. How to determine the foot shape to buy the correct type of running shoe is also important, along with information on the significance of girls' sports trainers. When the buyer is ready to find a pair of girls sports trainers on eBay, understanding the product search and purchasing process makes the shopping experience easier and enable buyers to find just the right sports trainers for their girl.
The Importance of Girls' Sports Trainers
When playing sports, the feet must have proper support and protection. Girls bones grow rapidly, and because the bones are still forming, they are still somewhat delicate, and are also in danger of developing deformities. Problems with the feet can also result in the development of serious back and leg health issues. Many parents neglect to purchase proper girls' sports trainers, and instead bow to pressure to buy the latest funky fashion trainers. Fashion trainers are fine for short periods of time if they are not worn for athletic or vigorous activities. Girls' sports shoes support the entire foot, including the heels, toes, and arches, offering good air flow, and overall promoting good foot health. Protective, supportive sports trainers are much more comfortable during activity than fashion trainers, and help with stamina and performance. The extra comfort encourages girls to enjoy and participate in sports much more than footwear that can result in fatigue and aching feet.
Types of Girls' Sports Trainers
There are a number of different types of girls' sports trainers. The right type to purchase depends mainly on the sport being played. It is also important to take into account the playing surface, as different trainers are available for different surfaces, and offer better grip and stability, which reduces the chance of slips and falls.
Running Trainers
There are three different types of running trainers to cater for girls with different foot shapes. Buying the right kind of running trainers is especially important for girls who take running it seriously, such as those who run competitively, or those who just enjoy it. To find the right type of running shoe, the foot type needs to be established. Place a piece of paper on the floor, wet the bottom of the foot, then stand on the paper. The imprint left behind indicates the foot type.
Over Pronated Foot Type
A flat foot print, with no missing portion at the inside centre indicates a flat footed runner with fallen arches, or an over pronated foot. For this foot type, motion controlled or high stability running trainers are required. This reduces the over pronation, and helps to limit knee and back injuries, which develop over time if the problem is not corrected.
Under Pronated Foot Type
A footprint with a very narrow band between the outside ball and the heel reflects an under pronated foot, or a foot with high arches. Under pronated feet are not effective shock absorbers, and girls with this foot type are at risk of severe and painful injuries, including long term cartilage damage. Cushioned running trainers are the best shoes to combat this, providing support and shock absorption.
Properly Pronated Foot Type
A normal foot print has a wide band between the forefoot and the heel, but still has a visible arch. Moderate stability shoes are the most appropriate running trainer type for a properly pronated foot.
Cross Trainers
Cross trainers are a multi-purpose sports trainer. Cross trainers give cushioning, support, and stability over the whole of the foot. They are designed for girls who participate in multiple sports, or for those who do lateral movement activities, such as aerobics. Cross trainers are an excellent choice for girls who need an all round sports trainer.
Court Trainers
Court trainers are designed for sports such as tennis, netball, and basketball, which are played on a hard court surface. Court trainers should have a strong, flexible sole, and provide a high level of support all around the foot. The rubber of the sole should extend part way up the side of the foot, around the back of the heel, and the front of the toes. This is to increase shock absorption, and to provide added support, as court sports involve quick, sudden movements and stoppages, which puts the sides of the shoes under a great deal of stress. Other sports trainers are not tough enough to withstand this pressure, while still providing support to the foot.
Astro Turf Trainers
Astro Turf trainers have lots of small studs across the sole. This provides added grip and stability while in motion, and allows for quick, accurate stops on artificial pitches. They are designed for any sport played on astroturf such as hockey and football. Astro turf trainers require the added grip, because the surface is often slick, and can result in falls and injuries if standard trainers are worn.
Sizing Girls' Sports Trainers
The chart below enables the buyer to choose the correct size girls' sports trainers from eBay. Children's feet grow very quickly when they are young, and this chart allows the correct size trainer to be purchased, using the most current foot measurements.
| Length of Foot in (cm) | UK Size | European Size |
| --- | --- | --- |
| 15 | 7 | 24 |
| 15.6 | 8 | 25 |
| 16.3 | 8.5 | 26 |
| 17 | 9 | 27 |
| 17.7 | 10 | 28 |
| 18.4 | 11 | 29 |
| 19 | 12 | 30 |
| 19.7 | 12.5 | 31 |
| 20.4 | 13 | 32 |
| 21 | 1 | 33 |
| 21.7 | 2 | 34 |
| 22.3 | 2.5 | 35 |
| 23 | 3 | 36 |
| 23.6 | 4 | 37 |
| 24.3 | 5 | 38 |
| 25 | 6 | 39 |
| 25.7 | 7 | 40 |
By using this chart buyers can see the difference between UK sizes and European sizes. Notice how the numbers on the UK sizes start from 1 again as a girl moves from children's sizes to adult sizes.
How to Find Girls' Sports Trainers on eBay
To find girls' sports trainers on eBay, buyers can search from the eBay homepage. This can yield thousands of results, so eBay allows consumers to narrow down the listings by using various filters. You can search for specific brands, such as Adidas, Nike or Puma. These filters allow the buyer to reduce the number of results by choosing the shoe size that they require, or putting in a minimum and maximum price. Other filters include location and whether they wish to buy new or used trainers. By using the filters, buyers can ensure that they narrow down the girls' sports trainers listings successfully, and find the ideal trainers.
Buying Used Girls Trainers on eBay
Buying second hand girls' sports trainers on eBay is a great way to find a real bargain. Children grow out of shoes very quickly, and often the used trainers available for purchase have little sign of wear and tear. This is an ideal way of finding trainers at affordable prices. If the trainers are for an older girl who is growing less quickly, say an early teen, then the shoes could have been worn over a long period of time and may have insoles that have moulded to the shape of the previous owner's feet. This can mean that the trainers may be uncomfortable to wear for the new owner.
Used sports trainers may have a worn sole. Buyers may ask the seller for photos of the sole, if they are concerned. The seller should describe the condition of the shoe in the listing. If not, then use the "Ask a question" link to contact the seller directly. Good sellers are more than happy to answer any questions about the trainers in the hope of having a smooth transaction on eBay. Also, check the refund policy of the seller in case the sports trainers do not fit or are in an unacceptable condition. Consumers should be aware that they may be responsible for the postage when returning the trainers.
Feedback
Consumers should check the feedback of a seller before purchasing girls' trainers on eBay. Feedback is the system used on eBay to enable buyers to read about the service that the seller has provided to other customers. By looking at the feedback, buyers can decide whether they can expect a good service from the seller. eBay also allows buyers to give detailed feedback ratings on the sellers. These ratings are based on the item description, the communication of the seller, the postage and packaging charges, and the speed of the delivery.
Conclusion
Trendy fashion trainers may be aesthetically pleasing, and most likely fit in with the shoes that lots of the other girls wear at school, but when used for sports, they can cause injuries and health problems. Girls of any age who participate in sports of any kind should have the right trainers designed for a particular activity. There are girls' sports trainers available for running, court sports, astroturf field sports, as well as multi-sports trainers. Understanding the different types of trainers available, which sports they are for, and how to size girls' feet helps the buyer to make the best choice of sport trainers. Checking the foot type when choosing running trainers is important. The process of finding and buying girls' sports trainers on eBay is easy once you reduce the number of search results, select a good seller, and make sure that any of your questions have been answered.