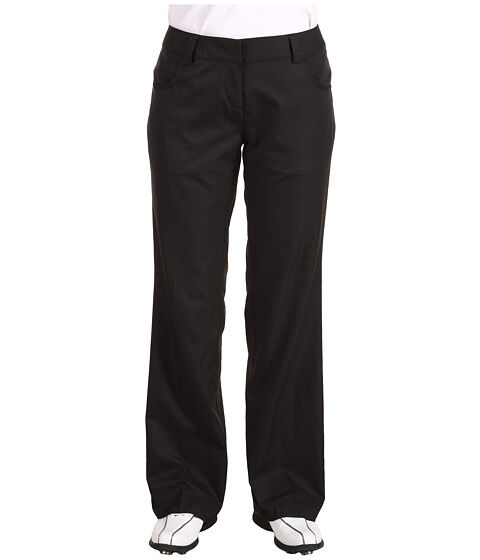 For the novice, and even for the seasoned club golfer, buying golf trousers can be surprisingly difficult. There are many factors that may influence the choice of trousers;
The time of year
The weather on the day
The state of the course based on the impact of recent weather
Comfort, style and personal preference
The golfer is likely to conclude that several pairs of trousers and golf shorts are necessary to cover all eventualities. This sounds ruinously expensive, but fortunately eBay sells thousands of golf trousers every month and has a vast range for the golfer to choose from. New trousers and second hand trousers are all available on eBay at prices to suit every budget and for men, women and junior golfers.
The first issue to consider, and very important to get right, is that of golf course etiquette and dress code. Nearly all courses, private and public alike, maintain certain standards and the first of these relates to dress code. This may be seen by some as a legacy of the past, and the growth of private members clubs in the Victorian and Edwardian eras when golf club membership was for the wealthy. The reality is that although golf is more accessible, less exclusive and more affordable today certain minimum standards are still widely enforced.
Golf Club Dress Code
Most golf clubs will have a dress code on display in the Club House and in the Professionals Shop. In relation to trousers most will specify that acceptable trousers will be 'tailored' meaning that tracksuit bottoms, denim jeans, jogging pants or other shapeless trouser will not be allowed. Well cut tailored trousers with pockets, belt loops, with or without turn ups are likely to be acceptable even if they were not manufactured specifically for the purpose of golf. When buying on eBay if you have any doubt whether the clothing is appropriate for a Golf Club always check with the seller before buying, this will avoid being turned away after booking a round of Golf.
Short trousers can cause even more problems. The way to avoid them is to keep in mind the 'tailored' requirement. Shorts that will not usually be accepted are cut-off jeans, swimming style shorts, running shorts and most shorts that are tightened with a drawstring. Chino style shorts and most others that are well cut with pockets, belt loops etc will be accepted. One final point on golf shorts – some courses, very few compared to twenty years ago, ask men to wear knee length socks with shorts. Although, it seems odd that there is one rule for men and another for women it is worth checking before setting off to the club or taking some long socks as well as short sport socks in your kit bag.
Plus Fours and Plus Twos
Although somewhat old-fashioned, this style of trouser popularised by Edward Prince of Wales (eventually Edward VIII) in the 1920s was the first example of trousers specifically developed for playing golf. They are still worn up and down the country today and had a brief resurgence when worn by the American professional Payne Stewart on the USPGA Tour. Plus Fours are any trousers that finish four inches below the knee – and so on for Plus Twos, Sixes etc. Apart from being something of a style statement, there are practical reasons for wearing this style. Playing golf on a wet and muddy course for example will leave a normal pair of trousers wet and muddy at the bottom by the end of a round and require the dry cleaner at worst and the laundry at best. The Plus Four wearer will merely change his socks.
| Styles Acceptable at Most Golf Clubs | Not Acceptable at Most Golf Clubs |
| --- | --- |
| Tailored Trouser | Jeans |
| Chino Trousers | Shapeless Trousers |
| Plus Fours | Jogging Pants |
| Tailored Shorts | Swimming Shorts |
| Waterproof Golf Trousers | Drawstring Shorts |
Golf Trousers for Women
Women taking up the game of golf may have less in the way of suitable existing trousers in their wardrobes. Buying for fit and appearance may not transfer to the golf course - where trousers need to accommodate flexibility in the golf swing, bending to line up a putt or placing a tee peg in the ground. Purchasing ladies golf trousers or ladies golf shorts from the start may be the only way forward.
Waterproofs
Any golfer hoping to improve his or her handicap will need to play regularly. In this climate that will mean playing in the rain fairly often and so a pair of waterproof trousers is an essential equipment item. Often sold as part of a waterproof golf suit with a jacket, they are also available as a single item.
For comfort on the course it is worth investing in waterproof golf trousers that 'breathe' made with a fabric to keep the moisture out but also allow the fabric to deal with the hot air and moisture on the inside. As waterproofs are frequently pulled on over ordinary trousers it is worth allowing for this and buying a size that fits comfortably over them.
Style and Fashion
Golf trousers are universally lampooned and caricatured as being made in garish checks and stripes of ancient tartans. The origins of golf in Scotland contribute to that as many Scots wore their tartan 'trews' on the links when playing. American fashion sense has probably done more than anything else to prolong this image of golfers in tartan trews.
In any event, golf trousers follow the fashion of the day and whereas in the recent past front pleats and turn ups (or cuffs) were fashionable, now trousers are mostly pleat less and with no turn up.
Unless making a particular statement or promoting your own line of clothing like Ian Poulter it's best to approach the purchase of golf trousers in the way of any other pair of trousers. Choose a style that you will feel comfortable in at the 19th hole or the pub.
Purpose Made Men's Golf Trousers
It is worth remembering that golf is a sport and that the manufacture of trousers for golf has become much more sophisticated over the history of the game. For some it is enough to have some trousers that are OK to play golf in. For others trousers are part of their sport equipment and they seek a level of performance that enables them to get the best out of their game. High performance materials have been developed to address these issues:
Fabric technology enables manufacturers to produce extremely lightweight materials for playing golf in hot climates, the material is able to wick sweat away from the body leaving the golfer as comfortable as possible to focus on the game. Fabrics designed for the winter can include a base level of wind and waterproofing that can enable the golfer to delay or avoid the need to stop and pull waterproofs on.
Stretchable textiles like Elastane make the athletic elements of the golf swing less restricted allowing the golfer greater concentration on getting the ball into the hole – and once there, more comfort while bending down and reaching into the hole to retrieve it.
In addition, machine washable and Stay Press fabrics ensure that golf trousers perform like most other items of sports clothing – from crumpled up in the sports bag to machine washed, dried and ready to wear.
How to Buy Golf Trousers
For the novice golfer, someone just taking the game up - or not sure about a long term commitment to the game - there is a lot of initial expense:
The cost of tuition and visits to the driving range
Club membership and/or green fees
Golf clubs – Woods, Hybrids, Irons, Wedges,Putter
Golf Shoes
Golf Gloves
Golf Trousers
Golf Shirts
Golf Waterproofs
Not to mention the considerable cost of those little white golf balls that lose themselves so easily. The whole thing can run into 4 figures very quickly.
It helps to be smart about purchasing. Using an existing pair of formal trousers may work in the short term but will quickly become frustrating when they are dirty in a kit bag when you need to wear them.
A better alternative is to buy trousers that are online through eBay. Ordinary trousers that meet golf club standards will do for a start and it won't really matter that much if the style of material is not to your normal choice – you will see many more outlandish outfits out on the golf course. Certainly through eBay you will have a wide choice of new trousers and may even find second hand but not worn trousers at a very big discount.
As the golf bug bites, the need for winter trousers – more than one pair because of the time spent in washing and drying – waterproof trousers, summer trousers and golf shorts will make it worthwhile spending some time looking at what is available on eBay in order to keep the costs down.
Take some time to look at designer golf trousers on eBay and make a note of the manufacturers and styles that you like that have some of the performance features mentioned earlier. For women golfers the bricks and mortar stores have even less of an offering than for men. So, it's always worth a golfer's while to have a regular search through eBay for the brands and manufacturers they like.
eBay Payment and Search Options When Buying Golf Trousers
eBay offers a wide variety of brands, styles, prices and choices of golf trousers including new and used. The advantage of buying on eBay is the range of prices from a used pair (which may have been outgrown or no longer required) to new golf trousers. There are flexible payment and delivery options on eBay that are available to help with your purchase.
To search for golf trousers, visit the Sporting Goods portal. Alternatively you can use the search box provided to type in specific information to your requirements including specific brand or manufacturer's names, sizes etc. Ask the seller questions if unsure about anything and make sure to specify the correct size and colour if the options are presented. Visit the Buying Basics page for more information.
When you are comfortable with the product information you can consider how to pay for your selection and proceed to purchase. In an Auction the buyer has to place a bid in order to buy the golf trousers at auction by the date in the listing – it may take more than one bid to ensure you are the highest bidder. Use 'Buy It Now' if it is offered as an option and you would like to buy it immediately or to put down your 'Best Offer'. Buying through PayPal will ensure the transaction proceeds directly between the seller and buyer. eBay users are protected by the Buyer Protection Programme.
The eBay Shopping Experience
Delivery and shipping of the trousers to you is provided by the seller.
It is recommended that you only purchase from sellers which are authorised through eBay.
Bundles are sometimes offered where the listing on eBay may include the specific main core product such as the Trousers with incentives to maybe buy more than one or perhaps another product like a belt. It is always worth having a look at a seller's other products for the chance to pick up another bargain and also save on postage costs.
Conclusion on Buying Golf Trousers on eBay
When choosing to buy golf trousers on eBay the buyer must consider their individual needs in terms of the style and any colour preferences, whether to buy a simple pair of trousers or trouser made from a high tech fabric and, of course, the image and brand that they prefer. Buying golf trousers on eBay will deliver a huge range of choices for you to select from in the comfort of your own home – or wherever else you may be – with the protection of PayPal and eBay.