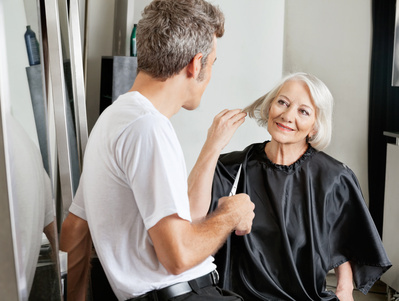 A neat bun or a wild, just out of bed style. Or a hairstyle somewhere in between. We all require the use of hair supplies: styling products, like hair spray, gel and mousse, along with hair brushes and accessories such as scrunchies, bun nets, hair pins, and artificial flowers. There is a huge choice, and this guide helps buyers to explore the different options available. It gives information on which styling product and hair brush is suited to which hair type and style. Also provided is essential information about shopping on eBay. eBay offers a wide selection of hair supplies, and there is something to suit everyone. eBay is a user friendly website where great bargains are to be found. When using eBay to shop for hair supplies, buyers have a number of different options to help them find the perfect products, and with the information contained within this guide, can have a pleasurable shopping experience without leaving the home.
Hair Styling Supplies
Hair styling supplies help to keep a head of hair styled and groomed. It covers a large number of common products used by many women on an everyday basis. Hairspray is used mainly by women to hold the hair in place while allowing it to have some movement. Hairspray can be used when blow drying, and some types add shine to the hair. Hair gel can be used to tame heads of short, but unruly hair. It can be used to spike, flatten, or give the hair a wet look. Some types are designed for use on wet hair, and others dry. Hair mousse adds volume and curl to the hair. It is most often applied to wet hair, and can be used with a blow dryer. Mousse is popular with those who have curly or permed hair.
Types of Hair Brushes
Hair brushes come in a number of different types, all of which can be found on eBay. Different types of hair brush, and different bristles are suitable for different head and hair types. Many people just choose a cheap hairbrush of any kind, or only buy the type that have previously used. The hairstyle of the buyer should play a major part in which hair brush is chosen
Paddle Hair brushes
Paddle hair brushes are used for smoothing and untangling all hair types. They have large, flat brushes, and are made from wood, plastic, or ceramic. The bristles sit above an air cushion which contours the shape of the head. This provides a scalp massage, and promotes a healthy scalp and hair growth.
Military Hair Brushes
Military hair brushes are held in the palm of the hand and have no handle. They are normally used by men rather than women. They are best used on short hair for a slicked back look. A military hair brush can be used instead of a comb, as it provides a smoother look, without the lines often created by a comb. The bristles on a military brush are close together, and provide very soft brushing.
Radial Hair Brush
A radial hair brush is a cylindrical brush, with bristles covering the cylinder. These brushes are used to create curls, especially in thick hair. The brushes can be made of wood, metal, or ceramic. Ceramic is preferred for use with a blow dryer, as it holds the heat well to help to create a curl. Radial brushes have vent holes which allow hot air to travel up through the brush to create a more voluminous hair style.
Half Radial Hair Brush
A half radial hair brush is best used for feathered, flicked up, or flicked under hairstyles. People with thicker hair are also drawn to a half radial hair brush because it creates a little volume, without making the hair bushy or too voluminous. Half radial hair brushes have an air cushion and bristles similar to a paddle hair brush, but are partially curved.
The chart below shows the different types of bristle used in hair brushes. It also lists the advantages and disadvantages of each kind.
Type of Bristle

Advantages

Disadvantages

Made from hog hair

Creates shiny hair

Soft and flexible

Used on children

Distributes the natural oils of the head

More expensive than synthetic bristles

Synthetic

Different spacing of bristles means they can be used on all hair types

Less expensive than boar hair

Strong bristles that can get through tangled hair easily

Does not moisturise hair like natural bristles do, so can cause hair to become dry
Using the chart above, buyers should be able to choose the type of bristles that they should use. Some people prefer natural boar hair, while others like a synthetic bristle.
Hair Accessories
Hair accessories are hair bands, ties, scrunchies, pins, clips, and any other adornment worn in the hair. Hair accessories can be worn by anyone with long hair, and many with short, regardless of age. Buyers can use accessories to tie their hair up, such as a scrunchie, or to hold it back from the face, such as an alice band. For a simple everyday look, a bun can be created, like those worn by dancers, using a hair net, small hair tie, and hair pins, with a scrunchie to complete the look. For a special occasions, buyers can choose a floral accessory pinned onto the hair. eBay has a large range of hair accessories in every possible colour, theme, and style, with a number of bright, funky, and themed hair accessories for children and teens, and more elegant items for adults.
How to Buy Hair Supplies on eBay
eBay has wide range of hair supplies, from combs to hair extensions. Buyers can search for general hair products from the eBay homepage, to get a large number of results to browse through. Alternatively, they can choose to narrow down their search using categories. The advanced search feature allows buyers to choose a price range, or view only new or used hair supplies, or items within a certain radius of the buyer's location. If the buyer has a particular item it mind, then the number of search listings can be reduced by entering precise information, such as brand, product names, or models
Buying Options
Buyers can choose to purchase from eBay stores, or from private sellers. eBay stores frequently sell brand new products and often have sellers that are well-versed in the features of their products, which means that they are able to offer reliable advice to buyers in need of extra help or advice. Private eBay sellers offer a range of both new and used items. Some private sellers are simply having a clear out of unwanted items so buyers may be able to bag a great bargain on used hair supplies.
Item Description
Check the item description carefully. Some hair supplies, such as accessories, can be sized for small children or adults. Buyers should make sure they know exactly what they are purchasing. For used hair supplies, buyers should ensure that the products are in good condition. For example, hair brushes should have all of their bristles, and scrunchies should not be frayed. If there is any doubt over any element of the item description, buyers are able to contact the seller and ask for more information.
Feedback
Feedback is an important part of the eBay process, and is the best possible indicator of a seller's performance. Feedback is information left by other buyers, who score the seller on communication, packaging, the length of time it took for the item to arrive, and the quality of the item. Buyers are also able to leave short comments regarding their transaction. Sellers who have a high percentage of positive feedback are more reliable than those that do not, and offer a good service as well as good products.
Postage
Postage costs have to be considered when buying on eBay, unless buyers purchase from a local seller and collect the item in person. Some sellers offer free postage, while others apply a postage charge. This is explained in the postage section of the item description.
Conclusion
Hair supplies are used by almost every woman. From hair spray to hair brushes and bun nets, they are a basic part of the morning routine before heading out for the day, or a key part of the evening before a night out. This guide gives buyers information regarding the different types of products, including styling products, hair brushes, and hair accessories, allowing women to decide which type of hair supplies they need. Styling products, such as hair spray, gel, and mousse are suited to different hairstyles, and are all used to control the hair, and create that certain look. There are several different hair brush types each best suited to specific hair. Hair accessories such as hair ties, scrunchies, clips, and pins allow versatile styles to be created. eBay is host to a large number of hair supplies, many of which can be found at competitive prices.