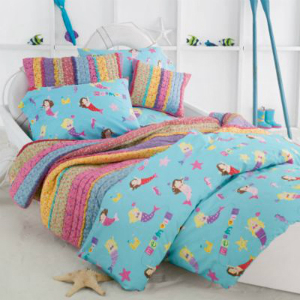 Moving from a crib to a bed is a big step in many households. Room makeovers are necessary to illustrate children's ever changing interests and hobbies as they grow older. Kids' interests change rather quickly, so it is important to consider how long they will keep their bedding sets. Traditionally, boys prefer the colour blue or masculine characteristics such as sports teams and action heroes, whereas girls prefer pink and more feminine characteristics such as princesses, flowers, or butterflies.
Kids ' bedding is available at home stores, some department stores, and through online auction websites, such as eBay. Prior to beginning a search and making a purchase, it is essential to know the bed sizes. Bedding sets vary according to each bed size. Including the kids in making these decisions aids in ensuring that the children enjoy and feel comfortable in their own spaces. Purchasing kids' bedding sometimes seems like a simple task, but there are numerous factors to consider when purchasing bedding sets, including the kids' styles and fabric preferences, as well as the functions of the bedding and how long the bedding sets need to last.
Bed Sizes
Bed sizes refer to the dimensions of mattresses and the names by which standard sizes are called. The different bed sizes consist of toddler beds, small singles, standard singles, small doubles, standard doubles, kings, and super kings. Below is a chart which describes each bed size in centimetres.
| Bed Names | Bed Sizes (centimetres) |
| --- | --- |
| Toddler Bed | 70 x 140 |
| Small Single | 75 x 180 |
| Standard Single | 90 x 190 |
| Small Double | 120 x 190 |
| Standard Double | 135 x 190 |
| King | 150 x 200 |
| Super King | 180 x 200 |
Most kids start off in toddler beds, small singles, or standard singles. In addition to the bed sizes, there are also different types of beds. Bunk beds are a popular type for younger children. There is no specific bed size designated for children, as kids vary in size no matter what age group they are in.
Purchasing Kids' Bedding
Traditionally, boys' rooms are mainly blue and girls' rooms are associated with pink. Kids' preferences change based on age. Kids as early as the age of 3 are usually able to provide hints about their favourite colours or interests. Little girls may prefer princesses and Barbie, whereas little boys favour cars and trucks. It is essential for buyers to have a discussion with their children in order to get a better understanding of their favourite colours and hobbies.
There are different options for purchasing bedding for children's bedrooms. Two ways to purchase children's bedding include separately buying sheets, comforters, and pillows or by simply buying a bed in a bag. A bed in a bag is a pre-assembled set which generally includes a comforter, bed ruffle, sham, sheets, and pillowcases. The bed in a bag is a quicker option because all of the components are included and match each other. The quality of the components in the bed in a bag often varies by price.
Girl's Bedding
Barbies, baby dolls, cartoons, and teen heart throbs are all instances of themes for a girl's bedding set, which are most likely to change over time. For greater staying power, it is suggested to use solid colours for the comforter and pillow shams, whereas the sheets are used to express the child's interests and creativity. For example, princess bed sheets can be replaced when the child outgrows that phase, and the pink comforter can continue to be used. Typically, a younger girl prefers pink, purple, yellow, and pastel colours. In order to add more style to the bedding set, throw pillows or a throw blanket can be added.
Boy's Bedding
Dinosaurs, trucks, sailboats, and superheroes are all examples of themes for a young boy's bedroom. Solid colours for a boy's bedding set are typically blue, green, black, grey, or red. It is important for the buyer to consider the child's hobbies and interests. Also, it is recommended to decide if the child is going to be changing the bedding set every couple of years. If the child intends to change the bedding, then he should fun with it and pick dinosaur sheets or whatever he is fascinated with at the time. If the boy wants to keep the bedding for quite some time, then it is advised to buy more subtle bedding. For example, if a young boy is interested in a specific sports team, it is recommended to purchase the team's colours for bedding, instead of the team's actual logo on the sheets and comforter.
Fabrics for Kids' Bedding
One of the most important considerations when purchasing kids' bedding is the fabrics. Children prefer comfortable and cosy sleeping environments. In addition to making sure the bedding is comfortable, it must also be durable. It is important to consider if the fabrics will hold up through multiple washes. Younger children tend to have accidents and need bedding sets washed more often.
Four of the most common materials used for children's bedding consist of cotton, organic fabric, flannel, and fleece. Cotton is a good choice for children with sensitive skin, because it is breathable and soothing. Many bed in a bag ensembles consist of cotton sheets. If kids have bad allergies or hypersensitive skin, organic fabric bedding should be purchased. Organic fabric is produced without pesticides, fertilisers, or any other chemicals. Flannel fabric is recommended for warmth and offers a wide variety of fun patterns. Many children prefer fleece fabric because it is very soft and provides that cosy feeling. Fleece throw blankets are used in addition to children's regular down comforters, duvets, and quilts in order to add heat.
Other Considerations When Buying Kids' Bedding
How long children keep bedding sets plays a vital role in deciding what style and quality should be purchased. For example, if buyers are planning on changing bedding sets yearly or every other year, then they can purchase trendy sets which are not as resilient. On the other hand, if the bedding is purchased to last for at least five years, then it is recommended to pick bedding sets with solid colours vs. selecting bedding sets with characters, because children's opinions oftentimes change from year to year. When purchasing bedding sets which are meant to last longer, it is important to pay closer attention to the fabric and thread count, so as to make sure it hold up over the years.
The eBay bedding category contains options for children, and it provides shoppers with other items which are helpful when purchasing bedding sets for children. Mattress toppers, pillows, and bed canopies are examples of other items which are also purchased on eBay.
How to Buy Kids' Bedding on eBay
eBay has a broad selection of kids' bedding sets available for potential shoppers. Buyers can begin their search for children's bedding on eBay by using the search bar located on the homepage or any other page within the site. eBay produces a number of options to choose from within the search results, allowing individuals to browse until they find what they are looking for. For example, shoppers can type in the search terms "kid's bedding" and then several options will appear in the search results. In order to yield less results, buyers can type in the search terms "girl's bedding sets", and they will be able to view specifically girl's bedding.
Shoppers can determine the authenticity of the sellers and review their feedback. Sellers' eBay history includes all feedback ratings from buyers within the last 12 months. Feedback is beneficial for buyers and sellers. Feedback is beneficial for buyers because it provides shoppers with the sellers' past interactions and allows buyers to make informed decisions before purchasing. The feedback is advantageous for sellers because it allows sellers to improve on any areas which buyers may not have been happy with, or the feedback attracts more shoppers to their pages because of the positive feedback.
Conclusion
Kids' styles, their comforters, their sheet fabrics, and how their bedding sets are planned to be used are all essential factors in purchasing kids' bedding sets. Before shoppers begin looking at kids' bedding, bed sizes need to be established. For example, if children are in toddler beds, it is a good time to use a detailed theme such as action heroes or favourite cartoon characters, because by the time the children's interests fade they will likely grow out of those beds and be ready for larger beds.
Buyers must communicate with children to find out what designs they prefer and what types of fabrics are most comfortable for them. The quality and designs of bedding sets are based on personal preferences. Buyers are able to purchase bedding by individually buying the items or they are able to pay for a bed in bag. Parents and all shoppers looking to purchase bedding for their kids are able to find what they are looking for on eBay, and they are able to find kids' bedding for either boys or girls on eBay.