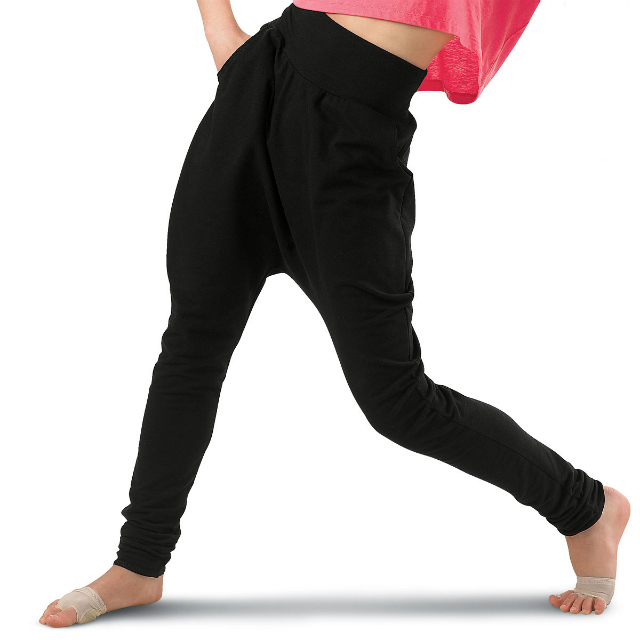 Kids' urban dance is a high energy, expressive activity incorporating elements from a range of dance disciplines to create a modern, freestyle performance. The clothing should reflect the style, and is therefore fashionable as well as practical. No ballroom dresses or Fred Astaire-style top hat and tails adorn the urban dance floors. Instead, loose fitting cotton or clinging lycra clothing is seen in the form of cargo trousers and cropped T-shirts. Kids' urban dancewear is styled to allow total freedom of movement: the clothes should move with the dancer. Footwear is important to the free expression of the dance, but also needs to provide stability and support to reduce the risk of falls or injuries.
When buying kids' urban dancewear if is useful to understand what urban dance is as this helps the buyer to appreciate the factors that are important for the dancewear. Then the correct top, bottoms, footwear, and accessories can be chosen to create the ideal urban dancewear look. Kids' urban dancewear can be found at bricks and mortar children's clothing shops, dancewear shops, and accessory shops, as well as online at eBay.
What is Urban Dance?
Urban dance, also known as street dance, is a mixture of elements from different dance disciplines including hip hop, body locking, breakdance, and jazz. Urban dance is fast paced and high energy. It was originally an underground dance movement, but it gained popularity in the UK as young people turned to dance as a positive and productive way of being together in a group. Urban dance allows kids to express themselves through dance, without the need to worry about creating a reputation among their peers by breaking rules. It is a cool, trendy art form that is not associated with the stuffy stereotype of a dance uniform and strict teachers of more traditional dance disciplines. Urban dance became more popular as troupes such as Diversity, and Twist and Pulse brought it to television screens and into the mainstream by taking part in talent shows such as "Britain's Got Talent".
Factors to Consider When Buying Kids' Urban Dancewear
Urban dance is an energetic activity that can involve anything from dance steps to acrobatics. Therefore, the clothing needs to be able to undergo the pressures that it is put under. Also, much urban dance takes place in urban settings that are not necessarily nice, warm dance studios, so the dancewear needs to be able to adjust to the temperature of the environment.
Movement in Kids' Urban Dancewear
The most significant factor to consider when buying kids ' urban dancewear is that it needs to be comfortable. The wide range of movements performed, and the speed and enthusiasm with which the wearer moves means that comfort is paramount. The clothing should not cause chafing, and so must be soft. It must also fit loosely enough to be comfortable, but not so loose that the body can become entangled in the clothing, potentially causing a fall or injury. Lycra can be worn to emphasise the shapes created by the movement.
Temperature and Kids' Urban Dancewear
Urban dance is performed all year round, both indoors and out. Therefore, temperature-appropriate clothing is a must. Children should not wear clothing that causes them to overheat in warm conditions, but at the same time, in cold conditions, they must be able to stay warm, including when they are standing or sitting still in between dancing.
Breathability and Kids' Urban Dancewear
Regardless of the temperature, children get hot and sweaty when dancing. So, breathability is another important aspect. If the clothing is not breathable, the body heat is trapped inside, and sweat quickly builds up. Kids' urban dancewear must allow air to flow around the body. Appropriate breathable clothing allows cool air to circulate, pulling perspiration away from the skin, keeping the dancer cool and fresh.
Kids' Urban Dancewear Items
Kids' urban dancewear outfits consist of the right tops, bottoms, shoes, and accessories. Not only do the items have a practical role, but they also contribute to the cool look of urban dance.
Tops for Kids' Urban Dancewear
Tops for kids' urban dancewear need to keep the dancer cool as the body heats from dancing, and so cotton is the most popular material because of its breathability. Hoodies and sweatshirts are popular for warm up routines and practising in cold weather. Short cropped lycra tops can be worn for both practice and performance.
Bottoms for Kids' Urban Dancewear
When performing urban dance the bottoms must be comfortable and flexible, to allow freedom of movement. Lycra shorts and leggings are soft and flexible. Stirrup footed leggings are a good choice because the stirrup strap that sits beneath the foot prevents the leggings from rolling up. Loose cotton trousers are very popular for kids' urban dancewear, because the cotton helps to keep them cool. Cargo trousers or combat trousers are another popular choice as they can be worn outside of dancing and can be matched easily for a group of dancers for displays and competitions.
Footwear for Kids' Urban Dancewear
The best footwear for kids' urban dancewear are split sole shoes. Split sole shoes have a solid sole portion at the heel, and another portion across the toe and ball of the foot. In between the two lies a piece of soft fabric. These shoes are very supple, and allow the feet to be much more flexible when dancing, especially for intricate dance steps. The soles are made of durable rubber, which increases grip and stability. These are the most appropriate shoes used for indoor urban dance. If used outdoors, these shoes can result in pain or injury if the wearer steps on a sharp object with the middle part of the shoe. The fit is crucial. If split soled shoes are too big, they lose flexibility: the foot moves around too much and when bending the foot, the soft part of the sole is be positioned correctly.
Dance trainers with a single sole and jazz shoes that are flexible and supple are also appropriate for kids' urban dance. They are better for outdoor use than split sole shoes. The soles should be rubber, with a breathable upper made from leather, artificial leather, or suede. Some kids choose to use standard trainers, but these do not have the flexibility of shoes designed for dance.
Shoe Sizing for Kids' Urban Dancewear
The table below provides a conversion between UK and European shoe sizes for children. An increasing number of shoes sold in the UK now only show the European size. Therefore the table allows buyers to quickly identify which shoe size is correct.
| UK Size | Euro Size |
| --- | --- |
| 5.5 | 22 |
| 6 | 23 |
| 7 | 24 |
| 7.5 | 25 |
| 8 | 26 |
| 9 | 27 |
| 10 | 28 |
| 11 | 29 |
| 11.5 | 30 |
| 12 | 31 |
| 13 | 32 |
| 1 | 33 |
| 1.5 | 34 |
| 2.5 | 35 |
| 3.5 | 36 |
| 4 | 37 |
| 5 | 38 |
| 6 | 39 |
The table above provides buyers with the information that they need to choose the correct size shoe for their child, regardless of whether the shoes show UK or European sizes. For younger children who grow quickly, shoes need to be replaced frequently.
Accessories for Kids' Urban Dancewear
Headbands and other hair accessories are commonly worn for practising kids' urban dance, as they prevent sweat from running into the eyes of the dancer, which can be distracting and uncomfortable. Leg warmers are fashionable accessories and a popular trend is to wear a different colour of leg warmer on each leg. Not only are they trendy, but leg warmers have a practical use and help to keep the muscles warm, preventing cramp, and reducing the risk of injury. Wristbands are worn to wipe perspiration off the forehead. Hair accessories, such as clips, pins, and alice bands are useful for boys and girls to keep hair away from the face and out of the eyes.
Buying Kids' Urban Dancewear on eBay
eBay has a range of clothes available for kids to wear when performing and practicing urban dance. Buyers can search for appropriate clothing from the eBay homepage and narrow down their search results by choosing filters including price range and colour. Buyers should look carefully at the condition of the dancewear in the photos, especially it the items are used. When buying dance shoes the buyer should look for signs of excessive wear on the soles, and if in doubt they should ask the seller for further photos or more information. Also, read the description carefully. The seller should provide full details of the item, including colour, size, material, and any interesting features. If any questions remain unanswered after reading the item specifics, then contact the seller.
Feedback
The feedback of a seller indicates whether previous buyers have been happy with the service that was provided. This gives the buyer a good indication of whether the transaction will be straightforward. Feedback can be positive, negative, or neutral, and previous buyers can also leave a short comment about the seller to provide a personal impression of the transaction.
Conclusion
Kids' urban dance is an energetic sport and pastime for many children. From its alternative beginnings, urban dance is now hugely popular in the UK thanks to its exposure on mainstream television talent shows. Kids' urban dancewear needs to be well fitting and comfortable. The clothing should not chafe, restrict movement in any way, or allow the child to become entangled. Urban dance is a high energy activity, so clothing needs to be breathable to pull sweat away from the skin, and to prevent children from overheating.
When buying kids' urban dancewear consider the fabric, which is normally cotton or lycra, taking fit into consideration. It also helps to understand the different types of shoes that can be used for urban dance and whether they are most appropriate for indoors or outdoors. Footwear should be supple and flexible, especially for intricate dance steps. Accessories make practise more comfortable and can also be a cool way to add style to the dancewear outfit. Kids' urban dancewear clothing, footwear, and accessories can be found on eBay.