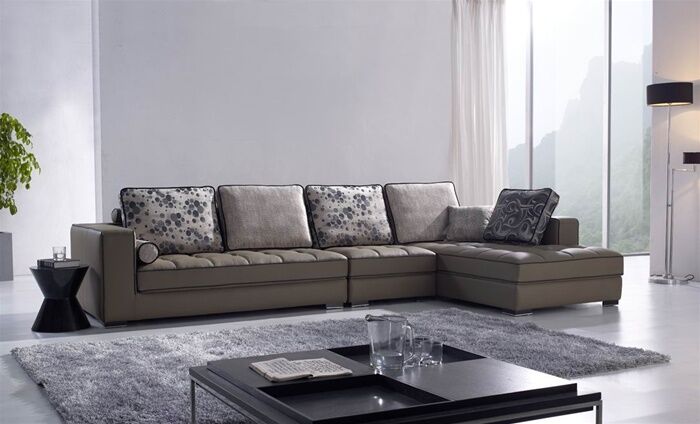 Purchasing a living room furniture suite is usually a collaborative family decision when it comes to style and colour, unless it is being purchased by a single individual. Even then friends and family will have some input by offering the benefit of their expertise in this particular area. The wealth of information received can sometimes prove more confusing than helpful and can sometimes even be detrimental. Advice offered, although well-intended, is sometimes incorrect and often motivated by a single good or bad, but irrelevant, experience; a surly or smiling sales assistant does not determine the quality of a product.
Nothing can replace the benefits of thorough research, and purchasing on eBay gives ample time and opportunity to do so in the comfort and privacy of an individual's own home. Purchasing living room furniture suites on eBay also removes much of the anxiety attached to any transaction that involves parting with hard-earned money and removes much of the uncertainty regarding the quality of goods purchased.
eBay's buyer protection service is there to assist in the unlikely event of a purchase becoming problematic in any way. Potential buyers may browse available living room furniture suites at their leisure to decide on colour, size and style. It affords the opportunity of mulling over the decision over a period of time by doing a mock-up of the living room area and positioning paper cut-outs to simulate a variety of living room furniture suites before purchasing. This avoids post-purchase regret that sometimes comes with those impulsive, hastier decisions. eBay's customer service is also always ready to assist in familiarising potential customers with any relevant product information.
Determining Shapes and Sizes of The Living Room Furniture Suite
Before decisions can be made regarding the size and colour of a living room furniture suite, the dimensions of the living room have to be considered if available space is to be optimised. The size and shape of a living room will largely determine what style of suite would work best. It is generally handy to follow the mock-up suggestion of experimentation before any binding decision is made.
The table below sets out a few examples of living room shapes and sizes and suggestions as to which style may be best suited to particular dimensions.
| Shape and Size | Description | Suggestion |
| --- | --- | --- |
| The long, narrow living room: | Buying a suite that incorporates one of the longer three-seat couches will tend to accentuate the living room's lack of width. | A two-seater couch and 2 or 3 single, overstuffed chairs in neutral shades will lend width. Patterned upholstery should be avoided as it tends to create a more confined feel in a room. |
| The larger, square living room: | A living room suite should be arranged around a large rug to direct focus to the area: never flush against the wall. Tables, plants, and lamps can bring a warm and more intimate feel to the room. | Corner units are well suited to this shape as well as combinations of 2 and 3 seat couches and single chairs that have a rounded look to soften the contours of the square living room. |
| The L-shaped living room: | Chairs and couches that go together but are not necessarily a suite can work best in the L-shaped living room. It helps to create flow; particularly if part of the room serves as a dining area. | Comfortable, wood-framed chairs and couches that compliment each other works well. The wooden frames can be of different wood types that blend well together and harmoniously draw in the wood dining set. |
| The odd shaped living room: | A living room suite with one or two chairs that match can pull an odd-shaped living room together. | Corner units can help create a feeling of unity and balance. Small tables and plants can be used to disguise really awkward angles. |
How to Properly Place The Living Room Furniture Suite
It is important to remember that living room furniture suites should never be placed flush against a wall as it gives a contrived feel to the living room. Placing the suite in a grouping that is a few feet from the wall brings focus to the area of conversation as well as a level of intimacy. It is also important that the furniture works well with the various dimensions of a given space or it can add to the problems of a room that does not have ideal proportions.
Smaller living rooms should never have boldly patterned furniture fabrics, drapes, or wallpaper as these can bring a suffocating feel to the room. Neutral colors tend to add space rather than detract from it and mirrors work wonders by creating the illusion of space where there is none.
Choosing a Living Room Furniture Suite
Most important when choosing living room furniture suites is selecting furniture suitable for the intended use of the living room. If the living room is meant for formal entertaining, the choice of living room furniture suites is vast, but leather suites work very well. Leather lends warmth which helps to create a welcoming atmosphere in the living room. The comfort of guests would be paramount and most of these luxurious suites offer plush upholstery designed for softness and comfort. The Chesterfield suite is complimented by a few antiques or replica items such as lamps, mirrors or picture frames to create a real vintage feel. Fabric living room furniture suites are as effective in creating the more formal look without any sense of cool aloofness. Good, sturdy, solid wood coffee tables lend warmth as much as leather does and the more ornate of these can be considered conversation pieces; this is always good for avoiding those occasional awkward lulls in conversation. If a living room is intended to be a place for a family or individual to kick back and relax, then removable cushion covers in washable fabrics are the more sensible choices in living room furniture suites. The darker, more serviceable colours would also be the more practical choice and a large array of colours and colour combinations is available.
Living Room Furniture Suite Construction
The construction of a living room suite will determine its lifespan. Furniture made of the harder varieties of wood, like oak, will outlast pieces constructed of the softer woods such as pine. Oak, walnut, maple, or mahogany are hard woods that can produce quality pieces of furniture, which may be appreciated by many generations. The use of screws in place of staples or nails is also a sign of quality and durability. When it comes to seating, then the cushions of a living room furniture suite would better serve a family with children if they are manufactured with springs instead of wire coils. The quality of leather and the durability of particular fabrics should always be determined before purchasing.
Conclusion
Buying living room furniture suites on eBay provides access to the availability of a broad spectrum of suites, as well as living room accessories that perfectly compliment the selected furniture items. Living room furniture suites can be viewed as significant investments in a home, and quality must be assured if money is not to be lost. eBay's customer protection policy gives peace of mind and swift resolution to any transaction related problems that may arise. Having experts at your back during financial transactions is what makes eBay a safe and convenient means of online shopping.