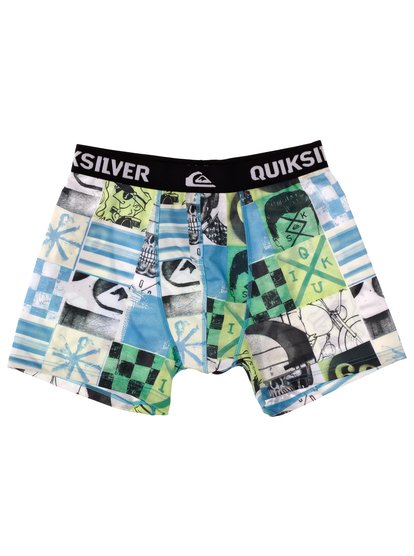 Looking and feeling great often begins with great underwear. Some men find the issue of choosing their underwear very important indeed, while others care very little. In either case, it is useful to have some information, both general and specific, on the subject of men's underwear before making a purchase.
Underwear fulfils a number of different functions. First of all, underwear helps keep outer clothes clean by absorbing sweat and other body fluids. Men's underwear also helps to support the genitals. Additionally, in colder climates, underwear serves to keep the body warm. Last but not least, some underwear is intended for erotic use. While swimwear is also sometimes categorised as underwear, it is not examined here.
Men's underwear can be purchased at various men's clothing shops, department stores, and on the online auction website eBay. Before buying men's underwear, customers should understand the different types of underwear, as well as the various materials, colours, and sizes of men's underwear.
Above and Below the Waist
There are two basic categories of men's underwear: underpants, which are worn below the waist; and vests or undershirts, which are worn above the waist. Within these two basic categories, there are various types and styles of men's undergarments.
Underpants
Underpants are used to cover the genitals and buttocks and come in many different types. Some of the most popular men's underpants include briefs, boxer shorts, and boxer briefs.
Briefs
Briefs, also sometimes called slips or Y-fronts, consist of an elastic band that goes around the waist and cloth that covers the genitals and buttocks down to the beginning of the thighs, leaving the legs completely uncovered. They sometimes also have a fly to facilitate urinating.
Briefs offer good support for the genitals and as such are suited for physical exercise, as they stay in place and keep everything together. They are also the underpants of choice under formal dress, as they are not visible through fabric.
Boxer Shorts
Boxer shorts are essentially loose shorts that extend down the legs to varying degrees. They have a broad elastic band around the waist and straight-cut leg openings that cover part of the thighs. They always have a fly that is fitted with buttons, metal snaps, or just enough overlapping material.
Boxers are the most loosely fitting type of men's underpants, allowing for comfort that them preferable to many men. On the other hand, they are not well suited for wear under tight or formal clothing; nor should one wear them during physical exercise as they tend to bunch up. A major advantage of boxer shorts is that they come in a much wider range of colours and prints do other types of underpants.
Boxer Briefs or Trunks
Boxer briefs, also called trunks, are a cross between briefs and boxer shorts. Like boxer shorts, they cover part of the upper leg, but they have a tight fit like briefs. They may or may not be fitted with a fly.
The advantage of boxer briefs is that they provide proper support for the genitals and are fit for wear under tight trousers and during athletic activities.
Bikini Briefs
Bikini briefs are very similar to briefs with the main difference that bikinis leave the whole side of the thigh exposed. They also come well below the belly button, following the lines of the lower abdomen. Bikini briefs are often the underwear style of choice to show off a well-trained body and as such are routinely worn by body builders.
Thongs
Thongs, once regarded as only sexy or erotic underwear, are becoming more popular as a piece of men's underwear. They provide minimum coverage, only covering the genitals in a small pouch. A thin strip, or string, of material goes between the buttocks with another serving as a waistband.
Thongs are often the underwear of choice for extremely well-trained men and for those who prefer a sexy style; however, some men prefer the feel and look of a thong for everyday underwear.
Undershirts
A vest, or undershirt, is a piece of underwear that covers the top part of the body from the waist up. Different types of vests include the singlet, the crew cut, the V-neck, and the sleeveless T-shirt.
Singlet
The singlet, or A-shirt, is the all-time classic men's vest. It is sleeveless and has a low neckline, making it almost completely invisible under an unbuttoned shirt. When worn under a semi-transparent shirt, however, a singlet shows through. To avoid this, men should choose a thin A-shirt to wear under white shirts.
Crew Cut T-Shirt
The crew cut T-shirt, or crew neck shirt, is the classic T-shirt with a round collar. It fits well over the torso and is suited for wear under shirts, polos, and jumpers.
V-Neck T-Shirt
A V-neck T-shirt is just like a crew cut T-shirt with the only difference being its V-shaped neckline. This style of neckline makes it suitable for wearing under jumpers and shirts when the undershirt should remain invisible.
Sleeveless T-Shirt
A sleeveless T-shirt is just an ordinary crewneck without the sleeves. Sleeveless T-shirts may be worn under shirts and polos; they are also commonly worn as sleepwear.
Long or Thermal Underwear
Undergarments that are expressly worn to keep one warm make up a special category. First of all, there are the traditional long johns and long-sleeved shirts. This type of underwear is usually made of cotton, flannel, or wool, and is worn in the winter in cold countries. Modern, high-tech thermal leggings and tops are an improvement upon the traditional warm undergarment, incorporating new fabrics and fibres to provide optimal insulation of the body. Thermal undergarments are used in cold-weather sports, such as mountain climbing, trekking, skiing, and more.
Men's Underwear Materials
Unlike the past, when woollen underwear was the norm, most men's undergarments today are made of a combination of cotton and Lycra or polyester. Flannel is also used, mostly in boxer shorts. Erotic underwear is often made of more exotic materials, such as silk, see-through synthetic materials, or pure Lycra to provide extra elasticity.
Colour
The most common traditional colour for men's underwear is white, with black, grey, blue, and other colours also quite commonplace. Boxer shorts, and to a lesser extent also briefs and boxer briefs, are available in a wide variety of colours and different patterns, such as checked, striped, or various prints. Cartoons are very popular print choice on men's underwear. The sexier variants of underpants, such as bikinis and thongs, come in a host of bright colours as well as in animal prints and other patterns.
Size
Size is an important consideration in all clothing but especially in underwear. A piece of underwear should fit neither too loosely nor too tightly. Particular care should be taken when shopping for underwear online: as it is not possible to try on the garments, it may be difficult to find the correct size. Further complicating the issue is the fact that every brand of men's underwear has its own sizing scale. It is recommended that men consult sizing charts for men's briefs and vests, such as those below; however, to be sure about the size of a particular brand one should check the corresponding sizing charts online.
A man can measure himself for men's briefs size by taking a measurement of the waist. Here is a general sizing chart for men's briefs, with the measurements displayed in centimetres.
| | | | | | |
| --- | --- | --- | --- | --- | --- |
| Size | S | M | L | XL | XXL |
| Waist (cm) | 70-75 | 80-85 | 90-95 | 100-105 | 110-115 |
If a man's waist measurements fall in between sizes, he should opt for the larger size. Men's underwear may also shrink after it has been washed, which can affect the size and fit. Below is a general men's sizing chart for vests, with measurements in centimetres.
| | | | | | |
| --- | --- | --- | --- | --- | --- |
| Size | S | M | L | XL | XXL |
| Chest (cm) | 86-91 | 94-102 | 104-112 | 114-122 | 124-132 |
| Sleeve (cm) | 84 | 86 | 89 | 91 | 94 |
| Waist (cm) | 71-76 | 78-86 | 89-97 | 99-107 | 109-117 |
| Neck (cm) | 37 | 38-39 | 41-42 | 43-44 | 46-47 |
Again, the shopper should keep in mind that some brands may use completely different sizing charts. It is recommended that a man have his chest, sleeve, waist, and neck measurements taken so that he can find his size of undergarments across a variety of brands.
Conclusion
Men's underwear is the foundation of a man's outfit. It is usually worn to protect the outer garments from getting dirty and to support the genitals, but it can also keep one warm and serve as an aid in creating an erotic ambiance. As far as underpants are concerned, the most common choices are briefs, boxer shorts, and boxer briefs. Briefs and boxer briefs offer good support of the genitals, while boxer shorts are looser and offer a greater choice of colours and patterns. The more revealing and erotic types of underpants include bikini briefs and thongs. Vests, or undershirts, also come in many types, such as the sleeveless A-shirt or singlet, the crewneck T-shirt, the V-neck T-shirt, and the sleeveless T-shirt.
Most underwear is made of a combination of cotton and Lycra or polyester, but silk, flannel, and pure synthetic materials are also used. Size is a critical factor when buying underwear and it is advisable to check sizes with every specific brand. eBay provides consumers with a large selection of men's underwear.