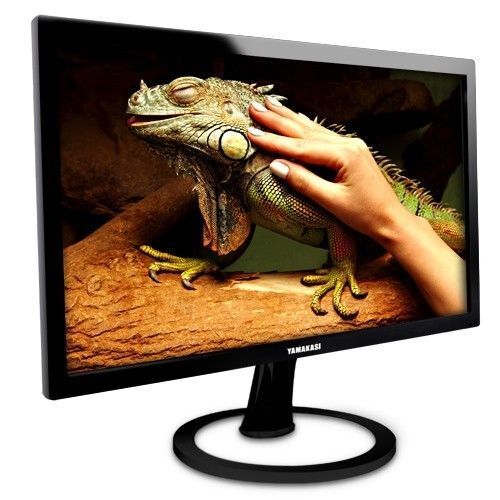 The digital world is evolving at a rapid pace, creating massive divergence in the monitor industry. Consumer groups have merged in some cases, which has created demand for monitors that do double duty as television sets. Some want their computers to deliver dynamic, high resolution gaming images, while others need little more than a screen that can adequately display the software use during work hours.
As technological advances stack up to include 3D capability, high definition images, and screens that mimic mirrors when not in use, a more varied range of options emerges to suit every need. eBay listings are populated with options for every unique requirement and offer subcategories for niche items such as screens with high definition, touch screen, and LCD properties.
Knowing the Options
The speed at which technology is evolving leaves shoppers with a constantly updated range of high tech options, yet some niche products remain difficult to source. Today's PCs can now be refaced using monitors capable of vibrant three dimensional graphics, but such offerings are still relatively rare. Wide screen options have become an industry standard and are thus easy to source through eBay by selecting aspect ratio, resolution, and screen size from the menu that pops up when the left-hand column's specifications are clicked on. Despite the vast range of high tech features available, some core facets form the foundation of decision making: Colour, resolution, monitor size, and accuracy need to be considered before adding on the bells and whistles that are revolutionising the world of monitors.
Monitor Size
The simplest way to begin a purchase is by getting size options out of the way first. Few other aspects allow for as much price manipulation as size does. Taking a monitor up a few inches often demands a negligible cost increase, allowing this feature to offer a significant return on investment for those willing to part with a surmountable price hike. Despite common perception, bigger is not always better. Inches are best chosen according to the purpose of the monitor in question. On eBay, the left-hand specifications column offers the following size options.
| | | |
| --- | --- | --- |
| Size in Inches | Monitor Purpose | Pros and Cons |
| | Basic word processing, email, Internet, and text based applications revelatory | With an aspect ratio of 4:3 and a hazy resolution, this is the budget option for those who don't use their monitors for design work or home entertainment |
| 5 - 23 | Entry level home entertainment system or medium grade work station. | 1920x1080 resolution with high definition capacity make this size a balanced option that offers low price together with reasonable graphic quality. |
| 24 | Professional graphic design, animation, high class home entertainment | Two high resolution options. Those with an IPS panel built after 1996 offer precise colour reproduction, wide angle viewing, and decreased light scattering. |
| 27-30 | Home Entertainment and Gaming | Resolution ranges between 1920x1080 and 2560x1600, allowing viewers to balance image quality with budget. High definition 27 inch monitors are the most affordable high end options, since 30 inch models come with a hefty price increase with little additional image quality. |
Oversized monitors allow cinemaphiles and gamers to become absorbed into an overwhelming visual experience. Those who work professionally with images or multiple applications simultaneously demand monitors large enough to enable them to work with several open windows without needing to minimise or shift them around the screen.
Dual monitor set ups allow for more comprehensive screen interaction without introducing an impractically large screen size. It remains imperative to check off the aspect ratio specs in the eBay pop up window as well, since this determines how the height and width of images will appear on screen. The most common aspect ratio is the widescreen computer monitor with a minimum ratio of 4:3.
Consulting with the Seller
eBay connects buyers with sellers so that a measure of trust can be developed between traders. Buyers are able to untangle the complexities of buying monitors by clicking the ask a question link at the bottom of each item's individual listing. Above the ask a question button is a listing of questions and replies that have already been discussed by other potential buyers. Often, asking direct questions of the owner of the product offers a more accurate and easily understood description, since sellers are likely to use layman's terms and discuss items from personal experience.
To contact sellers directly, buyers are asked,"Did we answer your question?" By clicking No, I want to contact the seller, it becomes possible to securely query individual monitors. When buying on auction, successful buyers can email or phone sellers after they have placed a bid. eBay's system of allowing personal interaction fosters trust, allowing buyers to select future transactions according to the dependable people they have dealt with in the past.
Buying on Auction
Many buyers become so enamoured with auctions that they turn them into a hobby. The process of bidding and securing components at give-away-prices packs plenty of fun into the shopping experience. eBay has five different types of auctions, but only three of these apply to the purchase of monitors.
| | |
| --- | --- |
| Traditional | These auctions last between one to 10 days. Opening bids kick off the process. At the auction's close, the person with the highest bid is awarded the product. |
| Dutch | Here, multiple products are up for grabs. The process lasts between one and 10 days, but when the auction is closed, the lowest successful bid sets the end price, which is paid by all participants. |
| Reserve Price | The minimum price is set by the seller, but is not always declared to bidders. If the auction closes without bids above the minimum price, the seller is not obligated to sell the item. |
Choosing Sellers
eBay makes it simple to purchase securely by offering both a ranking system through which sellers can build a reputation and a range of security features for those who are selling through the site for the first time. Before they are scared away by a lack of feedback, the following features should be reviewed.
| | |
| --- | --- |
| About Me Page | eBay uses this tool to link members who have similar interests. It gives an outline of the seller's hobbies, revealing feedback and whether the member operates in a niche industry such as audio and visual products. |
| View Member's Profile | Clicking on this link leads to the feedback score of the seller or business. When dealing with sellers who lack a history on eBay, it's advisable to ask questions, pay using a secure, traceable account such as PayPal and deal only with those who have verified their identities. eBay's Buyer Protection is available for PayPal users. |
| Number of ID changes | Sellers who have altered their IDs often may be avoiding the consequences of poorly completed sales histories. |
| Photographs and Descriptions | Sellers who give thorough descriptions of their products along with clear photographs are usually reputable. |
Specifications
Sellers on eBay are encouraged to list the specifications of their monitors so that buyers can use the search tool to obtain targeted results. 65 per cent of eBay shoppers use this feature to make their choice. When searching for precise specifications, the following keywords help to fine tune the search.
| | |
| --- | --- |
| Resolution | Determines the level of detail the monitor displays. Clarity improves as resolution increases, with LCD displays offering the highest wide-screen resolutions. Resolution also shrinks text and images, exploiting desktop space to its highest potential. eBay lists 28 resolution options in the pop up menu, including older resolutions that don't display images in wide screen. |
| Contrast Ratio | Contrast refers to how vivid the image appears according to the dark and light values it achieves. Monitors that display true black are capable of higher contrast. |
| Touch Screen Technology | Windows 7 is capable of managing this technology, which will be rolled out in Windows 8 as well. Swipe and tap features make interaction more intuitive. These offerings can be searched for by selecting touch screen at the top of eBay's monitors page. |
Narrowing Down the Search on eBay
eBay makes the complex task of choosing a monitor as streamlined as possible. By offering customised categories to search by, screens can be chosen according to brand, size, display type, and price. On the home page, hover over Electronics & Technology and click on the Computers, Tablets & Networking link. Proceed by selecting All Categories on the left-hand side, which will open up a new window. UnderMonitors, Projectors & Accs. select Monitors. From this page, the search can be whittled down according to a variety of features including size, brand, resolution and condition. It is also possible to specify between corporate and private sellers. Those who need targeted advice about their purchases can use the Discussion Boards to request advice directly from other eBay members.
Conclusion
Many of today's home owners dream of replicating the cinematic experience of professional movie theatres. While the potential for a truly revolutionary visual experience has existed for quite some time, dwindling prices have only recently made it possible for most cinemaphiles to create a dynamic home entertainment system. Monitors have become one of the simplest ways to upgrade computers, and their featherweight prices have made it possible for the humblest PC owners to transform their computer systems into fully equipped entertainment centres.
Flat panel displays make viewing a comfier experience for the eyes, while the sleek design of new enclosures allows monitors to fade into decor seamlessly. The immense variety of disparate features allows choices based on eco-friendliness, image quality and design, delivering the ideal monitor for every unique set of needs.