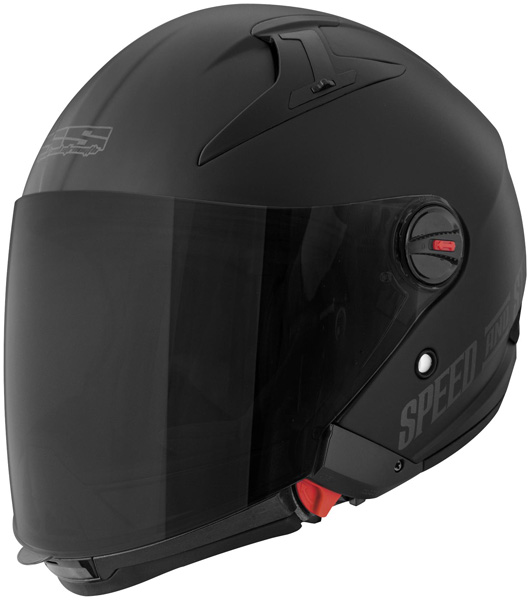 U.K. law mandates that all riders of two-wheeled motorised vehicles must wear an approved helmet when on the open road; sidecar passengers are encouraged to wear one. When buying a motorbike helmet, the first consideration one should always make is safety. eBay has tens of thousands of motorbike helmets to choose from at any given time; therefore, it is important to make a list of brands and features before beginning a search.
Bike owners must first familiarise themselves with the various styles of helmets. Whether choosing open face, full face, or a flip up, the helmet must meet the criteria for U.K. safety standards. Additionally, buyers must know what size they need and which helmets best accommodate the shape of their head. Buyers often come to eBay looking for a helmet to match their bike, and they should assess the comfort, safety, ventilation, and visibility before choosing one.
U.K. Safety Regulations for Motorbike Helmets
In order to cruise any UK road, motorbike riders are required to have a helmet that abides by strict safety codes. Every helmet must meet one of the three following criteria: British Standard BS 6658: 1985, and helmets must have the BSI Kitemark logo; UNECE Regulation 22.05; European Economic Area member standard.
Customers shopping on eBay should only purchase helmets that satisfy at least one of these requirements. Approved helmets have been tested and evaluated to safety. Before settling on a helmet, buyers should compare helmets with the Safety Helmet Assessment and Rating Programme, also known as SHARP.
Styles of Motorbike Helmets
Motorbike riders have the option of three main styles to choose from. Full face helmets offer the maximum amount of protection with its hard exterior and face guard. Riders who love to feel the wind on their face prefer open face helmets, and some models come with optional face guards. The last option, the flip-up is a hybrid of the two, although the design favours the full face models. Even though carbon helmets are fashioned from one of the three styles, the popularity on the market is worth mentioning. The sections below outline the features of the most common styles of motorbike helmets.
Full Face
A full face helmet refers to any type of helmet that completely encases the wearer's head, including the face. Full face helmets should be ventilated to keep air circulating. They provide more protection than open face models, but having more material, they are often heavier. These helmets have a built-in, clear, acrylic visors, which may make it difficult to put on and remove for people with glasses. Another downside resulting from their bulk can cause neck fatigue from prolonged exposure to wind resistance.
Open Face
Open face helmets are great for riders who like the feel of the wind on their face. These helmets are lighter and have better ventilation than the full face models, but the drawback is less protection. Many open face helmets are secured with chin straps. These straps should fit comfortably below the jawline. Open face models come in an array of coverage options, such as half-shells or three-quarters.
Flip Ups
Flip up helmets, also called modular helmets, are a convenient option for motorcyclists who want the look and coverage of the full face helmet but with a removable visor. Drivers who wear glasses can now pull the helmet over their head and then put them on through the visor. Flip ups are a great compromise for buyers who want the option of good air circulation but protection from the elements, such as rain or cold temperatures.
Carbon
Carbon motorbike helmets can be found in the three basic styles although they are most popular in the racing industry. Carbon-fibre helmets are favoured since it is stronger and lighter than the alternative materials. Shoppers who want a lightweight full face helmet without the bulk should consider carbon as an option; the price may be costly, but the superior quality is well worth the expense.
Other Considerations for Choosing a Motorbike Helmet
Finding the right motorbike helmet involves more than knowing which style is preferable. Since riders spend a significant amount of time with their face covered with a helmet, they should always purchase for comfort. In addition to how it fits, ventilation is another factor to consider; poor ventilation can lead to more than just discomfort. The helmet's allowance for visibility, including peripherals are detrimental to the decision making process; a helmet should never diminish or impede one's capabilities. Some helmets boast a level of sound insulation for road noise. Knowing which features are paramount to consider only helps buyers find the right helmet on eBay.
Comfort
Many helmets are comfortable when being tried on. But since no one wears a helmet for just a few seconds, it is important to try a helmet on and keep it on for a while before purchasing. There are various material linings in helmets, and people with sensitive face may experience skin irritations. Internal padding is designed to cushion the area between the head and the hard outer shell. The inside of the helmet should fit the contours of the wearer's head.
The helmet should not rub the back of the neck when moving the head around. Moreover, a helmet should never interfere with jaw movement; even though there is little talking while riding, wearers should be able to clench and open their jaw without hindrances. Therefore, if buying a motorbike helmet on eBay, it is advisable to track down a few models in local shops or from friends and try one on before buying.
Ventilation
Motorbike helmets should have a ventilation system to circulate air flow. Open face helmets typically do not have ventilation since the face is exposed. Since the entire head is covered in full face helmets, this style must accommodate heat retention from breathing. Full faced helmets with no vents can heat up to uncomfortable temperatures quickly.
Flip up helmets are a great option if ventilation is a concern; for more airflow, motorists can open the visor. It is difficult to tell if a helmet is properly ventilated, even from trying it on. Therefore, shoppers are encouraged to read online reviews and ask other helmet owners for recommendations.
Visibility
It is important to buy the right helmet size to account for visibility. Helmets too small are uncomfortable, but too big may slightly impede peripheral vision. Buyers should determine if the helmet has eye port openings as these help with peripherals. Additionally, visor size can also affect visibility. Sportbike riders should consider a wide visor since they are in a hunched over position and peer over the handlebars. If at all possible, buyers should try the helmet on to ensure the design does not hinder visibility.
Noise
Motorbike riders are exposed to more external forces than the average vehicle owner, and noise level is one such factor. Motorbikes can be loud and coupling it with surrounding traffic, and a handful of helmets are designed to reduce the amount of noise that infiltrates the helmet. As a less expensive alternative, riders can use ear plugs or an MP3 player to drown out noise.
New or Used
Helmet shoppers often buy new, but on eBay, they have the opportunity to purchase used ones. Instead of paying full retail price, buyers can find slightly used helmets in near perfect condition. However, helmets last for an average of five years, so when looking at used option, buyers should ask how long it has been used to avoid buying an outdated helmet.
Buying Motorbike Helmets on eBay
A simple search for "motorbike helmets" on eBay produces thousands of options to choose from. Therefore, some buyers find it helpful to include keywords in your search to focus results. For example, "medium motorbike helmet" is geared towards finding a certain size, but it is better to add gender, such as "women's medium motorbike helmet" for more specific results. Keywords are only one way to conduct a successful search on eBay.
Refine Your Search
Shoppers can refine their search by narrowing down categories and selecting certain criteria. Scale down results by specifying use, style, gender, size, brand, and more. You even have the option to select from new or used condition motorbike helmets. Remember, helmets should be replaced every five years, and buyers should ask sellers how long it has been used before buying. Buyers operating within a budget can post a minimum and maximum amount they are willing to pay, and eBay can modify the list even further.
Conclusion
Motorbike helmets on eBay are easy to come by, and knowing a few key pieces of information before buying helps shoppers choose right the first time. In addition to having an idea of the size and colour is needed, helmet shoppers should understand the three available styles. Those who cannot decide between a full and open face should opt for a flip up model. Carbon helmets, no matter which style, are lightweight upgrades with a hefty price.
Besides choosing a style, customers must consider more factors when choosing the right helmet. Since not everyone has the same head shape, not all helmets are designed to fit the masses. The only way to find a helmet that fits comfortably is to try it on. Helmets should be properly ventilated and never impede visibility. No matter which helmet motorbike riders choose, it should always have one of the three main safety seals of approval, and eBay is a great place to find a high quality helmet at an affordable price.