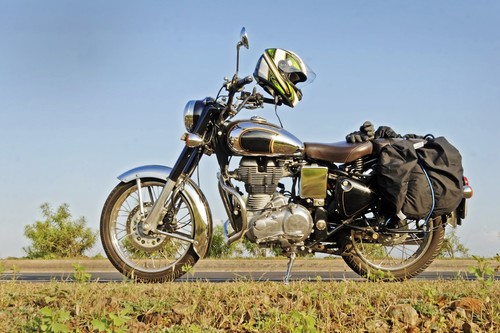 One of the major drawbacks of travelling on a motorbike is the lack of space for luggage. However, a huge variety of motorbike luggage options are available, making it possible to carry everything that is needed for a day trip, weekend away, or holiday. eBay is the perfect place to shop for these motorcycle accessories as sellers offer a wide range of luggage solutions at competitive prices. This means that buyers can find exactly what they need within their budget and have it delivered straight to their door.
Before shopping for motorbike luggage on eBay, know what is available to make it easier to choose the right items. In addition, learn what features and characteristics are necessary for the best performance and functionality. Learn how to search effectively and how to refine the search to include only the most interesting items. Finally, understand how evaluating items and sellers on eBay allows buyers to shop with confidence, knowing that the item selected is the right one.
Types of Motorbike Luggage
Motorbike luggage is categorised according to where it attaches to or sits on the bike. Some versions are made to fit like saddlebags, while others are small and designed to fit behind the windscreen. The table below lists the different types of luggage available with a short description.
Type of Motorbike Luggage

Description

Also known as panniers

Sits alongside the pillion seat

Comes in pairs with a connecting strap across the motorbike

Can be attached with brackets or tied down

Can be soft or hard

Requires a bracket to protect the rear wheel from the bag

Grab rail bag

Also known as sissy bar bag

Suitable for motorbikes with grab rails, usually cruisers

Attaches to the rail behind the pillion seat

Rail must be large enough to accommodate the bag

Good weight distribution and less wind drag

Spacious

Also known as back seat bags

Attaches to rear of motorbike on the luggage rack or pillion seat

Tends to be smaller

Offers least wind resistance

Sits on fuel tank

Allows rider access to contents without dismounting from the motorbike

Magnetic or tied down with straps

Easy to remove

Mounted behind windscreen, on top of the dashboard

Small bag

Allows rider to reach the bag while on the motorbike

Handy for small items or valuables

Backpack

Suitable for use when riding solo

Versatile

Can be removed easily when the rider leaves the motorbike
The type of luggage chosen should be large enough to pack all of the necessary items for a journey, whether it is a short excursion or a biking tour. Saddle and grab rail bags usually have the highest volume. While compartments may make it easier to pack neatly, bags with single compartments can usually hold more.
Features of Motorbike Luggage
In addition to the placement of the luggage, consider the features needed for the bag to do everything that the rider needs it to do. Important features include capacity, weatherproofing, security, and easy access.
Capacity of Motorbike Luggage
The most important factor to consider is the luggage capacity. If the luggage is too big it may be a hindrance while riding, but if it is too small then additional bags may be required. Consider what needs to be packed in the luggage before choosing a size.
Weatherproof Motorbike Luggage
Bikers are exposed to a variety of weather conditions, so choose luggage that is made of waterproof material or invest in a waterproof bag cover. Alternatively, treat water resistant luggage with a waterproofing spray for additional peace of mind.
Security for Motorbike Luggage
The luggage should fit on the motorbike securely, without being difficult to remove. Look for luggage that is lockable if the bags are going to be left on the motorbike during rest stops or while touring. Hard luggage is usually more suitable for locking as soft luggage can be cut open simply to access the contents. Choose luggage with carry handles or straps that allow the rider to transport his or her belongings to and from the motorbike easily.
When choosing a tank bag, remember that a bag with magnetic strips will only be secure on a motorbike with a metal fuel tank.
Easy Access for Motorbike Luggage
Choose luggage with a clear front pocket to hold maps, a global positioning system (GPS), or any other items the biker may want to glance at while riding. Smaller pockets are also handy as they can be used to store small items that may be needed during a journey.
Materials for Motorbike Luggage
Motorbike luggage comes in a range of materials, from hard-wearing synthetics to luxurious leather. The material chosen should suit the general look of the motorbike. Some buyers prefer hard luggage for purely aesthetic reasons. This type of luggage is generally made of PVC and fibreglass, making it relatively light in comparison to its durability and strength.
Soft luggage is usually made from vinyl, nylon or other synthetics, or from leather. Synthetics have often been treated with waterproofing materials in order to keep the contents of the luggage dry. While leather looks and feels great, it does require more maintenance than other materials and tends to suffer more obviously from the effects of the sun, wind, and rain. It is important to note that the zips on fasteners for waterproof luggage may leak, so covering the luggage with a waterproof cover is always a good idea. It may seem like overkill to some, but no one enjoys wearing musty, damp clothes on a long trip.
How to Search for Motorbike Luggage on eBay
Searching on eBay is a simple process. Type a word or phrase, such as "motorcycle tank bag", into the search field that can be found on every page, to see the items available from eBay sellers. Alternatively, allow eBay to guide your search by clicking on search suggestions and allowing the site to autocomplete common phrases. This displays all the listings tagged with the keywords you have chosen. Refine your search results by choosing the desired item features. If you would like to narrow or expand your search, use the advanced search feature.
How to Evaluate an Item on eBay
Before buying motorbike luggage on eBay, learn all that you can about the item by clicking on an individual listing. This directs you to the item listing page where you can find details such as the full item description, photos of the item, buying options, the seller's accepted payment methods, postage and packaging costs, the seller's returns policy, and the seller's feedback information. Always read the entire item description to make sure that you have found exactly what you want. If you would like more details about a listing or have any questions for a seller, get in touch with him or her by clicking the "Ask a question" link.
How to Evaluate a Seller on eBay
Once you know all that you need to know about the item, take a moment to get to know the seller. Buyers are encouraged to leave feedback for sellers about the products and customer service that they receive. Use this information to form your own opinion of specific sellers. Detailed seller ratings provide additional information about aspects such as the seller's communication and the accuracy of the item description. Remember to leave feedback once you have received your item to let other sellers know what to expect and to allow the seller to build up his or her eBay reputation.
eBay Shops
If you find a seller whose products and customer service appeal to you, visit his or her eBay Shop to see what else is on offer. Many sellers specialise in particular types of products. This makes it easy to find all of the motorbike accessories that you need in one place, from a seller that you trust.
Conclusion
eBay sellers offer a range of motorbike luggage, suitable for anything from a quick trip to the shops to a 10-day tour of Europe. Due to the number of sellers and the size of the marketplace, prices are competitive, allowing you to find just what you need at a bargain price.
Motorbike luggage is classified according to where it sits on the bike. Some luggage offers more packing space than others, but is bulkier and may not be needed for shorter trips. The luggage chosen should be weatherproof and functional, allowing the rider to transport the necessary belongings safely without worrying about wind resistance, balance, or damaging the contents of the luggage. It is recommended that luggage is protected with waterproof covers. If the luggage is left unattended at any time, then choose lockable bags.
Effective searching on eBay means that you can find the perfect motorbike luggage in just a few clicks of your mouse. Knowing what to search for means that you find the right luggage on the first attempt. Once you have found your motorbike luggage, remember to take a closer look at the item and the seller. Always read the full item listing and add the postage and packaging costs to the item's price to work out the total cost of the luggage. Use the seller feedback feature to see what you can expect from a specific seller. eBay sellers offer a range of motorbike luggage guaranteed to suit every need and budget.