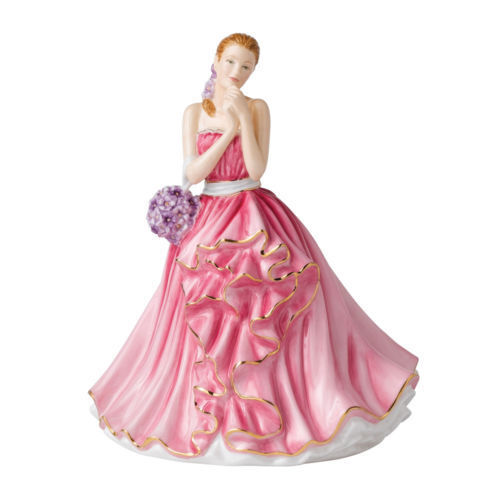 With options as diverse as characters from Charles Dickens' novels and "The Beggar's Opera", the tradition of Royal Doulton figurines is a rich and rewarding one. In fact, as one of the most recognisable names in British stoneware, china, and collectibles, the Royal Doulton company represents a coveted name in the eBay marketplace with buyers and sellers from all over the world taking part in this rich collectibles market.
Indeed, many die-hard collectors and sellers use eBay as a primary source for posting and purchasing Royal Doulton figurines. And the setup of eBay is ideal for these purposes. Individuals can grow their collections and access hundreds of available figurine models from all over the world in one convenient place. However, buying Royal Doulton Figurines on eBay is not as simple as typing in an HN number and completing a purchase. Rather, the history of the line as well as strategies one needs to use to authenticate figurines need to be considered first. Once this is done, specific strategies and tips for shopping on eBay helps buyers make the most out of their experience.
The History of Royal Doulton
Since 1815, the Royal Doulton company has been making stoneware for British consumers. It began as a small firm operating out of a factory in Vauxhall Walk, Lambeth, London. The company concentrated its early works in salt glaze sewer pipes and decorative bottles, but slowly expanded its line to include fine china and figurines throughout the late 19th and early 20th centuries.
Establishment
Over the course of the 19th century, Pinder, Bourne & Co., as it was then called, grew until it was able to purchase a new, larger factory in Burslem, Staffordshire in 1882. It took the name "Doulton" in 1853 when brothers Henry and James Doulton were able to acquire a controlling interest in the company.
Now located in a region known as "The Potteries", the Burslem factory would become an iconic home base for Doulton as it expanded its line and rose to prominence among much older companies, such as Royal Crown Derby, Wedgwood, and Mintons.
The Royal Designation
The next big step in establishing the Doulton name came in 1901 when King Edward VII sold the Royal Warrant to the Burslem factory and bestowed the name "Royal" forever upon the brand. This prominence set up a century of extreme growth and good fortune for the Royal Doulton line, which led directly to the establishment of additional lines of products, most notably, Royal Doulton figurines.
From Stoneware to Figurines
The first known Royal Doulton figurine was designed in 1913 by a man named Charles Vyse. Known as "Darling", this initial figure bore the stamp HN1, establishing the numerical cataloging system for Royal Doulton figurines that is still used today. "HN" stands for Harry Nixon, who was head of Royal Doulton's painting department and chief painter of all the principal Royal Doulton figurines.
Nearly 100 new figurines were issued in the first few years of the line, leading to a new numerical grouping, HN500, by the end of the World War I. No doubt, Royal Doulton's first attempts at figurine sales were successful, but they were still only scratching the surface of their true potential.
The Leslie Harradine Era (1920-1956)
The Golden Era of Royal Doulton figurines is indisputably the years between the 1920 release of designer Leslie Harradine's first statue, "Contentment" (HN395), through the final statue of his massive canon, "The Beggar" (HN2175) in 1956. Leslie Harradine was a popular artist in the Art Deco school whose work for Royal Doulton included over 300 different designs on several different themes, including the Charles Dickens characters and the "Beggar's Opera" series already mentioned.
Working with Royal Doulton only as a freelance artist, Harradine is the single most prolific contributor to the volume of Royal Doulton's figurines, which number today above HN5000. Amongst collectors of Royal Doulton figurines, the works of Leslie Harradine are considered the most valuable.
Royal Doulton Today
In the 21st century, the name Royal Doulton still carries a fair bit of weight in the stoneware and collectibles market. However, the harsh realities of doing business in the modern era have changed the face of this home-grown company.
Since 2009, Royal Doulton has been part of the WWRD (Wedgwood, Waterford Crystal, and Royal Doulton) Holdings Ltd., based out of Barlaston, Stoke-on-Trent. The Burslem factory closed years before, in 2005, and forced the company to move much of its production to Indonesia. Today, a few items are made in Stoke-on-Trent at the parent company's headquarters, and a good portion of the movement of Royal Doulton centres on older pieces, which are sold through dealers on eBay.
Correctly Identifying Royal Doulton Figurines
Like most other brands of china and figurines, Royal Doulton has a specific way of marking its products to help assure buyers that the items they purchase are genuine. The area where this information is displayed is known as a 'backstamp' or 'backmark'. Especially when shopping online through eBay, identifying true Royal Doulton figures or other pieces rather than knock-offs is important. Buyers should make sure to ask for photos of all backstamps and refine the ability to identify and decipher these backmarks through looking at the stamps themselves as well as a piece's HN number.
Royal Doulton Backstamps
Since Royal Doulton did not introduce its line of figurines until 1913, early backstamps which bear the Pinder, Bourne & Co. design will not ever show up on Royal Doulton figurines. Instead, the backstamp consists of a male lion wearing a crown, called 'lion and crown' by industry insiders.
Underneath the lion, the words "Royal Doulton" and "England" circles four interlocking Ds. A similar seal, based on the same design, presents an additional five-pointed crown beneath the lion, but above the "Royal Doulton" round. Also, "Made in England" may surround the outer circumference of the circle as well.
Using the Royal Doulton HN System
In addition to being able to identify a figurine as a genuine Royal Doulton, the use of the HN system is another way to ensure that the product one gets is authentic. Since the release of 1913's "Darling", which was named by Queen Mary, the HN number system has labelled Royal Doulton figurines and appeared either handwritten or stamped at the bottom of each statue. eBay buyers should familiarise themselves with both the history of HN numbers and their use in the 21st century.
Reading HN Numbers
For the first 27 years, HN numbers were merely used in a chronological form, starting at "Darling", which was HN1. However, as more designers joined the company and the works of Leslie Harradine gained prominence amongst buyers, the HN designation was used to group figurines by a particular artist or within a particular theme. For example, the "Beggar's Opera" series is contained within HN2100.
HN Numbers Today
Today, HN numbers are as high as the 5000s, but new units are added at numbers as low as HN219, which is "Barbara", designed in 2007. This means it is extremely important to track HN numbers rather than assume all low numbers are old and rare. The HN system therefore is best used as a means of authenticating the subject of the figurine and dating according to design, if not manufacture. Using Royal Doulton identification books, buyers can be assured that the piece labelled by a seller with a particular HN number bears that same number from Royal Doulton itself and the relative age of that piece.
How to Buy Royal Doulton Figurines on eBay
Once buyers are confident in their knowledge of Royal Doulton figurines and the proper way to identify them, the eBay buying process can commence. This begins with registering for an account for those new to the site and then getting to the searching and evaluation process.
Searching eBay
Searching eBay for Royal Doulton figurines can begin on any page of the site by using the main search bar. Buyers should take care to be as specific as possible when looking for particular pieces. Enter the HN number if you know it or, alternatively, the common name of the figurine. Those looking to browse, can simply search for "Royal Doulton figurine " and then using the limiters provided by eBay to narrow their options according to date, price, and condition.
Evaluating Search Results
Once search results have been generated, it is also important for buyers to evaluate each of the figurines that they see. Using the skills discussed above to identify and authenticate backstamp and HN numbers is step one. However, buyers should also research the sellers offering these figurines. This is done by reading seller feedback from previous clients as well as looking for their overall feedback rating. When in doubt, make sure to ask questions before committing to a purchase.
Conclusion
Buying Royal Doulton figurines on eBay is a great way to gain access to dozens of available units in one easy-to-navigate space. However, since the breadth of the Royal Doulton line is so extensive, buyers need to make sure to educate themselves before they commit to any purchase. This means understanding the history of the Royal Doulton name as well as the details of authenticating figurines that claim to have it.
When ready to shop on eBay, buyers need to make sure to use specific search strategies that generate the results they want. However, finding a particular figurine is just a start. It is also important to check out the seller offering that figurine and ask questions to avoid headaches down the line. With a few simple strategies and basic information, buying Royal Doulton figurines on eBay is an easy way to grow a collection and a great way to save time in the process.