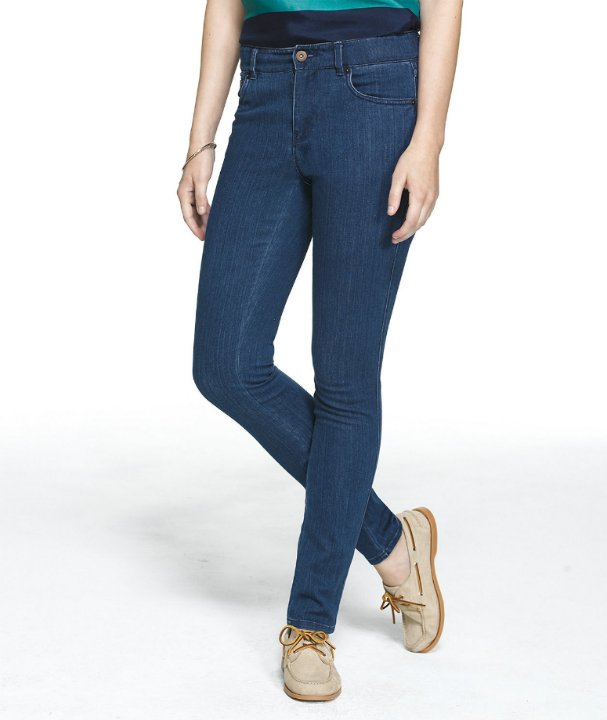 In the 20th century, jeans have become the most popular bottom wear for casual or everyday use. Many women wear jeans almost daily and this is no surprise. Jeans are not only comfortable to wear, but their classic, rugged look also goes well with almost any top or accessory. Over the years, jeans have diversified and there are now various styles available. Skinny jeans, a popular style up to the 1990s, is now making an impressive comeback.
Skinny jeans were extremely popular before the 1990s and this was mainly thanks to rock and movie stars who liked to wear them while they performed on stage or in movies, respectively. Now, skinny jeans are made by almost every jeans manufacturer and are available in specialised denim stores, department stores, high-street shops, and online stores. Buying the right pair of skinny jeans should not be too difficult, but there are a few things to consider when choosing a pair either from local or online stores. This guide discusses the skinny jeans' history, how to buy and wear them, as well as how to purchase a pair on eBay.
The History of Skinny Jeans
Denim jeans were originally produced as work attire by Levi's. Since their production, the humble straight cut jeans have evolved into many styles such as the boot cut, the baggy cut, and the skinny cut. Skinny jeans have a fitting form from the waist to the knees, and then tapers at the ankles. This cut highlights one's legs and is considered the sexiest style of jeans.
Summary Chart of Skinny Jeans' History
Jeans were always popular especially with youths, and skinny jeans started gaining a big fan base after they were worn by popular artists in the 1950s and 1960s. Here is a table illustrating the progress of skinny jeans over the decades.
Era

Progress of Skinny Jeans

1950s to 1960s

Started getting popular. Worn by Marlon Brando, James Dean, Elvis, and Marilyn Monroe.

1970s

Popular with rock 'n' roll bands and their fans. Worn by the members of The Rolling Stones and The Sex Pistols.

Popularity boosted by the movie 'Grease' (1978).

1980s

Very popular with rock bands (Guns N' Roses, Kiss, and Metallica) and their fans.

1990s

Lost popularity to baggy jeans worn by hip hop fans.

Remained in the shade until the end of the millennium.

2000s

Became a popular style once again due to designers and models like Kate Moss.

Skinny jeans have remained very popular since the beginning of the new millennium and are usually worn by young women and girls.
Buying and Wearing Skinny Jeans
Skinny jeans are different from other styles and there are a few things one needs to know before buying or wearing this type of jeans.
How to Buy Skinny Jeans
Because skinny jeans are sexy, many women are interested in buying skinny jeans. However, since skinny jeans tend to be tight fitting, there are a few things one should know before buying them. Firstly, it is necessary to determine one's body type before going out to buy a pair of skinny jeans.
There are four common body shapes for women and they are determined by measuring the circumferences of the bust, waist, and hips. An hourglass body shape has the same circumference of the bust line and hipline but a slimmer waist. A ruler-shaped body has all three measurements identical or very similar. A pear-shaped body is widest at the hips and tapers towards the bust, while a cone-shaped body is widest at the bust and tapers towards the hips.
Skinny jeans are great to enhance and display one's figure. These jeans look great on tall women with slender legs as the jeans can highlight their long legs. Women with pear-shaped bodies should look for dark-coloured jeans that do not taper too tightly to their ankles. Instead, they should find skinny jeans with a wider opening at the ankles or which have a straighter cut. Cone-shaped women tend to have slimmer legs and they look great in skinny jeans; however, they should avoid pointed-toe shoes to balance out their already sharp body shape.
Generally, it is advisable for women to wear skinny jeans only if they have slim or lean bodies. Women with a more athletic body should instead go for straight-cut jeans. In any case, it is important to try on the jeans before buying them. If they feel comfortable and look good on one's body, they should be fine to buy.
Trying skinny jeans on before buying them is also important because jeans of different brands tend to have slightly different cuts. One needs to always get jeans that are comfortable and easy to move around in. When trying on a pair, the buyer should try sitting, squatting, and walking around. Although skinny jeans are meant to be tight, they should never be too tight and uncomfortable. Wearing jeans which are too tight can restrict blood flow in the legs, causing health problems. Lastly, when choosing the colour of the jeans, it is a good idea for buyers to get them in a few colours to easily match anything in their wardrobe.
How to Wear Skinny Jeans
Skinny jeans look great with many accessories, but women who wear skinny jeans should wear slimmer shoes such as canvas sneakers or even high heels and sandals. However, women who like to wear bigger shoes and hi tops can still wear skinny jeans, but they should balance the bulkiness on their feet with accessories on their upper body such as jackets and vests.
Slim-fitting tops, T-shirts, and shirts go well with skinny jeans but anything that is too tight should be avoided. Skinny jeans look good with belts, especially more decorative ones such as bright-coloured or double-holed belts.
Petite women should not let their jeans bunch up too much at the base. Instead, they should fold the jeans slightly or have them altered to match their leg length. Lastly, skinny jeans should be worn with confidence. Since they show off the legs more than other types of jeans, it is also important to have a good posture when wearing them.
Skinny jeans are easily available in most fashion shops and outlets selling jeans. They are also available from online shopping sites including the auction site eBay. In the next section, buyers can learn how to buy skinny jeans on eBay.
How to Buy Skinny Jeans on eBay
The auction site eBay has a large selection of clothes you can choose from including skinny jeans. These are available in a wide range of styles, colours, brands, and sizes, so it is likely that you will find the pair you are looking for.
The first step to finding the perfect pair of skinny jeans is to start at the eBay home page. First, type in what is it that you are searching for into the search bar, for example, 'women ' s skinny jeans'. You will get a list of results from which you can then proceed to select the products you are interested in. You can browse the list of skinny jeans and look for the pair that you like. As an alternative, you can specify a filter, such as brand or size, by inserting the keyword into the search field and this will narrow the search results by displaying only the products with that characteristic. On this page you will only find displayed basic information such as the name, the price, and the image of the products.
To learn more about a particular pair of skinny jeans, just select the pair that you like and a page with all the information about the product will appear. On this page, you can look at the available colours, sizes, and other details such as the price, payment method, and refund policy. If you want, you can contact the seller for more details. Once you are satisfied with your selected pair of skinny jeans, you can then proceed to buy it.
Conclusion
Skinny jeans are popular because they can make almost anybody look sexy and young if they wear a pair that fits their body shape, style, and outfit. Skinny jeans were popular before the 1990s, faded from popularity in the 1990s, only to make a comeback in the new millennium.
Despite this jeans' style popularity, especially among young people, not everyone looks good in all types of skinny jeans. This is why before making a purchase, buyers should be aware of their body shape. Skinny jeans are generally better suited for slimmer women, but women of all body shapes can pull off a pair of skinny jeans if they know how to accessorise them so that they complement their body shape. It is more difficult for athletic women to wear skinny jeans as they may not always compliment their body.
Ultimately, the key to wearing skinny jeans and looking good in them is to wear a simple and slim shirt or T-shirt, or accessorise them with jackets, belts, and other items. eBay has a wide selection of skinny jeans to choose from and any woman looking for the perfect pair is likely to find one that suits her style and budget.