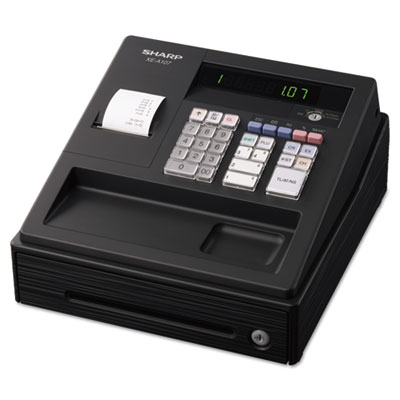 Buyers who wish to calculate and record their sales transactions should invest in a till and the associated supplies. Tills are used to keep track of purchases, calculate discounts and change, and store department and product codes. Once completely mechanical, tills are now versatile machines with the ability to print detailed receipts for customers, as well as perform a wide array of other functions, including monitoring inventory and producing detailed sales reports based on user defined data.
Tills typically have a drawer for storing cash that can only be opened after completing a sales transaction or by the use of a special key. Tills are found at every retail location, restaurant, and many other places of business. When purchasing tills and supplies at retailers such as eBay, buyers should consider the history of tills, bear in mind the benefits of using a till, familiarise themselves with the various types, and understand the factors that contribute to a well made decision.
Brief History of Tills
The first till was invented in 1879 by James Ritty. Ritty believed that it would help to reduce the risk of employees stealing from shop owners. In 1884, Ritty sold the till to Jacob H. Eckert who in turn sold the company to John H. Patterson. Patterson added a paper roll in order to record sales transactions.
Benefits of Tills
There are many benefits to using a till for sales transactions. In addition to speeding up the buying process, tills make it easier to keep accurate records and can produce detailed reports. Many also have the ability to track inventory.
Types of Tills
There are various types of tills. When choosing the most appropriate type, buyers should consider the business that they are running, any special requirements that their business has, and how many departments need to be catered for. It is also important to bear in mind how many people will be operating the till and how many transactions the machine can handle each day. The types of till and their characteristics are listed in the table below.
Type of Till

Characteristics

Battery-powered

Designed for use in temporary locations or for travelling

Portable hardwired

Lightweight

Designed to be taken from one location to another

Ideal for mobile businesses

Requires a power outlet

Thermal print

Uses a special type of thermal paper roll

Thermal paper turns black when heat is applied to it

Thermal printheads inside the till use heat to transfer type and numbers to the thermal paper

Never have to change the print ribbon

Paper rolls are easy to change and inexpensive

Receipts can begin to turn black if brought in contact with too much heat

Ribbon print

Uses traditional ribbon to print text to a receipt

Printer ribbons are typically less expensive than thermal print paper

Receipts printed with a ribbon tend to last longer than thermal receipts

Only produce one record of the transaction, which is typically given to the customer

Uses a scanning device that reads barcodes and automatically enters the product code and amount into the till

Speeds up the checkout process dramatically

Decreases checkout queues

Typically used by larger shops and department stores

Alphanumeric

Has both numbers and letters on the keypad

Allows users to enter a price as well as a name for the product

Ideal for use in department stores

Allow users the ability to programme different text messages that scrolls across the customer display at various times
Standard tills are often found in shops and restaurants. They often have minimal functions, so they are easy to use and are inexpensive. More advanced tills allow the sales assistant to scan an item's barcode in order to retrieve information, including pricing. The customer may also scan the barcode themselves in some cases. Advanced tills are able to track inventory more efficiently and with better accuracy.
Factors to Consider when Buying Tills and Supplies
When buying tills and supplies, buyers should consider various factors. Taking into account the size and location of the business, functions offered by the till, its speed, and power source can help to lead buyers to the best possible choice. Additional supplies that buyers should consider include thermal paper and printer ribbon.
Business Size
When searching for a till and supplies, buyers should consider the size of their business. Tills come with various abilities that are designed to meet the needs of both retailers and shoppers. Large businesses may need a till that has a product code scanner and allows the input of codes, while smaller businesses may benefit from a less complex machine.
Business Location
Tills come in several different formats that are appropriate for a variety of settings. So, buyers should consider where they plan to place the till. Tills can be battery-powered or hardwired. Battery-powered tills are ideal for remote locations where a power supply is unavailable, for example small kiosks or outdoor festivals. On the other hand, hardwired tills are better suited for use at indoor locations, like pop-up shops or trade shows. They are usually lighter than their heavy duty counterparts that are better geared for fixed locations, such as department stores.
Functions of the Till
Buyers should consider the various functions that tills have to offer. Popular functions include item and department codes, price lookups, and discount computations. Many tills also have security features, such as locking drawers, password security, and video surveillance.
Till Drawer
Drawers may be manually locked and unlocked with use of a key or electronically locked every time the drawer is closed. Electronic locking drawers may only be opened from the till panel by an authorised sales assistant.
Till Security
The till may be password protected. Without the correct code, it may not be used or opened. These kinds of security functions help to prevent theft from employees by reducing the risk of opening the till without recording a sale. Buyers can also invest in a video surveillance system to monitor all locations where money is exchanged.
Speed of Till
Tills speed up the process of buying an item greatly, especially when compared to manually registering each transaction and finding the total with a calculator. For greater transaction speeds, buyers should consider a till with with a scanner. Scanners allow sales assistants to input product information into the till quickly in an error-free manner.
Power Source of Till
When purchasing a till, buyers should consider the type of power source offered. For greater versatility, it is a good idea to buy a till that has a backup battery in addition to an electrical source. This allows buyers to continue to use the till in the event of a loss of power. However, this type of till tends to be more expensive than other types.
How to Buy Tills and Supplies on eBay
There are many tills and supplies available for purchase on eBay. Buyers can search for them on the eBay home page and then narrow down the results using the filters. Entering "portable tills" in the search box returns a list of the items available from eBay sellers. Buyers can browse through this list and choose the type of till they require and the respective supplies, such as ordinary till rolls or thermal till rolls. Buyers can filter the list by price or condition to save them from searching through the thousands of tills that eBay has to offer.
Buyers should look carefully at the condition of the till before purchasing and if they have any questions they can contact the seller directly by using eBay's "Ask a question" link. If the seller of the till is not located too far away, buyers can ask if they can view the item to check the condition and ensure that it is in proper working order. This gives buyers the opportunity to make sure that they have selected the right till for their business requirements.
Conclusion
Buying the right type of till is an important decision when trying to run a successful business. With all the available types, it is necessary to do a little bit of research in order to narrow down the options. Once equipped with the advantages and disadvantages of each type, buyers can find the most appropriate one for their business needs. A battery-powered till is ideal for retailers that have a mobile business, while a hardwired till is better suited for those with a permanent business location.
In addition to type, there are various aspects that can help to lead buyers to the right decision. The size of the business helps to determine the appropriate till, as do the functions required. A scanner to conduct price lookups is ideal for larger businesses, while a smaller retailer may find that feature unnecessary. With so many tills and supplies to choose from, eBay can help any entrepreneur or business owner to find the ideal machine for their requirements. The large selection of supplies and eBay's competitive pricing attracts buyers to the large online marketplace.