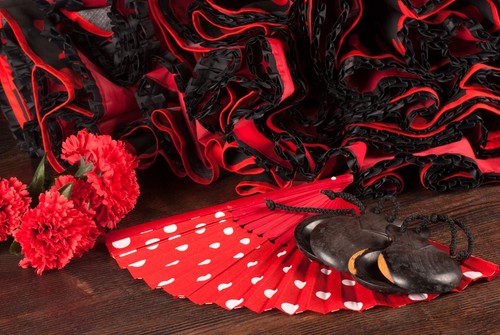 The online shopping world boasts an ample offer of dance accessories for all dancing styles and ages. Whether it be for belly-dancing or classical ballet, tango or modern dance, it is possible to find great dance accessories online, in order to make dancing more comfortable and glamorous.
Dance accessories are an important part of any dance class or performance, but they can also be worn to complement streetwear outfits. In fact, dance accessories populated the runways of the world in 2011, after the release of the film "Black Swan", which featured ultra-glamorous ballet costumes and accessories, as worn by elegant actress Natalie Portman. Around that time, eBay reported a 160 percent spike in its dance accessories sales. From bun nets to tiaras and ballet slippers, whatever each buyer may be looking for, eBay's dance accessories section surely has something for everyone.
This buying guide describes some of the most common dance accessories one can buy online for the most popular dance styles. Additionally, it offers some tips about choosing the right dance accessories for each use and occasion, while also providing some ideas for creating dance-inspired everyday looks.
Common Types of Dance Accessories
Personal preferences play an important role in choosing dance accessories. However, especially in the case of ballet, dance studios tend to have strict dress codes. Therefore, it is always best to check with instructors whether a certain type of dance accessory is accepted in their class.
While some dance accessories are completely ornamental, others, such as bun nets, are often a necessity. Most ornamental accessories like hair flowers and tiaras are not specifically required for dance practice, but there are some items, notably dance shoes, which are a must even for practice and rehearsal.
In the case of amateur performances, the guidelines for the shoes and other accessories dancers need to wear tend to be more relaxed. On the other hand, professionals commonly need to wear very specific items, which are often provided by their ballet companies.
When it comes to dance accessories, the most popular ones tend to be hair accessories and shoes. Hair accessories embellish, while making dancing more comfortable by getting long hair out of the way. On the other hand, dance shoes are designed for the specific steps of each dance style.
Hair accessories
There is an impressive variety of hair accessories for dancers. Bun accessories are among the most popular. So much so that ballet dancers are often called "bunheads". However, there is much more to discover in hair accessories than the traditional bun nets, which come in all shapes, colours, and sizes.
Bun nets
As they are worn so often, bun nets usually come in packs of three or more. The standard kind of bun nets are classified according to hair colours, as they are supposed to blend in with the dancer's natural hair. The most important thing about bun nets is elasticity, as a bun net that might fall off would completely defeat its original purpose.
Standard bun nets come in a handful of standard shades, for example, blonde, light brown, medium brown, and dark brown. Bun nets in all kinds of different colours are also popular, with pink being the absolute favorite for little girls.
Worn not only by dancers, but also by anyone working in a profession requiring hair to be tied up in a bun, bun nets are comfortable, affordable, and stylish. The most common types of bun nets are mesh, beaded, and ribbon, and they often feature built-in rhinestones, pearls, and all kinds of fancy decorations.
Hair Flowers
Hair flowers have a mainly ornamental purpose. Therefore, whatever the dancer prefers may do the trick, as long as it is accepted in case he or she is required to adhere to a specific dress code. Naturally, some extra-bulky hair flowers can get in the way, and they are only recommended for fashion looks, not to dance on stage or to wear during dance practice. The most appropriate hair flowers for dancers are those that can be easily and safely attached.
Tiaras and Headbands
Tiaras are a favorite with little girls, and adults seldom wear them off the stage. On the other hand, headbands are very popular with all kinds of dancers, as they provide comfort, while keeping their looks stylish and modern.
Headbands are commonly made of nylon-lycra blends, stretch lace, cotton, and many other materials. The most important thing to consider when shopping for headbands is comfort, therefore soft, light materials should always be preferred.
Scrunchies, Hair Pins, and Hair Clips
While scrunchies can come in handy when buns are not required, hairpins are one of the basics that any dancer must keep a good supply of at all times. Hair pins and clips come in all shapes and materials, but whatever one chooses for performances or stylish looks, the basic, black wire hair pins are a must. They have two very important virtues; they are reliable and nearly invisible. As for hair clips, anything that looks pretty, feels comfortable, and does not fall off may work fine.
Shoes
While most dance accessories are all about looks, dance shoes are all about performance and comfort. Some shoes need to make a certain sound when doing dance steps, while others must provide support to achieve difficult postures.
Ballet Shoes
Ever since "The Red Shoes" was released, ballet shoes have captivated the imagination of the public. In this classic movie, the heroine, a ballet dancer, loses control of her life to a pair of red slippers. While slippers may lack those magical mind-controlling qualities, they have been inspiring designers and nearly obsessing dancers for centuries.
It is impossible to dance without the perfect shoes. A perfect fit is of course the number one priority when shopping for ballet shoes, but their material must also be carefully considered.
The most common materials for ballet shoes are leather and canvas. While leather is more expensive, it is also much more durable. Canvas is easier to clean, but leather shoes are said to look more elegant. On the other hand, canvas shoes are preferred by many dancers on the grounds that they feel more comfortable. The floor on which the shoes are going to be worn is also a concern, as leather works best on wooden floors, while canvas shoes work better on vinyl surfaces.
Tango and Salsa Shoes
Tango shoes are commonly made of leather or suede. Tango shoes made of leather are more rigid, while suede footwear is more flexible. Tango dancing involves walking backwards as well as balancing on one foot, therefore, tango shoes need to offer comfort and balance. While a close fit is required, if the shoes are too tight, they can cut one's blood circulation, making dancing very difficult or producing cramps. Design also plays a big role when it comes to tango shoes, as this is a traditionally sexy dance, which requires very elegant, feminine shoes.
Tap and Flamenco Shoes
In the case of tap and flamenco, shoes are not only an accessory, but also a musical instrument. Therefore, design here is as important as material and the ability to produce the appropriate sounds on the types of surfaces commonly used for dancing.
Tap dance shoes must be firm, preferably made of leather, with good toe-support and a firm sole. Sometimes the taps are not included with the shoes, and they must be bought separately and then sent to be attached at a shoe repair shop.
Naturally, the best flamenco shoes are manufactured in Spain. Fortunately, online shopping allows for buying them either directly from Spain or from a local importer. One of the main concerns with flamenco shoes must be the size of heels; anything over 5 cm high is too much and will make dancing difficult. Laces are discouraged, as they can cause unnecessary problems by becoming undone in the middle of a rehearsal or performance. Solid shoes that cover the entire foot are the best when it comes to providing the necessary support for performing this difficult and dramatic dance style.
Dance Accessories for Fashion Looks
Since Claire Danes, Jennifer Lopez and many other celebrities were seen in stylish buns on the red carpet, this type of hairdo has become more fashionable than ever. In fact, many stars have even managed to create glamorous looks by sporting the good old, classic ballet bun net. But dance accessories have influenced fashion designers and stylists beyond hairstyle trends; Welsh designer Jayne Pierson recently used Royal Ballet dancers instead of models for her London fashion week show, and some of the world´s top design houses, from Gabbana and McQueen to Lagerfeld and Chanel, have shown fabulous ballet-inspired looks in their collections over the last couple of years.
Slippers
When it comes to shoes, ballerina slippers are often popular. Although many shoe manufacturers put out their own versions of this popular dance accessory, there is a certain charm to wearing the real thing. Although some professional dance slippers are ill-fitted for walking on the street, there are many variations that can be comfortably worn anywhere.
Flowers
New York's September 2012 Fashion Week saw a surge of elegant flowers tucked into the models' hair, for example, in Josie Natori's collection, and it seems that hair flowers are here to stay.
Flamenco Hair
Even flamenco´s traditional "peineta", a traditional ornamental comb, worked its way into Milan Fashion Week in 2012, where Missoni models were spotted in high buns decorated with richly ornamented versions of this Spanish hair accessory.
Today´s eclectic fashions welcome many different influences, and the addition of dance accessories, such as a belly-dancing scarf or an elegant "peineta", can make any outfit look extra-stylish and glamorous.
How to Buy Dance Accessories on eBay
eBay is a great place to find all kinds of dance accessories. The first step to acquire them is naturally the search. Some good examples for search terms to find the widest variety of this kind of items are dance accessories and dancewear accessories.
If you are looking for a specific item, such as a belly-dancing outfit or a specific style of bun net, you can add one or two keywords to narrow down your search. For example, you may input "beaded bun net" or "belly-dancing hair ornament".
Once you have found a set of dance accessories that seem to fit your needs, it is time to ask questions. In the case of dance shoes, it is very important to make sure that the size is right, as shoe sizes have slight variations, especially if you are buying from abroad. A perfect fit is one of the most important aspects to consider when shopping for dance shoes, as you need to be extremely comfortable for dancing in them. Fortunately, many reputable eBay sellers offer detailed shoe-size charts to make your search more convenient.
Finally, reading the small print of shipping and return policies is always a must, because even when you take every precaution, the shoes might not fit or the hair flowers might not look good, and you need to know what to expect in case you need to return them. Shipping costs and times should also be considered, especially in the case of time-sensitive purchases, for example, when you need the dance accessories for a special event. eBay's extensive dance accessories' listings offer variety, safety, and reliability for anyone looking for fashionable accessories for all kinds of dancing styles.
Conclusion
The dance accessories' category includes a wide variety of items. The most important aspects to take into account when buying dance accessories are: adherence to dance studio dress codes, size, material, and comfortability for movement. While priorities may vary between buyers looking for fashionable accessories to create dance-inspired looks and those who require specific items for dance classes or performances, anyone who takes the above mentioned aspects into consideration can count on being satisfied.
Today, dance accessories have gone outside the walls of the dance studio, onto the catwalks and high streets of the world. Whether buying dance accessories to look stunning for a performance or to put together a glamorous ballerina-inspired outfit, eBay has everything to make the process extremely easy and satisfactory.