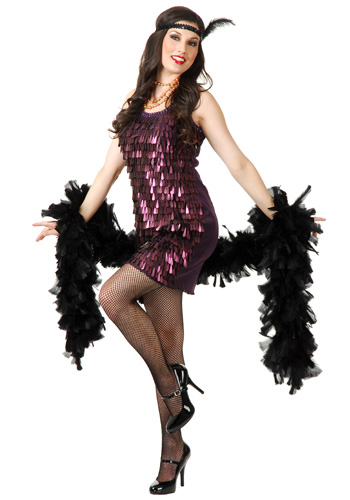 There are many popular dancing styles from all over the world. Many of them require specific dancing costumes, especially in the case of public performances. The availability of these costumes in the market depends on the degree of popularity of each particular dance. For example, it may be much easier to find a costume for flamenco than for traditional Armenian dancing. However, the online world opens up a myriad of possibilities. For example, it is possible to buy original costumes from their country of origin without leaving the comfort of one's home.
While some traditional dance costumes can be pricey, others are quite affordable, especially when buying from economies offering a favorable currency conversion rate. People usually buy dance costumes for performances and costume parties.
Give the wide variety of the different types of dance costumes available in the market, when buying consideration must be given to the required dance costume's intended purpose, as well as the costume's quality, fabric, and style. Taking these factors into account can help anyone interested in becoming an expert at shopping for dance costumes online.
Popular Dance Costumes
Dance costumes differ from the broader category of dancewear in that they are primarily meant for the stage. Therefore, whatever the dance style may be, dance costumes tend to be showy or glittery, made of shiny fabrics or tulle and other materials one seldom encounters in regular streetwear.
The design of dance costumes needs to combine the necessary flamboyance that the stage often requires with sufficient comfortability to allow the dancers to move at ease.
Ballet and Modern Dance Costumes
Classic ballet usually requires rather standardised costumes; leotards, leggings, tutus, and pointy shoes. However, that is not the case with lead roles in famous ballets, where the main character may be a swan, a tin soldier or a nutcracker, to name but a few from the most traditional ballets.
In the case of established ballet companies, these types of costumes are generally custom-made, but amateur ballet dancers are usually left to secure their own outfits. When this happens, it is always best to deal with sellers that specialise in ballet costumes, unless one is looking to buy used garments.
Modern dance costumes are similar to ballet outfits in that both categories are dominated by close-fitting garments. Modern dance allows for much more colour and variation in design, and there can often be as much freedom to dress for this style as in freestyle dancing.
Freestyle and Hip Hop Costumes
As a shopping category, freestyle refers to a wide variety of styles. Freestyle costumes' listings are usually populated with close-fitting garments in stretchy fabrics, decorated with tulle, fun prints, fringes, beads, and lots of other ornaments.
Some dance styles that were born on the street are usually performed as freestyle i.e. without a set choreography. Hip hop is one of the most popular styles in this category. In general, hip hop dancing costumes may include hoodies, hot pants and baggy trousers, all in materials like lycra, velour, and mesh. Silver and gold fabrics as well as animal prints are also very popular for this kind of dancing.
Traditional Irish and Scottish Dance Costumes
There are many similarities between Irish and Scottish dance costumes. While Scottish dancers can be seen wearing long dresses, Irish dancers' dresses end rigorously around the knee. Male beginners in Irish dancing wear trousers or a plain kilt, a shirt, and often a blazer or sash. Scottish Highland male dancers, on the other hand, always sport kilts. Irish dancers' costumes change as they advance in levels of expertise; for example, advanced female dancers get to design their own dresses. The more elaborate solo dresses are commonly embroidered with Celtic patterns.
The 1970s saw the popularisation of a new type of dress, which features sequins and other non-traditional elements. This modern style of dresses with bright patterns is very common today, especially in the case of young girls. Some of these fancy costumes are sometimes pricey, and the fact that young girls inevitably outgrow them makes for a rather active second-hand market.
Belly-Dancing Outfits
Belly-dancing costumes are quite popular, both for proper dancing and for costume parties. A typical belly-dancing outfit might include a hip belt or scarf, a bra, and either a skirt or a pair of harem pants. Belts, bras, and scarves can be jeweled, beaded or coined. Veils, headbands, and other accessories are also commonly worn.
As for fabrics, belly-dancing costumes are commonly made of shiny and translucent, vaporous fabrics. These include sequined or embroidered silk and chiffon, hand-beaded fabrics, and many other similar materials. While there are slight variations between traditional Turkish and Egyptian belly-dancing costumes, these are rarely taken into account in the Western world.
Flamenco Costumes
Flamenco and other Latin-inspired costumes are centered on an ankle-length dress, with puffy ruffles on both the skirt and the sleeves. The most typical colours are black and red, but the fabric can also be patterned, very often with polka dots. A fringed shawl is commonly worn over the shoulders. Originating from the region of Andalusia, flamenco costumes can also be made up of a blouse and a long skirt. The shawl is often made of silk, while the fabrics of the rest of the costume may vary, often including embroidery.
Some of the most common accessories for flamenco costumes are hair flowers, fans, castanets, and hair comb ornaments. Men's flamenco costumes are much simpler, consisting of tight-fitting black shirts and trousers, often accompanied by a waistcoat or a short jacket.
Tango Costumes
The concept of tango costumes is rather relaxed, as this is an urban dance, stemming from the streets of Montevideo and Buenos Aires. When it comes to fabric colours, there is a slight preference for black and red, with a general emphasis on basic, dramatic colours.
Women's tango costumes usually include a flowing skirt above knee-length, to allow the lower legs to move freely. The accompanying shirt or top is generally fitted and feminine. To emphasize the leg, fishnets or black tights are often worn by women. Male tango dancers, on the other hand, tend to wear a simple costume, consisting of a fitted shirt and black trousers.
Dance Costume Fabrics and Care
Because they are meant for movement, many popular dance costumes are made of stretchy materials such as lycra blends and the very popular microfibre. In the case of dance styles that are all about seeing the lines of the dancers' bodies drawing shapes in the air, such as freestyle or ballet, dance costumes may have vaporous bits of fabric floating around them, but the body is usually covered by close-fitting leotards or unitards.
Some of the most popular fabrics for dance costumes include lycra, georgette, satin, microfibre, tulle, and organza. While natural fiber fabrics, such as silk and cotton, are more durable, most of the glittery, sequined fabrics preferred for dance performances tend to be synthetic.
Most dance costumes are commonly meant to be worn only on stage. This is a great advantage for maintaining the garments, as wear and tear may be minimal if they are properly washed and stored.
Used vs. New
It is common for people to buy dance costumes for just one recital or performance, especially in the case of kids and school acts. This has the consequence that the online market for used dance costumes becomes very attractive, featuring numerous offers of dance costumes in extremely good condition.
When buying a leotard, most people prefer a brand new item. However, in the case of expensive flamenco dresses or sequined Irish dancing dresses, it is more common to buy used costumes.
Sometimes, when looking to buy dance costumes for a whole group, it is possible to buy an entire set of used costumes. This often happens in the case of school performances and other acts that are performed just once.
Properly cared-for dance costumes, made from quality fabrics, can have a long life-span, and one can often buy them online for very convenient prices.
Dance Costume Sizes
Dance costumes include a wide variety of garments, some of which are rather special. Many of these items have their own specific sizing systems. In addition to this, even in the case of something rather standard, like a dress or a leotard, sizes may vary from manufacturer to manufacturer.
International Dress Sizes' Conversion Chart
As many dance costumes include dresses as their basic component, this chart presents size conversions between UK, US, France, and Italy dress sizes.
| | | | | | | | | | | | |
| --- | --- | --- | --- | --- | --- | --- | --- | --- | --- | --- | --- |
| US | 0 | 2 | 4 | 6 | 8 | 10 | 12 | 14 | 16 | 18 | 20 |
| UK | 4 | 6 | 8 | 10 | 12 | 14 | 16 | 18 | 20 | 22 | 24 |
| France | 32 | 34 | 36 | 38 | 40 | 42 | 44 | 46 | 48 | 50 | 52 |
| Italy | 36 | 38 | 40 | 42 | 44 | 46 | 48 | 50 | 52 | 54 | 56 |
Slight size variations may occur when dealing with different types of dance costumes and manufacturers.
How to Buy Dance Costumes on eBay
There are a large number of reputable sellers offering all kinds of new and used dance costumes on eBay. When you are looking to buy any type of item on this platform, the first step is naturally the search. It is your choice of keywords that determines your access to the site's dance costumes' on offer. To begin, you should always do the most comprehensive search possible, for example, you can simply search for "dance costumes". As sellers do not always choose the best tags for their eBay listings, it is always best to try out different searches with different keywords, to make sure you are not missing out on any great deals. For example, you can search for "used dance costumes".
If you are looking for a very specific type of costume, such as a flamenco dress or a belly-dancing hip belt, you can skip the general category searches and go directly to "flamenco costumes" or "belly-dancing hip belts". Alternatively, you can add the keyword "used" to any of your searches, for a shot at obtaining an impeccable pre-owned dance costume for an affordable price.
Once you have found the dance costume of your dreams, it is time to ask questions. Especially when the seller does not have an extended track record, asking questions is the only way you may have to get to know them a little. Finally, it is always recommended to read the small print of shipping and return policies.
Conclusions
Buying dance costumes online can have many advantages. There is no physical store in the world where one could buy a ballet tutu, a belly-dancing scarf from Istanbul, and a flamenco dress all the way from Andalusia. Moreover, when looking to buy whole sets of dance costumes, the online world can offer used items at unbeatable prices. Used dance costumes in good condition can often be a true bargain, and the variety of different garments and accessories available online can be quite surprising.
Dance costumes come in all designs, fabrics, and colours. When looking for a costume for a single performance, people seldom consider quality and durability; however, a good quality dance costume has the added value that it can be put back on the market after being used.
There are exotic dance costumes, such as those used for belly-dancing, and rather simple costumes, such as the ones used by male flamenco dancers. Whether buying elaborate or simple items, used or new, shopping online can be a fun and exciting way of finding the perfect dance costume for the perfect price.