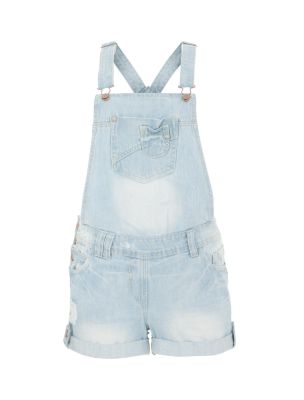 Fashion repeats itself every 25 years, and this is also true for women ' s dungarees. First associated with 18th-century American rural folk, women's dungarees became a fashion symbol of rebellion among baby boomers in the 1950s and 1960s. Two and a half decades later, in the 1980s, dungarees experienced another revival after famous figures, such as Kylie Minogue, popularised this rugged type of clothes.
In the 2000s, dungarees have re-entered mainstream culture. Katie Holmes, Jennifer Aniston, Heidi Klum, and Rihanna are just some of the celebrities that were seen sporting a pair. In the United Kingdom, credits go to British Vogue's Alexa Chung for catalysing the revival of this simple yet trendy piece of clothing.
While dungarees can do wonders in livening up an otherwise plain outfit, choosing the right kind of women's dungarees is quite a tricky job. Before buyers can select the right type of dungarees, they should be familiar with the different styles, know the right fit for their body shape, and choose the right size.
The Five Most Popular Types of Women's Dungarees
Worn by college students to mothers-to-be and celebrities alike, dungarees serve as a fashionable yet comfortable alternative to regular trousers and skirts. With more than two centuries' worth of history, dungarees have evolved from simple denim overalls into a variety of different shapes, sizes, and designs. Depending on these factors, a particular kind may be better to wear than other types. The next section presents a list of the most common types of women's dungarees, a short description of how they look like, and a few bits of advice on when and how to wear them.
Relaxed or Regular-Fit Dungarees
Relaxed or regular-fit dungarees provide ample space for the legs and thighs, making them one of the most comfortable kinds of dungarees to wear. This is the perfect type for those who are still new to this kind of clothing. These dungarees fit most body types, including fuller figures. Note, however, that a good fit is necessary to prevent them from looking baggy when worn.
Loose-Fit Dungarees
Loose-fit dungarees are relaxed-fit dungarees that have bigger dimensions. They provide lots of room for the thighs and calves. Unlike relaxed fit that are supposed to fit snugly, loose-fit dungarees are deliberately designed to look baggy when worn. Loose-fit dungarees can look good on any body type, depending on the clothes that are paired with it.
Skinny-Fit Dungarees
Skinny-fit dungarees fit quite tightly on the thighs and calves, accentuating the lower body and even enhancing the wearer's silhouette. Skinny-fit dungarees are perfect for women with skinny or toned body types because they make the legs and thighs look fuller. Unfortunately, skinny-fit dungarees do not compliment full-figured bodies because the shape of this type of clothing tends to accentuate problem areas such as thighs.
Short or Skirt Dungarees
As the name suggests, short or skirt dungarees feature either a short- or a skirt-like lower half, unlike regular dungarees that have trousers at the lower part of the garment. Short or skirt dungarees tend to make the legs look longer, making them perfect for petite women. This type of dungarees may also be worn with opaque tights to help the wearer conceal any skin imperfections or to give the whole ensemble a snappier look.
Maternity Dungarees
Maternity dungarees have wider waistlines to make them fit better on pregnant women. Moreover, the extra space also helps to prevent the clothes from exerting too much pressure on the baby bump. Many pregnant women wear maternity dungarees both for fashion and comfort, two things that very rarely mix well. Generally speaking, maternity dungarees provide more room than regular maternity clothes, so the same pair can be worn even up to the late stages of pregnancy.
How to the Find Perfect Women's Dungarees
There are three basic factors to consider when shopping for women's dungarees: the wearer's body type, measurements, and other custom features. The following section will discuss these factors in greater detail.
Dungarees for Every Body Type
In general, some dungarees look good on some body types, but not on others, that is why it is important for the buyer to take this factor into consideration to avoid potential fashion disasters. The next section presents the three major kinds of body types, along with the kinds of dungarees that are more likely to look good on them.
Average to Slim
Women with average to slim body types look good in skinny dungarees or relaxed-fit dungarees as loose-fitting garments tend to make their bodies look thinner and smaller. However, some slim women may be able to pull off a baggy look, so loose-fit dungarees are not necessarily out of the question. Moreover, short or skirt dungarees may also work, especially when matched with a pair of opaque tights.
Average to Athletic or Toned
Women with average to athletic or toned body types can wear with confidence most types of dungarees. As a general rule, however, women with these body types should stay away from skinny-type dungaree because this style tends to draw attention to a woman's well-developed calves and thighs.
Full-Figured
Full-figured women may wear either relaxed-fit or loose-fit dungarees because these types offer comfort and potentially figure-enhancing capabilities, especially on the rear area and on the thighs. As mentioned before, loose-fit dungarees tend to make the wearer look smaller, and they also do a great job in hiding certain problem areas. Full-figured women may also wear short or skirt dungarees, which may look good when paired with black or some other dark-coloured tights that will make the legs look slimmer.
Stylish Custom Features
Depending on the designer, there are some styles of dungarees that incorporate custom features that make the clothes more versatile to wear or more chic and classy to be worn in certain occasions. For example, there are some types of dungarees that have detachable bibs or braces, allowing them to be worn as plain trousers. Because of this, women can wear the same outfit more than once per week with no one noticing the repetition. There also some designs that feature several buckles on the trousers' legs, allowing the wearer to adjust the length of her dungarees to create different looks and styles with the same piece of clothing.
Finding the Right Fit
After selecting the right type of dungarees that compliment one's body types, the buyer should learn more about how to find the perfect fit. The next table illustrates the various standardised dress sizes.
| UK Dress Size | Waist (cm) | Hips (cm) | Dual Size Equivalent |
| --- | --- | --- | --- |
| 6 | 65 | 88 | XXS |
| 8 | 67.5 | 92 | XS |
| 10 | 71 | 95 | S |
| 12 | 74 | 99 | M |
| 14 | 79 | 106 | L |
| 16 | 84 | 111 | XL |
| 18 | 91.5 | 117 | XL |
| 20 | 99 | 123 | XXL |
| 22 | 103 | 127 | XXXL |
| 24 | 109 | 131 | - |
| 26 | 116 | 137 | - |
| 28 | 123 | 144 | - |
The above measurements are estimates and should be used as guidelines. The actual fit may vary depending on the manufacturer and the fabric from which the garments are made.
How to Shop for Women's Dungarees on eBay
eBay offers a wide variety of choices for women's dungarees. To get a complete list of items for sale, just type 'women ' s dungarees' in the search box on eBay's home page. If you have a particular brand, material, size, or design in mind, just add descriptive keywords to the original search term in order to generate more relevant results. For example, using the search term 'women ' s dungarees pink size 18' will give you a list of size 18 pink women's dungarees. You may also add keywords relating to custom features. For example, the search term 'women's dungarees detachable braces' will generate a list of dungarees with detachable parts.
Before proceeding to the payment, remember to read more about the seller's returns policy so you can be sure that you will be able to return or exchange the merchandise if you have to. Most item descriptions contain detailed information about the accompanying returns policy. You can also directly ask the seller for more information by clicking on the 'contact' link on the seller's personal page.
Conclusion
Originally identified with the working class, dungarees have become a popular fashion choice since the 1950s. The majority of designs for dungarees fall into one of these five categories: regular fit, skinny fit, loose fit, skirt or short, and maternity.
Regular fit provides ample legroom, so the wearer can be stylish and feel comfortable at the same time. Skinny-fit dungarees boost the wearer's proportions, imparting a fuller look to women with thin or average body types. Loose-fit dungarees are the opposite of skinny dungarees because they make the wearer look thinner. Skirt or short dungarees tend to make the wearer's legs appear longer, providing a sexier, more seductive look. Lastly, maternity dungarees are designed for pregnant women, with style, comfort, and child safety in mind. Women's dungarees can be found both in high-street shops and online and eBay has a rich assortment of dungarees that can satisfy even a choosy buyer.