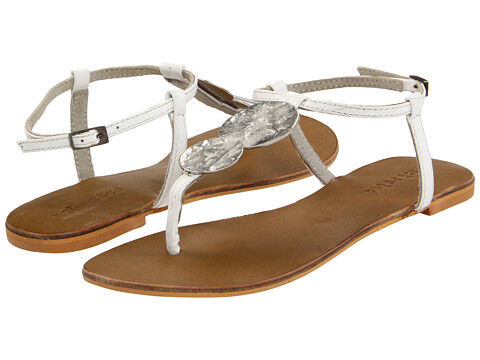 Sandals are a type of shoe in which the majority of the foot is uncovered. These types of shoes are most often worn in the spring and the summer. They allow the feet to breathe and don't offer much coverage or protection from the weather. Sandals come in a variety of designs, colours, and styles, and they can be both dressy or casual depending on the type of sandal. This guide offers the reader an overview of the different styles of women's sandals. Shop the look on eBay for inspiration on ways to wear women's sandals.
Shopping for Women's Sandals by Style
When shopping for sandals, the style is usually what women look for first. The style refers to the shape and design of the shoes, and when it comes to sandals, there are many to choose from. Some sandals have a sporty look while others are dressier. Some sandals have heels or wedges while others have a sole similar to a tennis shoe. eBay makes it easy to shop for sandals by grouping similar styles together. The main styles of sandals are listed in the table below. All sandals can be found within the Women's Shoes section of the Fashion category on eBay.
| Style | Description |
| --- | --- |
| Ankle Straps | Have a strap that secures the sandal to the foot around the ankle; can be fastened with a clasp, velcro, tie, or elastic |
| Flip Flops | Also known as thong sandals; have a y-shaped strap that goes between the first and second toes then around the top of the foot; have an open back |
| | Categorised by the T-shaped strap that connects the ankle strap(s) from the toe strap(s); may have single ankle/toe straps or multiple straps going up the foot |
| Platforms, Wedges | Have an elevated triangular shaped sole; runs under the entire foot rather than just at the heel |
| | Secures the sandal to the foot with a strap that goes around the back of the heel |
| Slip On, Mules | Sandals that are backless; only have a strap that covers the top of the foot |
| Sport Sandals | Have a thick, rubberised sole with tread; designed for walking or hiking |
| Strappy | Sandals from other categories can be classified as strappy; the straps usually serve as decoration for the shoe as well as a way to secure the shoe to the foot |
| T-Bars | Similar to gladiator sandals with a T-shaped strap that runs along the top of the foot; can have any kind of heel or ankle strap or may not have a back strap at all |
When shopping for sandals on eBay, shoppers are able to refine the listings to only show the sandals for sale in each of the categories listed above. Some categories have more listings than others, but the number of listings changes from day to day. New listings are being added all the time with styles to match anyone's tastes.
Shopping for Women's Sandals on eBay
Since there are thousands of listings for sandals on eBay at any given time, it is nearly impossible to look through each individual listing. Women can browse these listings more efficiently by sorting the listing for sandals by size, brand, material, and colour. eBay offers several options within each of these categories to make the shopping process much easier.
Shopping for Women's Sandals by Size
One of the biggest disappointments for a shopper is finding an amazing pair of shoes, only to discover the shoes are not available in her size. eBay makes it easy to filter the search results for women's sandals by size. Sizes range from UK 1 to UK 9.5 in whole and half sizes. Selecting the size or sizes ensures that shoppers only see the listings for sandals that are the correct size.
Shopping for Women's Sandals by Brand
Some women shop for sandals by brand. Some brands have more reliable sizing or have a reputation for being of higher quality. eBay makes it simple for shoppers to find sandals in all of their favourite brands. Shoppers are able to narrow down the listings by selecting one of hundreds of different brands. Many of the top brands include Yves Saint Laurent, Armani, Crocs, Roxy, and Gucci.

Shopping for Women's Sandals by Material
Many materials are used to make sandals, and these materials can affect the quality, price, comfort, and appearance of the sandals. For this reason, a woman may have a preference for particular materials. When shopping for sandals on eBay, women can choose from materials such as 100 per cent leather, canvas, suede, and synthetic. By selecting any of these, only listings for sandals made from the specified materials will appear on the results page.
Shopping for Women's Sandals by Colour
When choosing a pair of sandals to wear, it is important that the colour of the sandals matches the outfit. eBay divides the listings based on the main colours of the sandals with more than a dozen different colours to choose from. Shoppers are able to choose one or many colours to reduce the number of listings on the results page. When looking for sandals of a particular colour, a shopper might also want to examine the designs and decorations on the sandals. Some have prints or are decorated with rhinestones.
Sorting and Refining eBay Search Results
eBay also allows shoppers to sort and refine the results base on the price of the sandals and the condition of the shoes. Each page with listings gives shoppers the opportunity to specify these options. This means that at any time during the search, shoppers can narrow the results by price or condition to make it easier to find the sandals that they're looking for.
Price
Prices for sandals on eBay range from a few pounds to several hundred pounds depending on the brand, condition, materials, and seller. To avoid sorting through listings that are out of the desired price range, shoppers have the ability to specify a price range. Shoppers can set the price range with a custom minimum amount and a custom maximum amount to ensure that that the listings for sandals are within the budget they would like to spend.
Condition
Both new and used sandals are available on eBay. Prices for all sandals on eBay are usually well below retail price, but shoppers can save by shopping for used sandals. These are sandals that have been worn and can no longer be classified as brand new. They might still look brand new or they might be very worn. Shoppers must look at each individual listing and view the pictures in order to determine how used or worn the sandals are. Shopping for used sandals allows a shopper to afford some of the more expensive brands.
Buying Women's Sandals on eBay
After searching for a pair of sandals on eBay, shoppers need to choose which listings they want to buy. Before placing a bid or buying a pair of sandals, shoppers need to be sure that they have examined all of the options available to them. To ensure a positive shopping experience, shoppers need to find a seller that has a good reputation. To broaden the search and find additional sandals to choose from, shoppers can buy sandals from one of the thousands of eBay Shops. You can find a great range of women's sandals from affordable brands such as Marks & Spencers, Orla Kiley, Salvatore Ferragamo and Miss Sixty.
Finding a Seller
In addition to finding just the right pair of sandals, it is important to find a reputable seller. The eBay Feedback system makes it easy to judge a seller's reputation. Within each listing, the seller's username and feedback score is listed. This percentage indicates the number of positive feedbacks that the seller has received. Next to the seller's name is the total number of transactions they have completed on eBay. Additionally, eBay goes further to recognise sellers who have consistently provided top-notch service to their customers by bestowing on those sellers the status of Top Rated Seller. During the search process, shoppers are able to narrow the listings to only show those from top rated eBay sellers.
eBay Shops
Some sellers choose to operate their eBay listings like a business. So much so that they have stores to list all of their items in one place. eBay Shops are sorted into categories similar to those that are listed above. By shopping in eBay Shops, women can easily purchase multiple items from the same seller. Doing it this way can save on postage.
Conclusion
Sandals can be glamourous and dressy or simple and casual. Shoppers will find that sandals come in a wide variety of styles, colours, and designs. Women can find a variety of sandals to wear for any spring or summer occasion. Prices for sandals can vary greatly depending on the specific brand, materials, and the condition of the sandals. eBay is an online marketplace that brings buyers and sellers of women's sandals together from all over the country. When shopping for sandals on eBay, women need to learn about the different styles that are available to them. Then they can start sorting through the listings based on specific size, brand, colour, style, and more. Whether looking for sandals that show off the latest trends in the best way possible, or a high quality pair of vintage sandals, a woman can find anything to suit her personal style and budget on eBay.