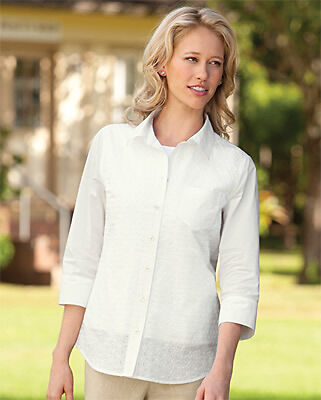 Women's shirts come in a variety of styles. Whether looking for a casual top for meeting with friends or a dressy top for a night out on the town, having the right shirt is essential to pulling off most outfits. A woman who does not have time to go from shop to shop searching for the best shirt should shop online, on a site like eBay. That way she can find the perfect top without ever having to leave home. eBay offers a huge selection of women's shirts in all types, styles, colours, and more. When shopping for a shirt on eBay, a woman should first determine the style she is looking for. Then she can start evaluating options according to colour, material, and brand. Once she has narrowed down the selections or found the perfect top, she can complete the buying process and have the shirt shipped directly to her home. eBay has thousands of listings for new and used women's shirts, so any woman is sure to find just the right shirt for any occasion.
Shopping for Women's Shirts by Type
When shopping for a women's shirt, it is a good idea for a shopper to know what kind of shirt she is looking for. While shoppers do not have to know exactly what they are looking for, they should have a general idea of the style and sleeve length.
Style
When shopping for a shirt, it is useful for women to know what style they want. This helps them narrow down the selections so that they don't have to sort through hundreds of thousands of listings to find what they're looking for. eBay makes it easy for shoppers to find the right type of shirt. They can choose from styles like blouses, tunics, polo shirts, and camis. Additionally, women can select several different styles to sort through rather than going through each style individually.
Sleeve Type
In addition to the style of the shirt, women have the ability to narrow down the listings on eBay by sleeve type. When shopping for a shirt to wear in the middle of July, shoppers don't want to waste time sorting through long-sleeved shirts. Shoppers looking for shirts with a certain type of sleeve can refine the search results by specifying the length of the sleeve. Women have the option of choosing 3/4 sleeves, Batwing sleeves, Button Cuffs, Cap sleeves, Double Cuffs, Long sleeves, Short sleeves, Single cuffs, and Sleeveless shirts.
Women's Shirt Sizing
In addition to the shirt style, the size of the shirt is also important. Women don't want to sort through shirts that are too big or too small. It can be disappointing to find a lovely shirt only to realise that it is the wrong size. While most shirts are regular sizes, shoppers can also find a huge selection of petite, tall, and plus size shirts. When shopping for shirts on eBay, women have the ability to sort shirt listings by size type as well as the size.
Size Type
Women come in all shapes and sizes, so there are many different size combinations available to ensure the best fit. In particular, women should select whether they need Petite, Plus Size, or Tall shirts. This immediately refines the search results so that all other sizes are excluded from the list of results. This also helps when it comes time to select the size for the shirt. Since each of the size types has multiple sizes, it makes it easier to find the correct size by first choosing the size type. This saves the shopper time by not having to sort through plus size or tall shirts when the shopper is looking for a petite size.
Sizes
Unlike most high street shops, eBay has shirts in almost any size imaginable. Because the listings for shirts on eBay come from private sellers, there is likely another person out there with the size that the shopper is looking for. Sizes for shirts range from extra small to XXXL. Numbered sizes range from 6 to 36 and one size fits all shirts are also available. Refining the listings for shirts by size presents the shopper with all of the shirts in a particular size. Unlike browsing in a shop, on eBay, a woman does not have to worry about falling in love with a shirt that is not available in her size.
Searching for Women's Shirts on eBay
Women who do not know exactly what they're looking for can search for shirts on eBay by sorting results by category. Once they make their way to the Women's Clothing section of the Fashion category, they begin their search by specifying different options to sort the list of results, making the list more manageable. The more options that shoppers select, the more refined and specific the search results will be. Shoppers who already know what kind of shirt they are looking for can perform a keyword search to look for particular shirts, directly.
Brands
One of the first options to select when shopping for women's shirts on eBay is the brand. Some women look for a specific brand because they like the styles or trust the quality of that designer. Women looking for something specific can select one or several brands to refine the search listings. eBay has listings for all brands of shirts ranging from Abercrombie and Fitch to Zoo York and Margaret Howell.
Colours
Shoppers who do not have a specific brand in mind but have a specific outfit in mind might want to search for shirts based on certain colours. Just as with other options, shoppers can narrow down the listings by colour to specify one or a few different colours. When specifying a colour, the shopper should pick the main colour of the shirt rather than other colours that may be used in the decorations or patterns on the shirt. A multicoloured option is available for shirts that do not have one main colour.
Material
Some materials work better with certain outfits or at certain times of year. Likewise, some women prefer the look and feel of certain fabrics over others. Women who have a specific type of fabric in mind, can narrow down the listings for shirts based on these materials. Dozens of fabrics are available, including acrylic, cotton, flannel, linen, silk, and velvet.
Condition
Sellers on eBay offer both new and used selections for shirts. Women who are looking to save money on the retail price of new clothing can shop for new shirts. Women who are looking to save even more should shop for used clothing. Used clothing on eBay varies in condition, depending on how much it was worn or how it was cared for. Many shirts that are listed as used were only worn a few times and are in excellent condition. Others might show some signs of wear, but can still be worn. A shopper should consider whether or not the price of the shirt reflects the condition that it is in.
Price Range
Many women have a budget to work with when shopping for clothing. They also know how much they want to spend on a single shirt. When shopping on eBay, women can select the price range that they want to shop in by specifying a minimum amount and maximum amount. Additionally, shoppers have the ability to sort the search results by price from highest to lowest, or lowest to highest, including postage.
Keyword Search
There are two search options on eBay: basic keyword search and Advanced Search. Shoppers enter words that describe the shirt they're looking for into the search field to return a list of results for items that match the keywords. Any of the above options can be applied to the results returned to further narrow down the listings. The advanced search allows shoppers to specify keywords to include and exclude from the search. Additionally, they have the ability to specify a price range, buying format, and other options before performing the search.
Buying Women's Shirts on eBay
Buying women's shirts on eBay is a relatively simple process. Sellers post pictures and use words to describe the appearance and condition of the shirt. As shoppers go through the listings, they can use the pictures and descriptions to learn more about the item and decide if they want to buy the shirt. When shoppers have narrowed down the listings to a few shirts they are interested in, they should evaluate the seller and look at postage and packaging options before making a final decision.
Learning More About the Seller
Each listing includes a bit of information about the seller so that shoppers know who they're buying from. Along with the seller's username is a positive feedback score and a total number of completed transactions on eBay. The percentage represents the total percent of positive transactions out of all of the transactions that have been completed. Additionally, shoppers can read comments left by previous buyers to get a feel for how the seller does business.
Postage and Packaging
Shoppers need to consider the cost of shipping in the overall price of the shirt. Some sellers offer free postage and packaging with a slightly higher listing price while other sellers offer lower prices for the item but charge for postage and packaging separately. For this reason, the total cost of the item with postage should be taken into consideration when comparing listings.
Conclusion
Women's shirts can be worn for casual and dressy occasions, depending on the style and occasion. Finding just the right shirt can sometimes mean travelling all around town to different shops. Women who don't have time to do this can shop for shirts and other items online at sites like eBay. The stock listed on eBay is constantly changing, and with thousands of top listings at any given time, shoppers are sure to find just the right shirt for any occasion. Before they begin the search for the perfect top, shoppers should know the style, sleeve type, size type, and other details based on size. From there shoppers can begin sorting through colours, brands, materials, and prices. Some shoppers may also choose based on specific style as well. Both new and used women's shirts are available on eBay, so women can shop for hot fashion trends or cute vintage shirts.