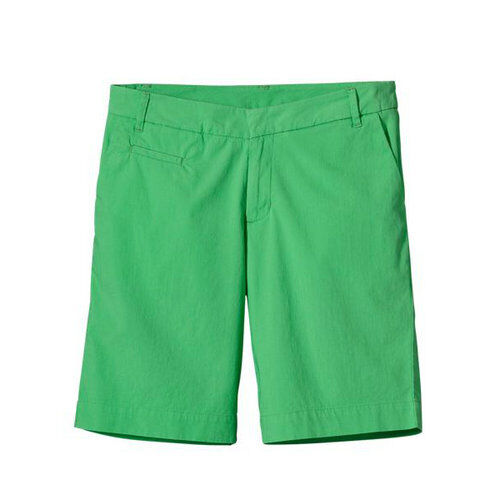 Buying women's shorts can be a very daunting experience. With so many selections, styles, and shapes it is hard to know which type of shorts look best on a woman. Each woman is built slightly different, so not all styles fit comfortably on all women. There are a number of tricks to selecting a pair of women's shorts that not only fit best on a woman's body, but suit her personal style as well. Knowing how to select women's shorts helps to take the frustration out of purchasing shorts from sources like catalogues, department stores, and online auctions, such as eBay.
Purchasing women's shorts involves making sure that the shorts are the correct size regardless of the style. There are many sizing guides available in fashion magazines, designer catalogues, and tailor's shops. These standard guides provide a woman with a general idea about size and fit. To find the perfect pair of shorts a woman needs to know her accurate measurements, her body style, and which shorts correct her problem areas.
Measuring for Women's Shorts
Taking accurate measurements is the easiest way to ensure a good fit. It is best to have a tailor or friend help to ensure that a measurement is correct. The first measurement that a woman should take is around the waist. The waist is the smaller portion of the torso, above the hip bones and below the ribs. Use a tailor's tape measure to circle the waist for this measurement. This helps a woman choose the best waistband while shopping for shorts. If shorts have a waistband that is too tight, they may be uncomfortable to wear. Sometimes an elastic waistband may be preferable.
Next, a woman should measure her hips. This is the portion of a woman's body that includes the widest part of the hip bones and the buttocks. The hip measurement determines how the shorts should fit the lower torso. Many women see this as a problem area when purchasing shorts. Accurately gauging the size of the hips can minimise this problem area.
The last standard measurement for women's shorts is the inseam. The inseam is the part of the shorts that stretches from the crotch of the shorts to the end of the shorts. It is easy to take this measurement using a pair of shorts that already fit comfortably, simply lie the shorts on a flat surface and measure the inseam.
The last measurement is of the lower part of the leg, which may be taken in the same manner as the inseam measurement. This measurement is not necessary, and is frequently excluded on most sizing charts, but it can come in handy for sizing shorts that have tighter legs. Some examples of these shorts include cycling shorts, workout shorts, and skinny-legged jean shorts.
After taking these measurements compare them to a standard sizing chart. When making this comparison, a woman ought to keep in mind that each manufacturer may have slight variations in size.
| UK Size | Waist (cm) | Hips (cm) |
| --- | --- | --- |
| 6 | 60.5 | 86 |
| 8 | 63 | 88.5 |
| 10 | 68 | 93.5 |
| 12 | 73 | 98.5 |
| 14 | 78 | 103.5 |
| 16 | 83 | 108.5 |
| 18 | 90.5 | 116 |
The size chart is just a general guideline. Many women have slight differences in measurements between their waist, hips, and thighs. Many of the measurements may not match exactly, so it is acceptable to try on a size larger or a size smaller, whichever is closer to the actual measurement.
Body Type
As with any type of clothing, body type has a lot to do with the fit of a pair of women's shorts. There are shorts that fit most classic body types, such as the standard polo shorts that end just above the knee. However, even these do not address many of the problem areas that women typically have. The most common body types and issues can easily be addressed with a different style of shorts. Keep in mind that these are only standards, not rules, and following the standards can provide a woman with a good idea of what fits her best.
All Body Types
There is a universal pair of shorts that is said to fit all body types. These shorts are loose around the legs and cover the body to the mid-thigh. Many women who have problems with their thighs may want to wear these shorts, which are long enough to cover the thighs, but not so long that they make the legs appear truncated. Designers refer to these as "day shorts" or "walking shorts". They make short legs appear longer and thinner, and make long legs appear slim and even. If a woman is shorter, then a good pair of heels or wedge heels also help to lengthen the legs. A taller woman may want to wear a pair of flats or trainers to complete the outfit, which accentuates her legs rather than her height.
Long Legs
The type of shorts that are best for women with longer legs and wider thighs are knee-length shorts. These shorts have a slimming effect on the legs by making them appear slimmer, without appearing too tight. Choose a slim fit because a wider fit can cause blousing, which gives the appearance of wider legs or a larger stomach. Knee-length shorts are typically not a good pair of shorts for women who are short; however, a short woman can still wear them and look good when they are paired with heels.
Short Legs
The best style for short legs are shorter baggy shorts. These shorts usually have an inseam that is about 10 to 15 cm long. Their short length allow women's short legs to appear longer, while still covering up problem thighs. The short length complements women who are shorter, but have thinner waists and hips. This is another style that looks attractive with a pair of heels, particularly wedge heels that highlight the calves.
Plus-Sized Legs
Women with plus-sized legs often have difficulty finding garments to wear. The same is true for finding shorts that minimise the problem, and maximise comfort and style. Bermuda shorts solve both of these problems easily. The wide legs assist in making the legs appear slimmer, while their higher waist conceals the stomach. These knee-length shorts are also considered dressier than other types of shorts. They can be worn by non-plus sized women who want a more professional look, and can be worn with heels or with flats, depending upon a woman's height.
Thin and Tall
It is a common misconception that tall, thin women do not have difficulty finding shorts that fit correctly and look flattering. Most types of shorts either make them look too skinny or accentuate the thinness of their legs. A good pair of shorts for the tall and thin are short shorts with folded cuffs. The cuffs show off the length of the legs, while making them appear thicker than they are.
No matter which body type a woman has, there is a pair of shorts that show her legs to their best advantage. Recognising and minimising the flaws of a woman's legs is a good way to choose shorts that are best for a particular body type. Once a woman finds a pair of shorts that fit properly, she can branch out into different styles of the same size to increase her wardrobe.
Buying Women's Shorts on eBay
A good place to browse for women's shorts is the popular auction website, eBay. If you enter in the search term "women's shorts" into the search bar, a listing appears for all of the women's shorts available for sale. You can either browse through the selection of shorts or narrow your search. Narrowing your search is as easy as changing the search terms to something more specific, such as "tan Bermuda shorts". This populates a list of all of the women's Bermuda shorts that are for sale on eBay. The same procedure can be followed for any type or style of shorts that you desire.
When shopping on eBay, there are a few things to keep in mind. Read the listing carefully, because it should give you information about the size and shape of shorts, as well as the shipping and return policies of the seller. Pay close attention to the size, length, and type of shorts in the listing. The listing also provides you with past feedback of the seller's reputation and business practices. This allows a buyer to know with whom they are doing business. From the listing page, a buyer can also ask the seller questions about the product before bidding or purchasing.
Conclusion
All women are shaped differently. When buying shorts, it is important for a woman to pay attention to her size, body type, and flaws. A woman can find the shorts that fit best by recognising the styles available and finding the most flattering for her figure. Finding the best shorts may include trying on several pairs in different styles to find the perfect fit. When ordering online, make sure that the catalogue or website provides information regarding a return policy in case the fit is not accurate. Most retailers are happy to answer questions about size and style before taking an order.
Women armed with an idea of the most flattering styles for their figures, and their correct measurements, can shop with confidence. Women can shop in catalogues, retailers, and online without having to wonder about whether or not the shorts fit and are stylish. Recognising one's own body type and features can help a woman to be less self-conscious when purchasing shorts.