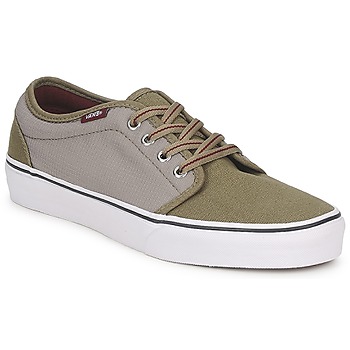 What's not to love about skateboarding? From the exhilaration of riding a board up walls to the thrill of mastering tricks in front of a crowd that always supports and cheers, skateboarding is as creative and fun as it is liberating; it is no wonder that some call it a way of life. The perfect shoes to go with this exciting sport are skate shoes; casual, flat, and specially designed for skateboarding, they offer better control over the board, minimise injury by absorbing impact, and enhance performance. Shoes not designed for skateboarding will simply not do, because they increase the risk of injury and wear out too soon. A savvy buyer should look for skate shoes that offer safety, flexibility, maximum comfort, and durability.
Since there is no such thing as a boring pair of skate shoes, the huge selection of cool pairs available from brick and mortar stores to online auction sites is as appealing as it is confusing. With the right information though, this selection is easily narrowed to a few solid choices. Before buying a pair of skate shoes, it is advisable to learn the salient features of a sound pair of skate shoes, what is appropriate and acceptable and what is not in the interest of safety, comfort, and durability. Armed with such information, one can weave through the diverse array of women's skate shoes on eBay with tips on how to make the experience pleasant and rewarding.
Selecting Skate Shoes
Skate shoes must be flexible and tough with solid traction, or they they wear out fast. A serious skater understands the need for protection and durability to prevent injuries, to learn something new while skating, and to have fun. It is important to understand the features of a good pair of skate shoes because an informed customer will always get good value for her money. That said, it does not hurt if the skate shoes are as good-looking as they are reliable.
Style
Considered an extension of the skater's personality, skate shoes come in such a profusion of fresh styles and colour combinations that allow everyone to express their originality with ease. Since skateboarding is all about fun, freedom, and expression, shoes come in simple fabric trims and accents or radiant hues with glitter, embroidered logos and lettering, splatter paint, polka dots, graffiti patterns, and even butterflies. From traditional silhouettes to sleek contemporary lines, the eye-catching styles have something for everyone. Even laces can be used to make a statement, with the hash, hidden knot, ladder, and lattice lacing styles, or luminescent shoelaces for those who like a little glow on their feet.
The Upper Material
The upper part of the skate shoes are often made from enduring materials like leather, suede, glossy nubuck, and canvas. Thick leather offers long-term comfort and skate-resistance, especially when it is treated while canvas is breathable and quick drying. Most upper material is a mixture of materials, such as textile with leather sides, or suede for the toe caps and side panels in canvas for proper ventilation. Some skaters who prefer animal-friendly material opt for synthetic materials, which are not as durable as leather but hold up better than canvas and do not cause odour. Some shoes are environment-friendly, like the hemp style manufactured by iPath. Waterproof material blocks out water and snow, and upper parts of the shoes are also padded for further protection. Super suede is revolutionary suede which looks just like ordinary suede but is extremely long-lasting.
The Outer Sole
One of the differences between skate shoes and ordinary shoes is the large, flat soles which have a strong grip to ride the board well; a standard shoe requirement for safety on any skateboard. A stout sole made from polyurethane or vulcanised rubber can endure the constant abrasive action of the grip tape on the skateboard's surface, protects the heel of the foot from injury from impact, and is tough enough to last. There are two types of skate shoes soles, depending on how the vulcanised rubber is attached to the sole:
Vulcanised Soles
The vulcanised soles are made by a hot process where the rubber is melted or glued onto the shoes. Vulcanised soles are usually thinner, lighter, more flexible, and cheaper than cup soles. Shoes with vulcanised soles are ready for immediate wear and use.
Cup Soles
The more expensive cup soles are made by cold moulding the outsoles onto the shoes with some stitching; they are more stable and longer-lasting than vulcanised soles because they are thicker. However, this thickness means they can add weight to the shoe. Cup soles need breaking in a few days before use.
Other Important Features
To reduce injury to the heel, arch, and ankle, the inner parts of skate shoes are heavily reinforced. Such reinforcements are a boon to skaters, giving an assurance of a safe and pleasant skateboarding experience.
Lining
The most common materials used for the shoe's inner lining are fur, fabric, mesh, and fleece. A shopper should give careful thought to comfort, breathability, and durability of the lining fabric, with warm fabrics used in cold seasons and cool fabrics for hot seasons. Tailex is a common lining in footwear because it is waterproof and keeps the moisture out.
Tongue
The tongue is the upper flap of material that covers the wearer's instep and holds the foot in the right place for a snug fit. For extra comfort, a lightweight or double-padded tongue will protect the feet from injury when trying out some new tricks like the kick flips.
Stitching
Triple- or double-stitching on the shoe fabric ensures that they will last longer with less wear and tear. A single line of stitching will suffice for those who are less interested in skating than they are in being seen.
Laces
Shoelaces for skate shoes are ultra-strong, and must be so to give secure support or they will break easily when least expected. The laces are mostly in flat or round shapes, solid, washable, and waterproof, with their eyelets strengthened with metal so that they do not tear off. Lace loops help to keep the laces out of the way, giving an extra degree of safety. The strongest laces are Kevlar-reinforced.
Heels and Toe Caps
Further protection for the feet and ankles comes in heel wedges, or extended heel airbags to form a soft cushion from injury. Toe caps are usually rubber or non-corrosive steel because softer material will wear out quickly. Some toe caps are perforated for ventilation.
Cutting Edge Technology
With cutting edge technology that enhances performance, comfort, and safety, skate shoes can only get better. Dynamic Grip technology found in DC skate shoes has the outsole with varying thicknesses depending on the area of the sole: soft rubber on the edge, hard rubber on the heel, and medium rubber on the inner forefoot. Stash pockets are great for keeping keys and valuables, while the springy foam material EVA (Ethylene Vinyl Acetate) cushion technology moulds itself to the contours of the feet for snug comfort. The shock-absorbing qualities make it ideal material for the shoe's insole. System G2, which has state-of-the-art shock-absorbing features, is another feature coveted by many skaters for their shoes. Not to be outdone, CHT (Coconut Honeycomb Tech) insoles wick moisture away from the surface and give advanced cushioning and arch support, while Globe skate shoes with their unique Hex Trac blend shock absorption and holding power into superior traction.
How to Buy Skate Shoes on eBay
There are thousands of skate shoes on eBay in varied materials, designs, and colours to suit every skateboard and every pocketbook. If you know what to look for, type in the keyword at the search bar on the eBay homepage to browse through what is available. You can also type in 'women skate shoes' with results that can be filtered through 'condition' and 'price'. Since brands are hugely popular for skaters, eBay has plenty of brand skate shoes including Adidas, skateboarder-owned Etnies, Globe, and Vans Era, Osiris, and Nike.
If you prefer, you can select 'UK only', for seller locations and distance down to a few kilometres, and you might find your next pair of skate shoes not very far from home. Take the time to read through the feedback on the seller from other buyers, and contact the seller if you have any further questions. Most sellers will respond quickly and send more pictures of the items if requested. Remember to ask about the seller's return policy and delivery. With local sellers, you can arrange for pick-up and get to try on your skate shoes to see if they fit well and are comfortable, as well as check the laces and soles for signs of wear.
Conclusion
With its roots in surfing, skateboarding has over the years changed from a hobby of the young to a popular family pastime. Before one rushes off to the park, however, she must have the right type of shoes for skating, to prevent injury and bruises and increase comfort so that nothing stands in the way of her perfect 360-degree flip. New and used skate shoes command a higher price than do ordinary shoes because they offer superior protection and comfort while enhancing performance on the skateboard. The extra padding on the side, toes, and heel make for a fun and safe session in the skating park.
Whether one is a professional skater, weekend enthusiast, or toe-dipper: anyone who gets on the skateboard needs the toughest shoes available. Tough skate shoes give skaters the confidence to try out new tricks, because they can count on their shoes not letting them down. Whatever brand, colour, style, or material, a sturdy pair of skate shoes will ensure that all skaters enjoy the ride.