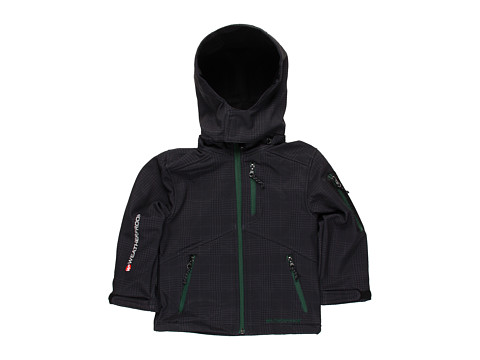 The coat is an essential part of any wardrobe whether male or female, child or adult, because of its adaptability. There are coat styles and fashions available for numerous occasions and any type of weather. The term "coat" goes back to medieval coats of mail, or chain mail, and functional mid-length male outerwear. Coats as outerwear became widespread in the 18th century and there are coat styles from the 18th and 19th centuries still worn today.
Purchasing coats for younger boys can be difficult. Aside from the active lifestyle of the average boy, the child is also liable to outgrow a new coat in a very short time. Young children in their primary years grow an average of 6 cm each year and put on an average of 2.3 kg in the same time frame.
A good boy's coat needs careful consideration, not only for the reasons mentioned above, but because children, even at young ages, are forming opinions of clothing that they like or do not like. A boy's coat can be purchased through many children's clothing retailers, department stores, and online through websites, such as eBay. Know the options for practicality or style, how to size coats to get the most out of the purchase, and what features to consider, and what not to consider.
Coat Features
A coat should not be an impulsive purchase. However, there are many features on a coat that it can be difficult to reconcile what kind is needed for a particular boy. A customer must take into account things like the child's lifestyle, hobbies, and manner. A few features are discussed here.
Hoods
Hoods protect the head and face from wind, rain, and sun. The coat hood is also an additional warming feature, for those breezy and chilly days, especially hoods with fur edging. There are many that come with removable hoods, allowing more versatility.
Some children think hoods are restrictive; pulling a hood tight may feel uncomfortable or limit eyesight, but nearly all come with adjustable straps or ties. However, the hood can be an option to woollen caps because they are attached directly to the coat. That means less chance of losing the headwear in play or while exploring.
Lining
Lining adds an extra layer of warmth to a coat. Boys who live in cool climates appreciate the insulating effect of a lined coat. Lining is also another protective layer against the rough and tumble of a boy's everyday life. Lining can also be removable, though off-the-rack coats have lining sewn into their interiors.
The disadvantage, however, is the work that comes when washing the coat. Unlined coats are easier to wash and dry, not to mention easier to remove dirt. Considering that boys get dirty every day, it is a significant consideration.
Fasteners
Buttons, zips, and velcro keep a coat on a boy. Why consider the fasteners? Younger boys who still have imprecise motor control find buttons hard to manage, in which case velcro or zippers would be the better choice. If there's no choice other than buttons, look for buttons that are large enough to handle easily.
There are not many coats with velcro-only fasteners, usually being paired with buttons or zips. However, they are the easiest coat fasteners to manage.
Pockets
Boys are active creatures in general; pockets are a must in their coats and trousers. Zipped pockets are a good choice as they keep objects from falling out easily, though velcro can work just as well with the addition of easier access.
Big, roomy pockets are recommended, as numerous small ones are both frustrating and difficult to get inside, unless, the child has a specific hobby that needs numerous pockets. Pockets with inner compartments are also available in many shops.
Material and Fabric
The coat fabric is also an important consideration. A boy's coat needs to be sturdy, comfortable, yet allow for a wide freedom of movement.
| Material | Advantage | Disadvantage |
| --- | --- | --- |
| | Light, comfortable, with a casual feel; polyester fleece insulates even in the coldest climes | Can be heavy; polyester can be scratchy and irritating |
| | Sturdy, adaptable material; can be waterproof, allows air flow | Too thin for cold weather, needs added insulation |
| | Tough, adaptable | Can be heavy; not suitable for children's wear in hot climates |
| | Finer than silk; soft material that does not irritate skin | Too thin for cooler climates; too fine for active lifestyles |
| | Warm, sturdy | Lower quality wool can be scratchy |
| | Versatile, breathable; can be worn in both warm and cool climate | Sometimes not sturdy enough for vigorous activity |
When thinking of the coat material, considering the effect on sensitive skin is important. Many parents consider purchasing clothes made from organic material, another popular option, rather than synthetics because of environmental and health concerns.
Lighter and more breathable organic fabrics can be just the thing for a boy living in warm areas. Still, manmade fabrics can be less expensive and offer more options, like windproofing and extra sturdiness. They also have water-repellent options, thermal options, or more warmth with lightweight fabric.
Coats for Different Seasons
Consider weather and climate when choosing coats. Children, in particular, are vulnerable to weather changes especially as many prefer outdoor play to indoor entertainment. Different coats should be purchased for various seasons.
Winter
Winter weather can start in November, but winter officially runs from December to March. These are the coldest months in the United Kingdom. Coats that are wind-resistant and warm are recommended. Rain is a staple of weather in the United Kingdom, so waterproof coats are useful in all the seasons.
Spring
In spring, the weather is just beginning to warm. Warm fabrics and thick coats are still needed at this time. The rains also increase in regularity, thus the need for hoods and waterproof or water-repellent coats.
Summer
Summer is supposedly sunny, but weather in the United Kingdom is notoriously variable. There are hot spells, balmy days, and quite a bit of rain in the summer. The summer months need a coat that is wearable for all kinds of day weather. Coats with waterproof nylon outer layers, but allows enough airflow to cool the body on a sunny day are ideal.
There are exceedingly hot days in the summer too, where it is not necessary to wear coats or sweaters. Still, a light coat for going to the beach ensures readiness for sudden weather changes.
Autumn
The autumn months, from September to November, are those with the most fluctuations in weather conditions. Even in October, it can be as hot as summer. Like summer coats, autumn coats are versatile and easily wearable for the greatest number of weather changes. Purchasing a coat that can resist wet and windy weather is a good choice.
Boy's Coat Sizes
A coat bought for a young boy may not fit a few months later. Because of this, choosing a coat that lasts is a problem. Some get around the issue by purchasing cheap coats that can be thrown out or given away when outgrown. But there is something to be said about acquiring high-quality coats to better protect boys, especially those with active lifestyles.
The chart below is for sizing by height, weight, and age.
| | | | | | |
| --- | --- | --- | --- | --- | --- |
| Size | XS | S | M | L | XL |
| Age (yrs) | 4 to 5 | 6 to 7 | 8 to 9 | 10 to 12 | 13 to 15 |
| Height (cm) | 92 to 107 | 107 to 122 | 122 to 137 | 137 to 152.4 | 152.4 to 165 |
| Weight (kg) | 16 to 19 | 19 to 22.7 | 22.7 to 27.2 | 31.8 to 40.8 | 40.8 to 52 |
It is advisable to purchase a coat that is a size or two bigger than what the boy should be wearing, allowing the child to grow into the coat. Be sure that it is not too big or the coat can trip up the boy or contribute to clumsiness.
How to Buy a Boy's Coat on eBay
Physical stores sometimes do not have the selections you want, and the greater variety at online stores are attractive. There are many online stores, but marketplace sites, like eBay, can have the most choices available at every kind of price. Simply enter the type of coat you want in the search bar and that you can afford, and a slew of coat listings are populated from which you can choose. A search for boy's winter coats, for instance, allows you to see a selection of warm outerwear in all colours and styles.
As always, make sure to do a little digging into the seller's qualifications or feedback, as well as the authenticity and condition of the coat in question. Many sellers give a limited time where the customer can return a purchase. Unless you live near the seller, you may have to spend extra money returning an item if it was not quite what you expected.
Conclusion
Care in choosing a boy's coat is important. A good coat is indispensable, as they are sturdy outerwear. Whether a boy is playing in the snow, walking home from school in a drizzle, or playing with friends outdoors, the coat is added protection or warmth for the child. For the majority of days, a boy needs a coat that can be used for numerous tasks, easily cleaned or washed, and easily put on and taken off.
If buying a seasonal coat, considering its material and fit is important. Insulating material, like fleece and wool, ought to come with a softer lining to prevent skin irritation. A winter coat should be larger than usual, so a boy can put on an undercoat or two for extra insulation. Summer coats should be able to withstand both rain and heat. A well-chosen coat serves a boy for years, even when he has an active lifestyle and trudges through rough weather.