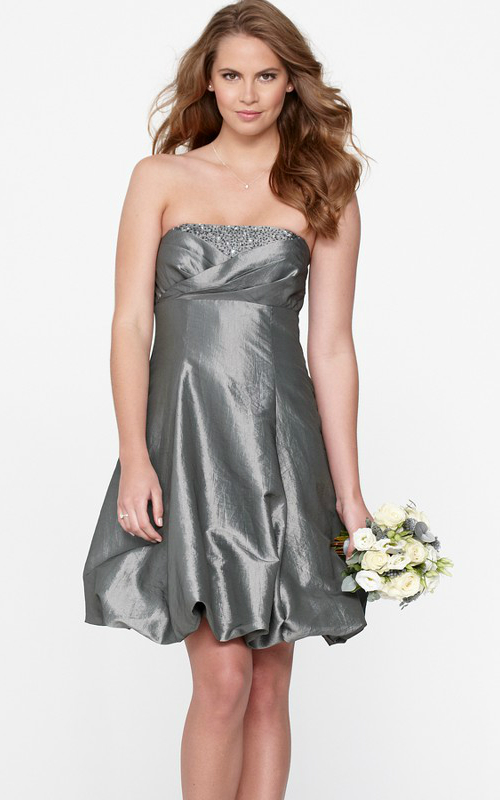 One of the more significant aspects of any wedding is the attire. The clothes that the matrimonial party wear help to set the tone for the entirety of the event. The bride's dress highlights the event, but the outfits worn by the bridesmaids are also important. Traditionally, bridesmaid dresses mimic the bridal gown in colour and style. The modern bridesmaid, in essence and practicality, supports the bride in whatever endeavours she undertakes to make the wedding memorable. Historically, they were decoys that prevented the kidnapping of the bride and the stealing of her dowry. Bridesmaids and groomsmen in Roman tradition directed bad luck away from those to be wed.
Knowing how to go about choosing and purchasing a bridesmaid dress makes the nuptial preparation go all the more smoothly. Having said that, choosing the bridesmaid dress is nearly as important as selecting the bridal dress. There are a number of factors to consider when purchasing a bridesmaid dress on eBay, like the different dress styles, fabrics, colours, and appropriate sizing.
Planning a Purchase from eBay
Bridesmaid dresses are a big deal that need a great amount of planning, especially if the plan is to buy them online, on eBay. Take note of the following before putting in that order.
The Sellers
One of the reasons for eBay's popularity is the fact that anyone can post anything for sale. The site does have tools for buyers to evaluate their buying experience and seller service. There are many eBay merchants who offer excellent service, but there are also those that are the opposite.
Some eBay sellers provide links to offsite stores and selections on their pages. It only takes a few minutes of work to check those to determine the sellers' worth, as well as to see more variety of the dresses they offer.
The Time Frame
Beginning a search for a bridesmaid dress should ideally be done months before the wedding. Time-pressured purchases do not allow the buyer to fully evaluate the different options present for the most appropriate bridesmaid dress.
If pressured for time, check how long the seller estimates the purchase needs to reach the buyer. If this information is not given on an item page, it is always possible to ask the seller directly. If provided with the specific courier the merchant uses, it can also be a good thing to research the courier as well.
The Product
The quality of the product is important. Bridesmaids are, while not the primary focus of the event, nearly as important as the bride and groom. A dress that does not fit or is made of shoddy craftsmanship detracts from the overall look and feel of the wedding. Not to mention, a bridesmaid wearing such a dress would not feel comfortable for the duration, limiting enjoyment.
Check seller and product feedback from prior customers to determine whether the seller has a record of offering top-quality dresses.
Popular Bridesmaid Dress Options
It was mentioned earlier that, in general, bridesmaid dresses mimic the overall style of the bride's gown. However, increasing numbers of couples plan on dressing their attendants in unique fashions.
Dress Styles
There is no fixed blueprint for a bridesmaid dress in these modern times and one is free to make a choice, unhindered. Long, floor length dresses are traditional, but bridesmaids do not have to keep to that standard. Some popular options are mentioned below.
The A-Line Dress
An A-line dress is narrow at the top and flares out at the bottom. Its popularity comes from the fact that the A-shape flatters a good many body types. When looking for dress styles that suit multiple people, this is an advantage.
The Little Black Dress
This legendary little black dress really is a catch-all for every occasion. The classy look and feel that the LBD provides certainly adds a whole other dimension to the event, from the wedding march to the late-night reception. The best thing is, this little number can be used again in occasions beyond the actual marriage event.
The Sheath Dress
The simple design of sheath dresses allow them to be customised to fit any kind of wedding theme. Not to mention, it takes care of all the worries about bridesmaid dresses upstaging the principal gown. The sheath dress is close-fitting, however, as a result of this, some bridesmaids may not be too fond of it.
The Summer Dress
Any style of dress can be incorporated into a wedding. The flowing fabric of the summer dress, while not reaching floor length, is fluttery enough to evoke the cool, breezy outdoors and imply pastoral innocence; This makes it a good choice for a first union. These are also first-rate dresses for junior bridesmaids.
The Empire Dress
The high waist of the empire dress and its loose, flowing fabric is suitable to a majority of body types. Most dresses with empire waists have the same advantage. It is also relatively simple to customise. A line of flowers across the top, for instance, would help bulk up small chests. The loose gown is generally flattering for all types of hip shape, though it would be especially helpful in slimming down wide hips and thighs.
Mismatched Styles
The simple fact is, a bride can't really choose her bridesmaids based on body figure. Well, actually she can, but traditionally, bridesmaids are close friends of the bride. The point is, a wedding party is most likely to have different kinds of people with different heights and body shapes. A solution is to decide on a certain theme and allow the bridesmaids different dress styles based on their own preferences.
Materials and Fabrics
There is a wide assortment of fabrics from which bridesmaid dresses are made, from crepe to velvet. Some are excellent for certain types of dresses and others are great for all dress types. Knowing the perfect fabric for a dress is just one more step closer to that most sublime bridesmaid outfit. The following are some of the more popular fabrics for wedding gowns and bridesmaid dresses.
Taffeta
Taffeta is made from silk, or silk blended with other fibres. Apart from being visually faultless, it's best known for durability. When a bridesmaid wears taffeta, she can be sure that her dress holds its shape and she does not have to worry about how the dress looks in the wedding pictures.
Choose taffeta for that crisp look and classy feel; perfect for the more traditional or formal marriage ceremonies. It is difficult to wrinkle, which is an added bonus for the active bridesmaid.
Satin
The glossy exterior of satin dresses is popular with many of those who plan nuptials. The way the material catches light can provide an added pop and glamour to evening wedding rites, or maybe just in places where creative lighting is planned.
Many people look at satin and think: luxury. Think of it as a way of sending off the happy couple with wishes of prosperity. Satin can also be used to add a touch of the dramatic to the bridesmaid party; it is a rather eye-catching fabric after all.
Chiffon
Lightweight and airy chiffon is an infinitesimal sip of whimsy in a ritual that more often than not is serious business. Summer weddings and beach weddings benefit from the more casual flair that chiffon adds to any theme.
It is a good choice when planning for layered dresses because the fabric is sheerer than some. The naturally wrinkled look of chiffon also does wonders for the texture of any chosen bridesmaid dress.
Lace
When people think of lace, they think Southern traditional or goth lolita chic. That is not to say that lace should be relegated firmly to rustic matrimonial leitmotifs or paired with excesses of eye shadow. Lace can accent any kind of female outfit, from floor length gowns to cocktail dresses.
Colours
Colours are the most eye-catching part of a dress, so of course they are important. Modern bridesmaid styles do not still have to mimic the bridal gown, though they usually call for some consistency. Black is always a popular colour that goes with everything.
But a bridesmaid dress can come in many hues. In fact, bridesmaids do not even have to attend in exactly the same colour. A theme of green, for example, can have multiple bridesmaids wearing a different shade of the colour, from forest green to yellow green to sea green, and even turquoise.
Some planners choose bridesmaid dresses in seasonal colours, depending on when the ceremony is held. For example, a nice hunter green or an elegant burgundy for an autumn wedding. The more technologically-oriented grey, silver, or platinum shades are also popular.
Sizing a Bridesmaid Dress
Bridesmaid dresses are often custom made to fit, and it is easy to receive mistaken measurements. Doubly so when there are bridesmaids that have to communicate their statistics over significant distances. The following are some pointers on obtaining accurate measurements.
| Measurements | Do's | Don'ts |
| --- | --- | --- |
| Bust | Measure the bust line at the fullest part of the chest and wear a bra, stand naturally; the tape should cover the widest part of the back | Do not take cup size or bra size as measurement |
| Waist | Place the tape at the smallest part of the waist, or natural waistline, generally about an inch above the belly button; measure a little loosely | Do not pull the tape too tight, suck in the stomach, or measure at the point where jeans button unless it is above the belly button |
| Hip | Stand in relaxed posture; the tape should go around the fullest part of the hips | Do not pull the tape tight; do not forget to leave a little room between tape and hip |
There is an option that allows taller bridesmaids to add length to the skirt of their dresses. After measurement, check against the dressmaker size charts to determine a suitable dress size. Different dressmakers can have different sizing systems so knowing one's own measurements goes a long way to ensuring size accuracy and a more comfortable fit.
Buying a Bridesmaid Dress on eBay
Bridesmaid dresses do not always have to be ordered to custom sizes. As mentioned above, any kind of dress can serve as a suitably appropriate dress for a member of the wedding party. One of the easiest ways to get a good selection of bridesmaid dresses is by using eBay. Of course, aside from marketplace sites, there are also specialty shops that exclusively sell bridesmaid dresses.
Any one of such can serve your purpose easily and efficiently. For example, navigate to any page on eBay, and simply type in a search for a bridesmaid dress and you're all set. There are additional options offered to narrow down your choices, but you can always type in a more characteristic or distinguishing search term to automatically narrow down the choices. A search for 'pale yellow bridesmaid dress' offers a selection of yellow dresses in different sizes, shades, and styles suitable for any bridesmaid.
Conclusion
Buying a bridesmaid dress in boutique stores may not always get a person the dress they desire. On the other hand, a custom fitting would be an excellent move, as the bridesmaid does not have to worry too much about sizing and style.
A wedding is important to every woman involved. A bridesmaid is an integral part of the wedding event, because she is one of the people who anchor the bride on, before, and after the actual marriage. Planning and choosing dresses that flatter every bridesmaid is one way to thank them, not to mention, it allows the marriage rites to proceed all the more beautifully and all the more memorably.
There are always horror stories about ugly dresses, ill-fitting gowns, fashion accidents, or inappropriate dress styles in bridesmaid lore. The information contained in this guide helps to prevent such disasters from happening on a day that is precious to all involved.