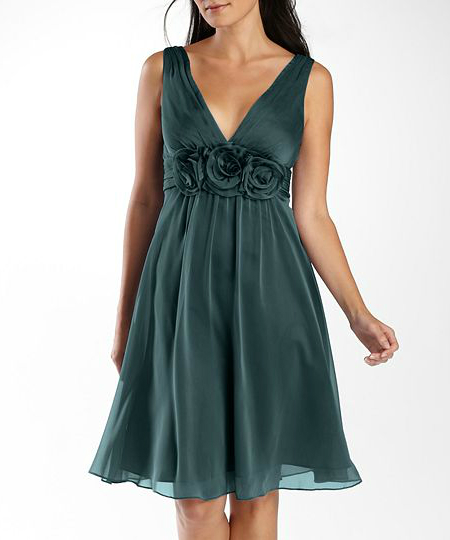 A bridesmaid dress makes for one of the wedding's most stunning visual impressions, and that is why brides and bridesmaids can both spend weeks choosing the right dresses and accessories. Many times, women are bemused by the sheer number of conflicting sizes, colours, styles, and fabrics. It can cut down on the dilemma to consider one of the most popular and versatile fabrics for bridesmaid attire: chiffon.
Chiffon bridesmaid dresses are all the rage because of the adaptability of the fabric. Chiffon dresses can look feminine without seeming too girlish, and adorable without seeming childish. If nothing else, choosing a chiffon dress limits the formerly innumerable options to a manageable volume. Chiffon bridesmaid dresses can be purchased from bridal shops, department stores, and on the online auction website, eBay. There are a variety of considerations when purchasing a chiffon bridesmaid dress, such as the pros and cons of the fabric, the different styles available, and appropriate sizing.
The Chiffon Fabric
Chiffon is lightweight, plain-woven, and diaphanous. It is made of woven silk, though some incarnations are made of polyester or silk-polyester blends. It has been used in clothing and accessories since the early 20th century and is still popular today. Chiffon is rather versatile, and popularly used in wedding attire and formal evening wear. It can also be used in everyday wear, such as blouses, skirts, and pyjamas along with sundries, like scarves and veils. The traditional Indian sari is generally made of chiffon.
Advantages

Disadvantages

Durable

Absorbent and cool on skin

Simple to dye

Less expensive than other wedding fabrics

Easy to clean or wash

Can last years with appropriate care

Lightweight

Compatible with most other fabrics

Drapes well

Lustrous

Can shrink or be stretched out of shape without proper care

Fabric easily bleeds colour

Easy to fray and damage

Difficult to cut and sew because of slippery qualities

Can be weakened by sweat and sun
Good quality stitching can prevent chiffon from fraying easily. Also, ironing chiffon fabric while damp helps prevent wrinkles, which saves time and prevents frustration.
Styles for Chiffon Bridesmaid Dresses
Most styles can be cut from chiffon fabric, but every type of fabric has a number of styles in which the qualities of the material can be emphasised in positive ways. Therefore, some dress styles are more flattering in chiffon than others.
A-Line Styles
A-line dresses are a good choice for chiffon fabric, and the shape is wonderfully flattering. The advantage of A-line dresses is that they are compatible with a majority of body shapes because of the tight bust and waist, coupled with a flaring skirt. These characteristics, in addition, can add a touch of elegance to long bridesmaid dresses; or if short skirts are chosen, a hint of summer style.
There are many A-line styles available, and they ensure that a bridal party has the flattering chiffon dresses that are highlights of a wedding.
Layered Styles
Chiffon is a sheer fabric, therefore, particularly receptive to layered designs of dresses. Layers can be made of different materials to add texture to a dress. A basic slip dress or a tank dress as an undergarment to the chiffon can create a softer and more feminine look. Layered styles are adaptable, and complement sleeveless dresses or those with short sleeves.
Layered dresses can be a good idea when planning a wedding for days with mild to cool weather, like spring. Layered chiffon can be worn with a pair of flats. Ballet flats, as well as a number of styles of soft boots, are also suitable to wear with layered chiffon dresses. Strappy heels are also great additions to the look.
Haltered Styles
A halter dress can exude simple elegance, which makes it popular for many formal or semi-formal events, like weddings. Long dresses, or knee-length styles, look good in chiffon. Simple heels or flats complement the style well.
Long-Sleeved Styles
When dressing for a more traditional feminine look, long-sleeved styles can be the answer. Paired with the light drapes of chiffon, it is possible to get an innocent, yet elegant look for bridesmaids. Long-sleeved styles pair well with junior bridesmaids, although women of any age can wear the style. Long sleeves commonly go hand-in-hand with high-necked styles, which add to the traditionally graceful or refined feel.
These looks go well with rich brown or purple colours, though softer colours are also welcome. High heels and stockings pair well with long-sleeved styles; however, if stockings are felt to be too old-fashioned, it is possible to inject youth with personal style options. Long-sleeved styles can match vintage wedding themes flawlessly.
Summer Styles
The light, airy chiffon fabrics are well matched to the many styles of summer dresses. Of course, a wedding may not necessarily be summer-themed, but summer dresses can transcend the season for which they are named.
Summer dresses are simple and exactly the type of style that allows chiffon fabric to bring out the best of their accents. As long as thigh-high or excessively bulky boots are avoided, there is little in footwear that does not accentuate summer styles.
Pleated Styles
Pleated designs are similar to layers; they can come in tiers, folds, and similar embellishments. Pleats, like layers, typically look best with short sleeves. Pleated styles can add a little spice to simple dress designs, include some bulk in a bridesmaid dress where needed, or tuck in places that need to be tucked. They are really a quick fix wrapped in a decorative adornment. Pleats can be used to minimise imperfections in body shape, while other aspects of the dress maximise the body highlights.
Try low heels and strapped sandals, like dressy gladiators, with pleated styles, although there is something to be said for strapped high heels as well.
Sizing a Bridesmaid Dress
One of the problems many bridesmaids face after choosing a style is sizing. After all, it is rare that every bridesmaid chosen has the exact same body shape or size. Size depends on how the dress is cut. However, the ideal dress style needs to be sized to the bridesmaid.
Bridesmaid dresses are, in many wedding plans, custom made for a particular individual. This means multiple fittings are required and sizing issues may be dealt with accordingly. Size is a big deal. An ill-fitting bridesmaid dress casts a bad note over the entire matrimonial event.
When measuring for a dress, it is important to keep several things in mind. First, wear undergarments, or a thin slip, when taking measurements. It is imperative that room is allowed for undergarments, or the dress may be too tight when the day to wear it arrives. Second, measure parallel to the fullest part of the bust. Take note that a bust measurement is different from a bra size or cup size. Third, the natural waist of an individual is above the belly button. This is where a person should apply the tape measure when asked for a waist measurement. Fourth, the hips, like the bust, should be measured along the fullest part. Fifth, dress length is measured from the shoulder to the chosen hem of the dress. It is better to measure a little longer than shorter; it allows for alterations in the length. Finally, if measurements are not exactly congruent to a standard size, choose the next larger size. A dress is easier to tuck in because the size is a little loose; it is harder to let out when it is too small or tight.
| | | | | | |
| --- | --- | --- | --- | --- | --- |
| Size | XS | S | M | L | XL |
| Size (UK) | 6 | 8-10 | 12-14 | 16 | 18 |
| Bust (cm) | 83.82 | 86.36 | 91.44 | 96.52 | 104.14 |
| Waist (cm) | 60.96 | 63.50 | 68.58 | 73.66 | 78.74 |
| Hips (cm) | 88.90 | 91.44 | 96.52 | 101.60 | 106.68 |
Bridesmaid dresses need to be perfect, or close to it. Most of the time, the bridesmaid has to get the dress altered to fit more precisely, even when she has taken accurate measurements for her dress.
Conclusion
The innumerable variety of options for bridesmaid dresses is mind-boggling for the bridesmaid or the bride that has to take care of countless other small and large details as well. Choosing chiffon as the material for bridesmaid attire allows the individual to leverage its versatility. This cuts down the number of worries when planning. Aside from its lightweight features, chiffon is translucent and lustrous, easily draped and contains a smoothly flowing fabric. This means a dressmaker does not have to try very hard to make a chiffon dress look like elegance personified.
The different styles that complement chiffon material provide a bridesmaid with options that help her support the principal characters of the wedding, while looking her best on the special day. Bridesmaid dresses do not have to be as unsightly as a certain wedding myth states. The varied selection of chiffon bridesmaid dresses on eBay helps the ideal bridesmaid to choose her dress in the appropriate size and style.