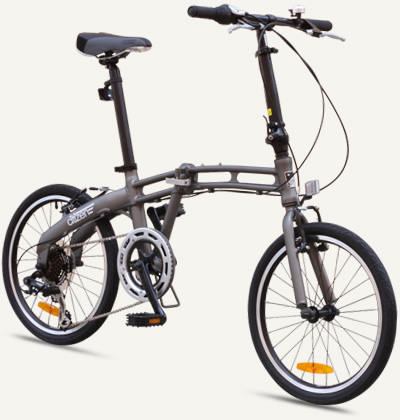 Folding bikes provide a great alternative to those who are either unable or unwilling to use a full size bike. The main consideration for purchasing a folding bike is lack of storage, whether this is at home or on your daily commute. Folding bikes have come a long way since their invention at the turn of the 20th century, and there is a wide range of options available on eBay to suit your needs.
Purposes of Folding Bikes
The first question to consider is what purpose you are intending for your bike to serve. Once you have the answer to this then you can get a much better idea of what kind of folding bike would suit your needs and narrow down the options out there. Folding bikes these days can be considered as a suitable replacement for many different kind of bikes, though the more specialist and demanding uses, such as downhill racing, still require a full frame bike suited to that purpose.
There are a number different types of folding mechanisms available on the market, and the main differences are between how effectively the bike can by compacted, and how durable the mechanism is. There are three main options, which are discussed below.
The Break Away Folding Bike
The two main options used by manufacturers to create folding bikes are either hinges, or part disassembly, and the break-away folding bike uses both of these options. This means that it takes longer to dismantle and can require specialist tools, but has the advantage of compacting down a smaller size. If considering this option you should check that the seller is including the necessary tools. It is also worth taking a quick look on eBay to see how easy it is to purchase replacement tools, and perhaps purchase a spare set as a fall back.
The Half Fold
This option is usually has a full size frame, or is close to it, and it has a hinge or a clamp in the centre where the bike can be folded in half. This means that it doesn't compact down as small as the other options, but provides a ride experience similar to that of a non-folding bike. This would suit those who want a full frame bike, but are unable or unwilling to store it. As it doesn't reduce down in size as much, it is not as suited to being taken on public transport as a break away or triangle folding bike, particularly on busy commuter trains.
The Triangle Hinge
This is perhaps the most widely available folding bike option. It works on the principle of hinges and clasps to fold the various components of the bike into a small package. While it doesn't collapse as much as break away folding bike, it is small enough to make carrying it feasible, whilst still folding down quickly and easily.
Accessories
There are a large number of accessories available on eBay for folding bikes. As well as having the usual accessories available to non-folding bikes, such as lights, mud guards etc., there are also a number of specific folding bike accessories. The main one to consider is a bag to place your folded bike in, this is exceptionally useful if you're using it to commute as it makes it easy to carry whilst using public transport and keeps your clothes free from dirt or grease on the bike. There is also front and rear panniers for those who want to be able to carry items without using a ruck sack. These come in a number of different looks and sizes to suit any need.
Choice of Materials When Considering the Frame
With the rise in popularity in cycling there has been an ever increasing range of options available when choosing the material you'd like the frame to be made out of. These have an impact in the functionality of the bike, as well as affecting the cost, so it is important to have a good knowledge of the differences.
Aluminium
A popular material for bike frames due to the fact that it's light and doesn't rust. However, it was never as prolific as it might have been as aluminium is a not as rigid as other options on the market, and can bend or deform. It does tend to be more affordable than other lightweight materials such as carbon fibre though, so it up to user preference whether it matches your needs. If buying a used folding bike then check the sellers description and images carefully to ensure that the frame is not warped or damaged.
Steel
One of the early materials used for bike frames, steel was a good option as it was rigid enough to provide stability whilst being flexible enough to be a long lasting material. It is the heaviest of the options available though, and you should consider the added weight carefully, especially if you're going to be carrying the folded bike any distance. It is susceptible to rust as well, so should be stored indoors in a dry area, and make sure to check listings carefully to ensure that they're rust free.
Chromoloy
This is the next step up from a steel frame, and is made from adding in extra carbon during the manufacturing process to create a frame that is both stronger and lighter. It is an easy ride, and a good option when considering a folding bike. It is also the most popular material for those folding bikes made recently, being both effective and affordable.
Carbon Fibre
This is the lightest material that is widely available on the market, and one of the more expensive options. It is also more prone to cracking as carbon fibre is less flexible than other options. If stored and looked after correctly then it is a good option if it is within your budget range, and with careful searching you can find some bargains on eBay.
Titanium
This is a very lightweight and strong material for a folding bikes. It is also one of the most expensive options available, and so is only used in top of the range products. It is highly resistant to corrosion, meaning that with proper care it will last a long time. However, the higher cost can put it out of some buyers budgets, and it is important to consider if you need a titanium option or if another material will be as good a fit for you.
Different Brands Available
There are a number of different brands available due to the popularity of folding bikes. The best known is most likely Brompton, but other brands to watch out for are:
Moulton
Airnimal
Birdy
Dahon
Bike Friday
Tern
These are just a sampling of the main ones out there, and with a small amount of time spent running through the options available on eBay, you'll be able to find the right one for you.
Finding a Folding Bike on eBay
Folding bikes have risen in popularity in recent years, so when buying on eBay you can take advantage of the wide selection available of used and new bikes available, as well as the flexible payment and shipping options. As there is a large amount of options available it can seem overwhelming, but by using the categories and filter options on the left hand side menu, you can easily find what you're looking for.
Starting off on eBay's homepage you can navigate to the Sporting Goods category using the option on the left of the page. You can further narrow this down by clicking on Cycling, then Bikes, and then Folding Bike. Once you have brought up the list of bikes available, you can further narrow it down by brand, gender, condition, price and so on. If you don't have a specific brand in mind it is worth checking out what the different varieties are selling for so that you can be sure of getting a bargain.
If you prefer you can simply use the search function at the top of the page on eBay, which has the added bonus of enabling you to be as specific or as vague as you want.
When comparing the listings carefully review the information that they've included, making sure that the folding bike is the right size for what you're looking for. Read the description and study the images that the seller has put up of the product. If you have any questions then you can easily Ask the Seller, and feel free to ask them to provide extra information or additional pictures if an item isn't clear. eBay has also provided a Buying Tips page, which you should read through before purchasing so that you can take advantage of it and be sure of getting the best deal.
If you're not ready to buy the item then you can place it in your Watched Items whilse you consider it. When you're ready to purchase it you can place a Bid, Buy it Now, or put down your Best Offer. If competing in an auction then make a note of when the listing is ending, as well as the best offer feature, so that you don't miss out. Part of the benefits of going through eBay is that you can use PayPal for the payment, who provide a smooth and easy service for both buyer and seller. Remember that when you buy through eBay you're protected by the Buyer Protection Program.
Conclusion
Though the number of options available when looking to buy a folding bike can seem overwhelming, some knowledge of the basic varieties out there means that you can be sure of getting a bargain. Whether it's a used or new option, you can narrow down the options by folding type, material and so on, so that you can sure of getting the bike that suits your needs. If in doubt simply consider the options with regard to what you'll be using the bike for, and remember to take advantage of purchasing any accessories you require at the same time.