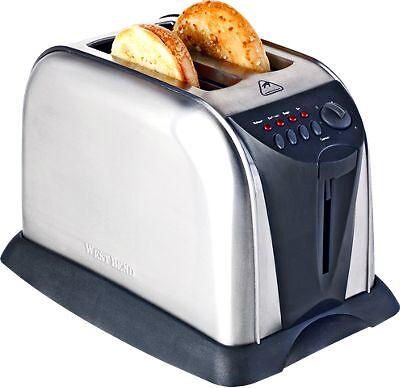 The humble toaster is one of the most popular small appliances for a kitchen on the market, and most homes will have one. Toasters have come a long way since their origin in the late 1800s, and many are now capable of toasting a variety of items and to different specifications. Before toasters were available, the only option for making toast was by placing slices of bread on a toasting fork and holding it in front of the fire until it was done. Nowadays, the toaster is not just an essential item, but also a style statement for the kitchen, with them being available in a multitude of colours and designs.
About Toasters
The most common type of toaster available, and the one associated with homes is the pop-up toaster, also known as an automatic toaster. These toasters can hold two or four slices of bread, which are inserted into an internal cage within the toaster, where it is heated for the length of time determined by the thermostat on the side of the toaster. When toasting is finished, the toast will pop up. All in all, it takes about 1 – 3 minutes to toast the bread. It is possible to find pop-up toasters in a style and colour to suit any kitchen. They can be in a sleek stainless steel designs, utilitarian white, chunky, coloured country style, or bright and funky. Because of this, it is important to assess the desired style and look of the toaster before purchasing. No matter what the kitchen colour, the chances are that there will be a toaster to match. Industrial sized six and eight slot toasters are available, although less widely. They are popular in restaurants and cafes.
Novelty
Novelty toasters are also available to suit any whim. These toasters are usually pop-up toasters and can come shaped in various ways. Campervans, kettles, Lego brick and apple designs are just some of those available. Another novel invention is plates that are placed inside the pop-up toaster, which allow a design to be burnt onto the surface. These are very popular with children, but designs can be found for all tastes, including ones for special occasions such as Valentine's Day, birthdays, and Christmas.
Functions
As well as the basic functions of a pop-up toaster, many modern toasters have additional functions. This includes a defrost setting and a bagel setting, which allows for thicker bread such as bagels to be toasted. The number of slots and functions on the toaster will influence the price of the toaster. Brand will also play a large role in the price, but pop-up toasters can be found across the board of budgets. Deciding on the style, size, function and budget of the toaster purchase is essential before committing to buy to ensure that the right appliance is bought.
Conveyor
Another design of toaster is the conveyor toaster. This sort of toaster is for industrial use. They are controlled by a time, and the slices of bread are placed on a conveyor belt. This belt then carries the bread through the toaster and under a heating element, which toasts the bread. These machines are able to toast between 350 and 900 slices of bread in one hour. Due to their size and capabilities, conveyor toasters are far more expensive than pop-up toasters and are not for home use.
Oven
The third kind of toaster available is the toaster oven. These are still small kitchen appliances but are larger than a conventional pop up toaster. Again, these are popular in cafes, but can also be used in the home. They are a handy gadget in small homes and single person homes as they are multi-functional with a small footprint. A toaster oven is essentially a small oven with a door at the front and a tray inside it. The bread is placed on the tray, the door closed and the bread is toasted. The toaster automatically switches off once the toast is done. These toaster ovens can be used for plain toast, but they are also used for toasting bread with topping on, such as cheese, and pizza slices.
Toppings
Toasting bread with a topping on will increase the time that the bread takes to toast. In addition to using the toaster oven for toasting bread, they also double up as a compact oven that can be used to cook other foods, such as meat. Toasting ovens can use a variety of heat sources to cook with. All toaster ovens will come with the conventional function, but may also include convection heating, where hot air is circulated over the bread, broiling, which is healthy way to cook food such as chicken, infra-red, where light energy is used to efficiently and gently heat the food, and rotisserie, which is used to cook chicken and pork by rotating it in front of a heat source. Because of its many functions and larger size, toaster ovens are more expensive than a standard pop-up toaster. All types of toasters are available on eBay and in both new and used conditions. Toasters are available from international sellers, so make sure the purchased toaster has a plug and voltage that is compatible with UK homes. If consideration is being given to buying a used toaster, care must be taken. Study the description well and examine any photos provided carefully. Bear in mind that a used toaster will not come with a guarantee from the manufacturer and whether the truth is told about the toaster's history is at the seller's discretion. Many sellers do not accept returns, so it is best to be cautious. However, used toasters are sold at good value prices, so although care should be taken, they should not be avoided.
Types of Toasters
Below is a summary of the different types of toasters available on eBay.
| | | |
| --- | --- | --- |
| Pop-up/automated | Two or four slices | A standard pop-up toaster will toast bread within 3 minutes. They can come with settings to determine the "doneness" of the toast, a defrost setting and a bagel setting for thicker bread. |
| Po-up/automated | Six or eight slices | The same as the smaller version, but more suited to cafes or large households. |
| | 350 – 900 slices per hour | This is an industrial toaster which toasts the bread by conveying it under a heat source |
| Toaster oven | Two slices of bead to a whole chicken | These toasters are capable of cooking a variety of foodstuffs in addition to bread, such as chicken and pizzas. They can double as a small conventional oven. |
| Novelty toaster | Two and four slices | These toasters can be called novelties for two reasons: they can be shaped in a novel way, e.g. a campervan, or can have plates inserted in them to have images burnt onto the surface of the toast. |
How to Buy a Toaster on eBay
On the eBay homepage, find the All Categories icon on the left hand side of the page. From the list that appears, select Home & Garden. From this new page, hover over Furniture & Living, then select Cookware, Dining & Bar from the list. On this page, select Small Appliances from the left, then Toasters. Once within the toaster section, select criteria from the left hand side that meet the desired requirements, such as size, colour, brand and budget. Alternatively, from the homepage, use the search function on the top of the page to search for specific items. For example, if a four-slice red toaster is required, search for "4 slice red toaster." Once this search has been carried out, it can be refined by using the categories on the left to narrow down the search and find the perfect item.
Conclusion
There are a wide variety of toasters on the market from small household varieties to industrial sized versions. Making a list of personal requirements helps to clarify what is desired and is also a useful tool when searching for the specific item on eBay. eBay is an ideal place to find the perfect toaster as it offers far more for sale than any bricks and mortar store and the search function helps to find the item to meet the specific criteria.